Home » Small Game Cooking » Grilled Pheasant with Colcannon and Guinness Onion Gravy
Grilled Pheasant with Colcannon and Guinness Onion Gravy
St. Patricks day is quickly approaching; celebrate with this upland-inspired Irish dish
Full transparency: despite how Irish I am, I generally don't enjoy Irish cooking. Or the whisky, if I'm being honest.
Even the beer is subpar to several of my German and Mexican favorites. As I understand it, our Guinness in the United States is actually brewed in Canada. Or it was, at one point. Nevertheless, all these denunciations aside, this is one of my favorite recipes I have ever created. I'd put this gravy on cardboard and eat with a smile. The colcannon is savory enough to enjoy on its own, not to mention with pheasant, which is always great, though any white-flesh upland bird can be used here.
It's also incredibly simple to make, versus last year's St. Patrick's Day Special: Shepherd's Pie, which was very good, but also slightly involved.
A trick here that can be employed across all upland recipes is how I cooked the thighs—sous vide set to 150 degrees Fahrenheit for eight hours, which tenderized them immensely. I then followed up with a hot-and-fast sear for texture. This same sous vide technique can be applied to legs and wings, as the lower temps for an extended period break down tough protein structures.
If you don't have or want a sous vide cooker, you can always place the thighs in an oven-safe baking dish with chicken stock, cover with foil, set the temperature to around 150, and, again, cook for an extended period of time.
Grilled Pheasant with Colcannon and Guinness Onion Gravy
Jack Hennessy
St. Patricks day is quickly approaching; celebrate with this upland-inspired Irish dish.
Equipment
Sous vide cooker

optional

Grill
Ingredients
Pheasants
Breasts and thighs from two pheasant roosters

Kosher salt and freshly cracked black pepper

Cooking oil spray
Gravy
2

medium yellow onions

thinly sliced into rings

3

cups

beef stock

3/4

cup

Guinness stout

1

sprig

fresh thyme

1

sprig

fresh sage

2

tbsp

cornstarch

slurried

1

tbsp

brown sugar

1

tbsp

salted butter

2

tsp

freshly minced garlic

1

tsp

ground black pepper

1

tsp

Kitchen Bouquet browning sauce

1

tsp

kosher salt

1/2

tsp

balsamic vinegar

1/2

tsp

dijon mustard

Olive oil
Colcannon
2

lbs

russet potatoes

boiled and mashed

1

lb

fresh kale

leaves only

6

tbsp

melted butter

1

cup

heavy whipping cream

1/2

cup

sliced green onions

Kosher salt and ground black pepper
Instructions
To prep thighs, lightly salt and pepper and sous vide for 8 hours at 150 degrees, or place in a baking dish and cover with foil, place in oven at 150 for 8 hours.

To make gravy, add a thin layer of olive oil to a large skillet. Add onions and lightly salt and pepper. Sear on medium heat. Once slightly seared, turn heat to medium-low to caramelize onions, which could take upwards of 45 minutes.

Once onions are caramelized or are close, add 1 tablespoon salted butter and garlic and stir in. Turn heat to medium. Simmer for a couple of minutes, then add Guinness to deglaze skillet. 

After stirring in the Guinness, add balsamic vinegar. Stir for another minute then add beef stock, browning sauce, brown sugar, kosher salt, ground black pepper, and mustard, along with sprigs of thyme and sage. Reduce for 15 to 30 minutes, until beef stock is half the original amount.

Once the beef stock has reduced to half, remove thyme and sage sprigs and throw them away. Create a cornstarch slurry by adding 2 tablespoons cornstarch to a bowl and drip in cold water until it's the consistency of a paste. Add to gravy mix and stir in to thicken. Reduce to very low heat until ready to serve.

To make colcannon, wash and cut potatoes into chunks. Add to a large pot with water and bring the water to boil. Boil until the potatoes are fork-tender, around 7 to 10 minutes.

Drain the potatoes in a colander, and lightly salt and pepper. Add the pot back to the burner and reduce heat to medium-low. Add 6 tablespoons of salted butter to the pot along with kale leaves. Lightly salt and pepper once more and stir until leaves are wilted and cooked in butter. Once kale is cooked and wilted, add sliced green onions and cook for another minute.

Add potatoes back to the pot and mash in with kale. Add 1 cup heavy whipping cream and stir in. Add more cream if you want a creamier texture. Salt to taste.

To cook pheasant, heat a grill or skillet to 500 degrees. Spray both pheasant breasts and thighs with cooking oil and add to grill or skillet and sear both sides evenly. Remove once the breasts are 160 degrees internal and skin on both the thighs and breasts is crispy.

To serve, add pheasant to a plate along with colcannon and top with gravy. Garnish with sliced scallions.
Nutrition
Calories:
1427
kcal
Carbohydrates:
140
g
Protein:
32
g
Fat:
87
g
Saturated Fat:
39
g
Polyunsaturated Fat:
12
g
Monounsaturated Fat:
31
g
Trans Fat:
1
g
Cholesterol:
178
mg
Sodium:
2502
mg
Potassium:
4058
mg
Fiber:
9
g
Sugar:
16
g
Vitamin A:
26370
IU
Vitamin C:
314
mg
Calcium:
587
mg
Iron:
9
mg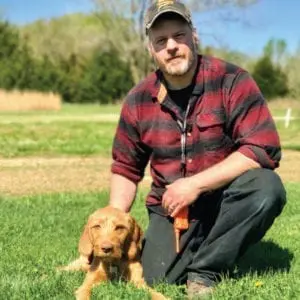 Jack Hennessy
Jack Hennessy grew up in the South Suburbs of Chicago and didn't start hunting until he attended graduate school in Spokane, Washington, at the age of 26. Hennessy began work in professional kitchens in high school but didn't start writing wild game recipes until he joined the Spokesman-Review in 2014. Since then, his recipes have appeared with Petersen's Hunting, Backcountry Journal, Gun Dog Magazine, among many others. He now lives with his wife, daughter, and Wirehaired Vizsla, Dudley, in Wichita, Kansas.