Inspired by and better than the ultra-busy, fast-food chain's chicken sandwich, this recipe can utilize any upland species
Every Chick-fil-A I drive by—no matter the hour—has cars waiting at the drive-thru stretched around the parking lot.
I have grabbed a biscuit, and perhaps a sandwich, at the Wichita airport, as it's the only fast-food restaurant available in that terminal. If I'm being honest, I have to agree with my wife when she said, "I don't understand all the hubbub."
Maybe it's because the employees are always so polite?
That said, many folks love Chick-fil-A chicken sandwiches, and "Chukar-fil-A" just flows off the tongue. Plus, I had several chukars collecting frost in the freezer. So I went after work the other evening to collect samples to copycat their recipe, but for wild birds. Overall, I may have failed, because this recipe tastes better than the stale, cold, bland sandwiches the company slinging.
There isn't much a of a secret to the recipe. It's pickle juice and buttermilk for a marinade. Because Chick-fil-A sandwiches, as I understand, don't come with sauce unless you ask, the drippings from freshly fried breasts provide the necessary moisture and flavor. You want a thin layer of oil in the skillet so you can lightly salt and pepper the top side of chukar breast when frying. Also, be careful not to the crowd pan—no more than three breasts in a large skillet when frying—as doing so will create too much moisture and soften exterior of fried breasts.
Note: before frying your breasts, coat all in flour (after marinating for a minimum 2 hours), shaking off any heavy excess clumps, and set on a plate, ready to go in the skillet, rather than doing each breast by hand then putting into the oil. I rinse and dry my hands after each breast, as the moisture from my hands would create lumps in flour and we don't want that.
Finally, you can indeed make this recipe with any upland bird breast. The number of breasts will vary based on size. You ideally want 5-6 ounces of meat per sandwich. For your larger birds like pheasant, you may wish to pound out the breast to flatten it. You could even use quail, but you'd need several per sandwich. And, yes, you can use your red-flesh birds like your prairie grouse and sharptails.
Enjoy the recipe? All I have to say: "My pleasure." Reach out with any comments on Instagram @wildgamejack
Chukar-fil-A Sandwich
Jack Hennessy
Inspired by and better than the ultra-busy fast food chain's chicken sandwich, this recipe can utilize any upland species.
Ingredients
6

skinless chukar breasts, approximately 1 1/2 to 2 ounces each

3/4

cup

buttermilk

1/2

cup

pickle juice from Vlasic Sandwich Dill Chips

1

cup

all-purpose flour

Peanut oil

Vlasic Sandwich Dill Chips

Kosher salt

Freshly ground black pepper

2

pairs

hamburger buns
Instructions
Mix buttermilk and pickle juice in a medium mixing bowl and add skinless chukar breasts. Allow to marinate for a minimum of 2 hours but, ideally, no more than 24 hours.

When ready to cook, heat 1/2 inch of peanut oil in a large skillet to 400 degrees Fahrenheit.

Toss each breast through flour and add to oil. Lightly salt and pepper. Do not crowd pan. Make sure oil stays around 400 degrees.

Flip once underside is golden brown. Pull once both sides are golden brown.

Add fried breasts immediately to bottom bun to soak up drippings. You'll likely need three breasts per sandwich. Top with three thick pickles. Add top bun. Serve immediately.
Nutrition
Calories:
9156
kcal
Carbohydrates:
99
g
Protein:
763
g
Fat:
610
g
Saturated Fat:
175
g
Polyunsaturated Fat:
131
g
Monounsaturated Fat:
252
g
Trans Fat:
4
g
Cholesterol:
3016
mg
Sodium:
4219
mg
Potassium:
7873
mg
Fiber:
3
g
Sugar:
10
g
Vitamin A:
5761
IU
Vitamin C:
65
mg
Calcium:
703
mg
Iron:
42
mg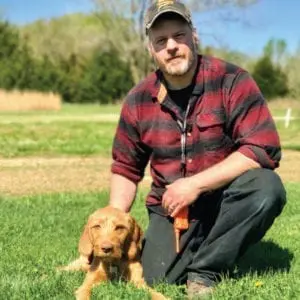 Jack Hennessy
Jack Hennessy grew up in the South Suburbs of Chicago and didn't start hunting until he attended graduate school in Spokane, Washington, at the age of 26. Hennessy began work in professional kitchens in high school but didn't start writing wild game recipes until he joined the Spokesman-Review in 2014. Since then, his recipes have appeared with Petersen's Hunting, Backcountry Journal, Gun Dog Magazine, among many others. He now lives with his wife, daughter, and Wirehaired Vizsla, Dudley, in Wichita, Kansas.