The Franchi Affinity 3 is a reliable Italian-made shotgun for applications from big game to small at a very competitive price
Semi-automatics on a website with a reputation for ruffed grouse and woodcock hunting, blasphemy! All joking aside, there are plenty of applications and reasons to love a semi-automatic shotgun. Whether it's those chukar hunters of the West or the folks with flushing dogs in the North, one may merely stick with personal preferences and ignore the noise. I bought this shotgun with one clear goal, to kill turkeys, although it has been subjected to grouse, woodcock, and even some ducks. In fact this shotgun proved to be the tool used for a few friends' first ruffed grouse.
As I have stated many times, I am a sucker for Italian-made shotguns and at an MSRP of $849 in black synthetic, the 20-gauge weighing in at a mere 5.6 pounds, and the 12-gauge coming in at 6.4 pounds, this is essentially the entry level Italian semi-automatic shotgun. (Wood and camo options are listed at an MSRP of $959). The Inertia Driven system used in the Benelli and Beretta stands as one of the greatest actions ever built in a shotgun. The difference here is the price tag between said brands. This is not the first Franchi we have reviewed either, check out Franchi Instinct L – A Shotgun Review
I took this shotgun for a test drive for turkeys as my wife was looking for a light gun to hunt with. The need to understand what a shotgun is capable of and at what ranges is important when introducing someone to turkey hunting. The first bird I dumped with it was at 30 yards. I can still remember wondering as I ran up to the flopping bird why in the world I had ever lugged a 12-gauge around the woods. (Read: Can I Use a 20-Gauge to Hunt Turkeys?) That day resulted in a 12-gauge purge in my gun safe as turkey hunting was just about the last reason I kept any thought or reason not to sell them. I did keep a Benelli Vinci as a waterfowl option which I have yet to actually take duck or goose hunting. Those 20-gauges with bismuth sure are deadly.
With a 3 inch turkey round the Franchi Affinity certainly has a bark to it and my wife still prefers the old Remington Lt 20-Gauge 1100 as the recoil is far less even with 2 ¾ round comparison. My most recent season in Connecticut had me trying out the new Federal TSS loads and the first turkey I took with it was at 45 yards. The farthest shot I had ever taken on a turkey and I was a believer. New loads like tungsten only make a stronger case for using sub-gauges (where legal) on turkeys. This has been my go-to turkey gun for many years now and with anyone considering this gun for that use I would give this gun five stars.
There have been many days where I have played with this gun on trap and skeet ranges. With a 14-3/8 inch length of pull it was a bit long for me but certainly manageable (I'm 5'5"). It comes standard with a shim kit to adjust cast and drop which I must say is pretty epic. My grief with all Franchi shotguns is the three shotgun chokes that come standard. An Improved Cylinder, Modified, and Full are certainly versatile–but give me that cylinder or skeet for grouse and woodcock hunting! Needless to say the times it has ventured for birds we rolled with I/C. It certainly worked well and the 26 inch barrel on the 20-gauge makes sense for bird hunting (26- and 28 inch barrel length options on the 12-gauge models).
A past employee of Northwoods Collective used this shotgun to shoot his first grouse and yes, it was on the wing. He actually shot the gun quite well as I think he hit just about every bird he shot at those couple of days. Maybe he is just a natural. That gun has certainly pounded some brush over the years and the strap that lives on it thanks to the pre-drilled holes in the stock and magazine cap has made it an afterthought while tracking for miles in the turkey woods.
To date, this shotgun has never jammed on me and I should say that I probably should have cleaned it more often. But hey, it worked. Another time on a sea duck hunt in New England it gained some surface rust, but in all fairness that was my rookie error of not cleaning it right after the hunt when we were taking on salt water all over our gear as we abandoned the rough seas. It still came off as my father lectured me on "taking care of my things." Yes, he is right. I have become more proactive in cleaning my shotguns as I have acquired more expensive shotguns over the past couple of years.
There is something to be said about the versatility of semi-automatic shotguns when it comes to hunting. And if you find yourself looking for one shotgun to hunt everything from big game, turkeys and wingshooting, then I would not hesitate to steer you away from double guns. The Franchi Affinity even comes drilled for scope mounts for you deer hunters in the world.
If you're in the market for a semi-automatic shotgun, this is certainly an amazing piece of machinery for the price. Call it bias, but compared to the prices of some American guns that I would deem inferior at just about double the price, this shotgun moves up my top suggestion list real fast. This next season I may consider an upgrade to a Beretta. But this Franchi has yet to fail me.
Check it out on the Franchi website: here
SUBSCRIBE to the AUDIO VERSION for FREE : Google | Apple | Spotify
ProjectUpland.com On the Go is brought to us by: ESP – Digital Hearing Protection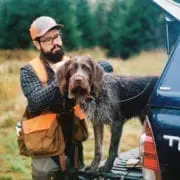 A.J. DeRosa
A.J. DeRosa founded Project Upland in 2014 as an excuse to go hunting more often (and it worked). A New England native, he grew up hunting and has spent over 35 years in pursuit of big and small game species across three continents. He has a passion for side-by-side shotguns, inspiring him to travel the world to meet the people and places from which they come. Looking to turn his passion into inspiration for others, AJ was first published in 2004 and went on to write his first book The Urban Deer Complex in 2014. He soon discovered a love for filmmaking, particularly the challenge of capturing ruffed grouse with a camera, which led to the award-winning Project Upland film series. AJ's love for all things wild has caused him to advocate on the federal and state levels to promote and expand conservation policy, habitat funding, and upland game bird awareness. He currently serves as the Strafford County New Hampshire Fish & Game Commissioner in order to give back to his community and to further the mission of the agency. When those hunting excuses are in play, you can find him wandering behind his Wirehaired Pointing Griffon in the mountains of New England and anywhere else the birds take them.