Experimenting with ideas of hunting snowshoe hare with pointing dogs.
This is an open call to all of us who have intentionally targeted rabbits and hares with versatile hunting dogs. It goes down in the record to say that I have contacted, spoken to, and unsuccessfully asked several professional gun dog trainers about this forgotten art and came up empty-handed. Answers ranged from "Why would you do that?" to "You will regret letting your dog do that" to "Who knows?" But here is what has come of my own experiments in hunting rabbits with a pointing dog.
Why Would You Hunt Snowshoe Hare with a Versatile Hunting Dog?
Well, they were technically bred to do it, for starters. But past the history of the breeding that seems to be forgotten in the modern era there are some good reasons. One is simple: there are those of us who love rabbit meat. Growing up in an Italian-American family, Cacciatore was in fact made with rabbit, not chicken. Spend some time in the North End of Boston and you'll discover plenty of side street establishments that offer up dishes of rabbit in all sorts of Italian fashion. A fine meat also forgotten in the modern era.
Past that it becomes all about opportunity. As ruffed grouse season closes where I live, the snowshoe hare season just keeps on going and going–months after that last upland game bird can be hunted. It is something worthwhile to do to break up that cabin fever and find an excuse to go for a walk with the dog.
Hunting Tactics for Snowshoe Hare with a Versatile Hunting Dog
I tried to read the playbook. Tried to call the experts. Turns out there seems to be neither of those things in America when it comes to hunting rabbits with a versatile breed. In my case, it's my Wirehaired Pointing Griffon, Grim, and my experience at a younger age hunting with Sicilian immigrants with friends and family in Cape Cod. But those were beagles, not pointing dogs.
In the perfect world of training a good versatile pointing dog, you want them to stop on first scent. That we all agree upon. Then some of us want a dog with the knowledge to re-position itself as necessary with running birds, old scent, and whatnot, until they arrive at the spot where it takes the hunter walking the bird up as the dog stays on point. Others want to be the ones to release the dog either by command or tapping on the head. Depends on your school of thought. Insert all arguments here on deaf ears as it all comes down to a matter of personal choice.
Grim and I fall somewhere in here. Who knows? We are both learning, but for the most part I know that when he is truly confident in the scent he will not move a single muscle unless I speak the word "release" or the bird flushes. Yes, he is only steady to flush.
This past season I found myself wandering a little further off a woodcock cover and into a snowshoe hare cover as a glimpse of fur flashed after a point Grim did not even want to release from. "Why not?" I thought. Already had two woodcock in the bag and I had only moved one grouse. And there was a ticking time clock reminding me I had to meet a friend in less than an hour.
As we penetrated the thick young wall of fir, I stuck to the old uneven tote roads that webbed through the cover in seemingly random order. Then Grim went on point not 10 yards from me. I knelt down and looked under the firs, seeing him unwavering just off the trail. I managed to get close and nothing happened. No hare, no birds. Once I got some distance ahead of Grim, he moved again. We repeated this interaction a couple more times with no success.
"I cannot walk these things up," I thought to myself as if I were absent-minded to even think it. "We need to do this in as close a fashion to a beagle as possible."
And so goes at least one way I managed to successfully and intentionally hunt rabbits with my pointing dog. He went on point, I quickly positioned myself in a nice shooting lane, and then said, "Release." He broke his point on the other side of a wall of fir that I am sure I never could have gone through. Again he pointed, and again I said, "Release." After the third try and his bell rang closer and closer, a snowshoe hare hopped out into my narrow shooting window in perfect beagle hunting fashion. Mystery solved.
Why You May Regret Hunting Snowshoe Hare with Your Versatile Hunting Dog
Yes, I may regret it for the time being, but I am still not sold that it is not worth it. Or that I am doing it right. Not to downplay those chance encounters as they are very welcomed and I do not regret all the rabbits shot over my dog by chance. I often found myself close to ideal snowshoe hare habitat right next to my favorite grouse and woodcock covers which, incidentally, often overlap. Not that young fir is the only place to find snowshoe hare, something which seems impossible to penetrate, and for the most part is void of upland birds–but it often holds that furry surprise.
This was the year I decided to intentionally spend some time hunting hare rather than just chance encounters while out bird hunting. While I spent the next couple weeks deep in logging country of northern New England, I broke up our pursuit of grouse with snowshoe hare. For the most part, the American woodcock were nowhere to be found.
Then a migration of my favorite birds–those timberdoodles–came pilling into our covers. This is where the cracks began to show. The first day Grim was somewhat steady. In fact, at one point he held for a solid 10 minutes as a couple hunters closed their way in further away. Three birds got up and one fell. But by the end of that day, Grim decided he was going to start getting the woodcock for himself.
Now let me rewind. Grim is three and each year we have a healthy day of "Dad, I'm going to flush the birds myself!" and me being like "No, you will not!" followed by picking him up and dropping him back at the original point. He hates being picked up and you can watch him relearn his pointing instincts in the film First Season. Mark Fouts of the Ruffed Grouse Society was the first person to teach me this trick. And it worked like a charm, often only taking a few broken points a season to work it out.
But this time, this year was bad. With flights of birds upon us, we scored 18 points on woodcock including multiple birds on sets that day. Grim broke on 17 of them. And on 17 of them I never fired a shot, picking him up and re-positioning him and trying again and again. On the 18th point with a couple hours of light left, he finally held for me to walk the point out and the bird fell on my first shot.
There was a filmmaker with me that day; yes, most of those breaks and corrections are now archived in useless Project Upland footage. Maybe not useless, but we do not need to see it that many times (at least I would rather not). As I put the bird in my pack he said, "Well, it worked out. Let's find some more!"
There is something to be said about ending on a high note. Not just in bird dog training but in all parts of life, just ask the directors of Game of Thrones. We turned back and headed to the truck. The day was done. My sanity could not handle another break after that long day.
You must be asking yourself: Why does this snowshoe hare article include a book about woodcock breaks? Maybe it's just my brain going back to the words of the trainers who said I would regret my rabbit adventures. But I seemed to want to lend credence to that disastrous run of breaking on these furry critters and my reckless "release" after "release" with no real structure to a normal bird interaction. For now he's steady to flush again, and as we start chasing woodcock south I feel confident it was just a stubborn dog on a bad day. But I don't feel like I will not pursue rabbits in the same fashion again. In fact for the sake of knowledge and learning, I feel I'm obligated to try the experiment a few more times to see if Grim's novel experiences with hunting fur carry over to unsteady behavior when switching back to birds.
For those of you in the audience who intentionally pursue rabbit and hare with versatile hunting dogs, we would love to hear your tactics and begin to build a new archive of hunting rabbits with pointing dogs in North America.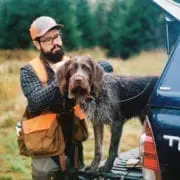 A.J. DeRosa
A.J. DeRosa founded Project Upland in 2014 as an excuse to go hunting more often (and it worked). A New England native, he grew up hunting and has spent over 30 years in pursuit of big and small game species across three continents. He started collecting guns on his 18th birthday and eventually found his passion for side-by-side shotguns, inspiring him to travel the world to meet the people and places from which they come. Looking to turn his passion into inspiration for others, AJ was first published in 2004 and went on to write his first book The Urban Deer Complex in 2014. He soon discovered a love for filmmaking, particularly the challenge of capturing ruffed grouse with a camera, which led to the award-winning Project Upland film series. AJ's love for all things wild has caused him to advocate on the federal and state levels to promote and expand conservation policy, habitat funding, and upland game bird awareness. He currently serves as the Strafford County New Hampshire Fish & Game Commissioner in order to give back to his community and to further the mission of the agency. When those hunting excuses are in play, you can find him wandering behind his Wirehaired Pointing Griffon in the mountains of New England and anywhere else the birds take them.