Home » Pheasant Hunting » Pheasant Hunting Ammo and Chokes – A Pheasant Hunters Guide
Pheasant Hunting Ammo and Chokes – A Pheasant Hunters Guide
Photo by Wil Sensing
A guide to pheasant hunting ammo and chokes, for a wide spread of situations
Pheasant hunting seems pretty straightforward. You go out, find a public piece of cover near a food source, walk, kick up a bird, and shoot. It really can be that simple. But knowing what is coming out of the end of your barrel and how it's reacting after it leaves the shotgun you chose for pheasant hunting is important. Here is a guide to pheasant hunting ammo and chokes for pheasant hunters expanding their horizons.
Breaking it down
Choosing pheasant loads and chokes can get rather complex, especially when you factor in the different types of cover you might encounter. Some management areas or natural areas that are legal to hunt require steel shot, while others don't. Lead is a common choice because it is always going to pack a bigger punch than steel, but other hard-hitting non-toxic options exist. However, if you run into an area with water, steel shot is the way to go. The type of shot you're using will determine the choke you want screwed into the end of your barrel. Region and time of year also play a role in shot and choke choices.
Chokes
Shotgun chokes are screwed into the end of the vast majority of shotgun barrels floating about. If you own a shotgun that doesn't have interchangeable chokes, this doesn't apply to you. If your gun does have screw-in chokes (interchangeable), then let's talk about what chokes do. Simply put, a choke is screwed into the end of the barrel and is smaller in diameter than the barrel itself. Chokes come in a variety of "sizes" or constrictions. The more constriction, the tighter the shot pattern will be when it leaves the last couple of inches in the barrel. Common chokes are cylinder, which has no constriction; improved cylinder which is .010 inches smaller than the bore; modified, which is .020 inches smaller than the bore; and full, which is .035 inches smaller than the bore. The tighter the choke, the tighter the pattern.
Shot size
When it comes to shot sizes, most pheasant hunters would probably tell you that any shell from size 1 to size 7.5 will knock down a pheasant. A lot of people don't understand the makeup of a shotgun shell, or what the numbers represent. It breaks down like this: the higher the number, the smaller the diameter of the pellets. For example, No. 9 shot pellets will be less than .09 inches in diameter and will have a mass of less than 1 grain. On the other end of the spectrum, No. 1 shot pellets will have a diameter of .16 inches or larger, and a mass just shy of 6 grains. What does this mean? It means that a shell can hold a lot of No. 9 shot and not a lot of No. 1 shot. However, No. 9 shot loses velocity quickly, so each individual pellet isn't nearly as strong as that of No. 1 shot. The pellets are stronger with No. 1 shot and retain more punch at longer distances, but there aren't a lot of pellets going toward the bird.
Shot type
When it comes to pheasant hunting ammo, there are a hundred types of ammo available. You can get standard lead shot, in sizes ranging from No. 7.5 to 4 shot. Many manufacturers make these lead shells. Then there are specialized shells loaded with special pellets to help knock down a large game bird that can oftentimes flush at long distances. Federal Premium Ammunition makes a load called Prairie Storm, which contains 70 percent copper-plated lead and 30 percent nickel-plated FLITESTOPPER lead pellets, which have a ring around the pellet, increasing the wound channels in the target. Then there's steel shot (and other non-toxic options for pheasant), which can range from No. 2 shot down to No. 6 for effective takedown power on pheasants. Again, you can get more effective with Prairie Storm from Federal in their FS Steel line, which has the same FLITESTOPPER pellet composition—this time in steel. All boxes of Prairie Storm sold contribute directly to Pheasants Forever through their on-box royalty program.
The common choices
Most pheasant hunters like No. 4 to No. 6 lead shot through a modified or improved cylinder choke. No. 5 shot is probably the most common load, with a modified choke being the most common choke choice. This combination will work throughout the season. The nice thing about a modified choke, too, is the ability to shoot steel pheasant hunting ammo without effecting performance.
Changing through the season
Early season can be boom or bust. Many crops are still standing and it's common to see large numbers of pheasants holding in standing corn. This makes them nearly impossible to get to at times, especially in the modern day-and-age of cornstalks standing 8 to 9 feet tall. However, if you can catch the birds in roosting or resting areas like CRP, shelterbelts, small waterway edges, or fencerows, you can have some very close shooting on birds that will hold very tight. An improved cylinder is ideal with a smaller shot size. No. 6 to 7 1/2 shot is great early in the season. If you're in an area that doesn't allow lead shot, No. 6 works great.
As the crops come out, and the birds become a little more educated, some of the smarter birds will flush wild and early, making your shots much longer. 30-40 yard shots are pretty common and you're going to need a little more punch. An improved cylinder will still work, but a modified choke will give you an advantage when it comes to the longer flushes. No. 5 or 6 shot shines mid-season. In steel, No. 4 shot gets my vote.
When late-season pheasant hits and birds start utilizing thick, tough cover, you're going to need to step up your game. From your energy and physical strength to your chokes and shot sizes. Birds will hold in cattail sloughs and dense willow cover and will flush if the wind hits them in a way they don't like. This is also the time of year where birds cozy up. Flushes of 20-40 birds in one small patch of cover are possible. A modified choke with No. 5 shot is ideal, and stepping up to 3-inch 1 5/8-ounce loads isn't a bad idea. This is when FS Steel will excel in shots as large as No. 2 all the way down to No. 4.
Wild Game Cooking: Pumpkin Sage Pheasant Pasta
Variables and suggestions
By no means do I intend for this to be your end-all-be-all guide to shotgunning ring-necked pheasant from opener through January. It's just something to keep in mind. Earlier, I mentioned regional differences. Hunting pheasants in Wyoming isn't like hunting birds in Southern Minnesota. You need to adjust for the cover you're hunting and go from there.
Patterning your shotgun with different chokes and different pheasant hunting ammo is important. Not only for you, but to show respect for the game you're after. We all want to make clean, ethical shots. Patterning and knowing your gun, chokes, and loads is one way of ensuring that.
One important thing to keep in mind is that you're dealing with a larger bird that's packing on fat as the season progresses. High-brass pheasant hunting ammo is imperative. Don't skimp on the price by buying low-brass in exchange for the chance of losing birds. For a 12 gauge, nothing short of 1 1/8-ounce loads should be considered in my opinion.
Double barrels
If you're lucky enough to own a double barrel with interchangeable chokes, you have the advantage of two ready chokes. It's nice when you have that tight flush where you need a big spread to hit the bird and a second bird flushes at a distance.
I like to choke my first barrel with whatever fits the season I'm in. My second barrel is always a step tighter in constriction, since my second shot is rarely as short as the first. For example in the early season, I'll tote a double barrel set up with an improved cylinder choke in the first barrel and a modified choke in the second barrel.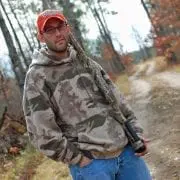 Matthew Breuer
Matt Breuer has been working in the outdoor industry for over 15 years, guiding, writing, promoting, volunteering, and working with several conservation groups. He's on the Board of Directors of the MN Sharp-tailed Grouse Society, and is a recruitment and retention coordinator with RGS. He owns and operates Northcountry Guide Service & Promotions in northern MN. Link up with Matt by visiting www.northcountryguides.com .