A look at the Franchi over-under shotgun's performance in the uplands
If ever there were a biased gun review, this is it. Maybe that's a bit harsh. It's just that this was the shotgun that I carried when I really caught my bug for the uplands. I made a lot of ridiculous shots with it and missed a lot more easy shots with it. All said, I have a lot of personal memories tied to all the shot that's been thrown from these barrels.
I bought this gun before my love affair with side-by-sides, and up until that day I had never owned my own over-and-under but had shot plenty of them. In my worldview growing up, there was the Remington 870 and then you graduated to the 1100. That is, until my father bought a Browning Citori Lighting. I needed my own over-and-under.
To add to my increasingly biased view, I am a sucker for Italian guns. Or maybe it's Italian culture. I get them confused. That Italian craftsmanship combined with price is what hooked me, add in my morning espresso. I could actually get a decent over-and-under at a reasonable price. For me, that is the measure of rating a shotgun: did I get what I paid for? Mind you, that balance is often exaggerated as you head to the fringes of both very inexpensive and very expensive. At an MSRP of $1299 it falls in the mid-range of gun prices.
A little unknown fact about this Franchi is that it actually comes from the Beretta Holding. On a recent trip to the Beretta Factory in Italy for the new Premium Grade SL3, I poked my head in next door just to see. I am easily distracted.
But let's get back to the practical application of this gun as a piece of upland equipment. I beat this gun, as I do all my guns. "Drive it like you stole it" applies to most of my shotguns. I have fallen more times than I can recall with it, smashed it off a rock while trying to fix a collar on my dog while he was pointing (I know … amateur hour). It wore well, physically, even after bouncing off a rock. This gun in that sense is very solid, especially for the price. It does not feel cheap.
I actually owned another version of this shotgun, the SL in 12-gauge. I hated it, all because I could not hit anything with it. I shot one double in my life and it was with that SL. I am pretty sure I missed every other bird after that. I sold that one. I believe the SL was just too light for my swing, and the 20-gauge Instinct L proved to work well for me.
Part of my beating shotguns involves cleaning it less often than I should, and as time progressed, a few issues surfaced. First and foremost, one issue I had with both the SL and L involved the safety. Over time, it got harder and harder to turn off. Birds were missed or I should say, never shot at because of it. Maybe if I was more gunsmith-savvy or took it to a professional it could be fixed. In fact I would be surprised if it couldn't. But I am an out-of-the-box kind of guy and gun oil did not fix it, so I just adapted to it.
My lack of cleaning brought one other issue come to light, or at least that's my theory. A case of reduced recoil loads that I acquired proved to result in a frustrating couple of trips to the skeet range. I would fire the first barrel and just about every other time, the second barrel would not fire. (Insert double trigger side-by-side here). I oiled it down, scrubbed it, did a lot to it and it did not seem to resolve itself. When I went back to regular loads, all was fine in the world of my trusty Franchi. In fact, the harder recoil seemed to even fix it for light loads as long as I dropped one in once in a while.
At the price point of this particular gun, I do expect to have some issues. And I got a lot of miles out of it. For that, I felt like it was more than a fair deal, and I would certainly suggest it to anyone who has similar fancies for Italian guns at an affordable price.
The 20-gauge comes in at 6.6 pounds, and a 28 inch barrel. In a perfect world as a grouse and woodcock hunter, a 26 inch would have been like hitting the lottery. The most open choke it came with was an improved cylinder and I would hope that in the future Franchi adds in a cylinder or skeet choke with the purchase for us thick-cover folk. It also comes with a modified and full.
The auto ejectors are a standard feature, and since I tend to literally never hunt on driven shoots in England, I wish all gun manufacturers would put in plain extractors so I can stop looking for spent shells in impossible thickets. My go-to will always be a straight English stock, but the Prince of Wales did grow on me. From an aesthetic standpoint, that stock looks beautiful and with that case hardening … well, add that to the list of why I cannot bring myself to sell it.
The real reason I have not sold this gun involves all the memories I have made with it. Add in my first bird dog and many other firsts and how can you sell a gun with that type of personal history? (Watch it in action in the film "First Season" along with the CZ Sharp-tail). Although it still goes on the road with me for the season, it is my backup shotgun as I continue to explore the world of side-by-sides. Sometimes I swear I can hear it say, "Put me in coach." Sorry.
I always like to end with the biggest measure of all, and I am trying to not be biased here. That measure is would I sell a gun or not — and why. As stated above, personal reasons prevent me from doing so. But in a different time and space, if I lived in the more expensive world of a Beretta 686 or my father's Citori sitting in the closet, I would be willing to part ways with it as a memoryless shotgun.
I intend to always keep one over-and-under in the cabinet for mentoring new hunters. This shotgun serves that greater purpose very well. Needless to say, that adds to my problem of memories and this particular shotgun. It should not disappoint at its price — and I am sure it can prove to be a great tool in the building of your own memories.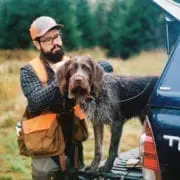 A.J. DeRosa
A.J. DeRosa founded Project Upland in 2014 as an excuse to go hunting more often (and it worked). A New England native, he grew up hunting and has spent over 35 years in pursuit of big and small game species across three continents. He has a passion for side-by-side shotguns, inspiring him to travel the world to meet the people and places from which they come. Looking to turn his passion into inspiration for others, AJ was first published in 2004 and went on to write his first book The Urban Deer Complex in 2014. He soon discovered a love for filmmaking, particularly the challenge of capturing ruffed grouse with a camera, which led to the award-winning Project Upland film series. AJ's love for all things wild has caused him to advocate on the federal and state levels to promote and expand conservation policy, habitat funding, and upland game bird awareness. He currently serves as the Strafford County New Hampshire Fish & Game Commissioner in order to give back to his community and to further the mission of the agency. When those hunting excuses are in play, you can find him wandering behind his Wirehaired Pointing Griffon in the mountains of New England and anywhere else the birds take them.