Home » Hunting Videos » My Heart – A Turkey Hunting Film in the Ozarks
My Heart – A Turkey Hunting Film in the Ozarks
Follow Jim Ronquest into his stopping grounds of the Ozarks in the pursuit of wild turkeys.
Jim Ronquest's professional career has been built around the waterfowl world as the Producer of RNT-V (Rich-N-Tone Calls). Much like turkey hunting, waterfowl hunting is a very engaged pursuit when it comes to calling. Jim brings us to his stomping grounds in the Ozarks of Missouri as he confesses his lifelong love of wild turkey hunting.
It's tough not to get a sense that Jim's love of the wild turkey may be even greater than waterfowl. But that is often the case for many of our "comfort foods." Although Jim is a very accomplished turkey hunter, like all things in hunting, nothing is guaranteed. He gives sound advice on turkey hunting tactics and getting into this timeless pursuit.
"My first turkey hunt was in Sainte Genevieve County, Missouri, in the late 70s. And my dad had long legs. He could walk, loved to hunt, loved to be in the woods. I followed him all up and down those hills and hollows in the Missouri Ozarks.?
Watch: No Cure (Dean Redbeard Mundhenke) – A Southern Turkey Hunting Film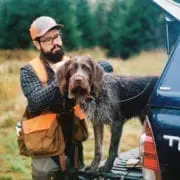 A.J. DeRosa
A.J. DeRosa founded Project Upland in 2014 as an excuse to go hunting more often (and it worked). A New England native, he grew up hunting and has spent over 30 years in pursuit of big and small game species across three continents. He started collecting guns on his 18th birthday and eventually found his passion for side-by-side shotguns, inspiring him to travel the world to meet the people and places from which they come. Looking to turn his passion into inspiration for others, AJ was first published in 2004 and went on to write his first book The Urban Deer Complex in 2014. He soon discovered a love for filmmaking, particularly the challenge of capturing ruffed grouse with a camera, which led to the award-winning Project Upland film series. AJ's love for all things wild has caused him to advocate on the federal and state levels to promote and expand conservation policy, habitat funding, and upland game bird awareness. He currently serves as the Strafford County New Hampshire Fish & Game Commissioner in order to give back to his community and to further the mission of the agency. When those hunting excuses are in play, you can find him wandering behind his Wirehaired Pointing Griffon in the mountains of New England and anywhere else the birds take them.