Photo by Jack Hennessy
This versatile recipe combines upland birds with the best of winter ingredients
Aside from cold and flu season, I am a big fan of everything winter; this includes its squash and its many hunting seasons. Truth be told, though this recipe calls for upland birds, you can make this dish with any wild meat which includes all varieties of grouse and waterfowl (and yes, big game, too).
A quick note on browning meat. Browning heats the natural sugar and amino acids, caramelizing the meat in a process known as the Maillard reaction. It deepens the flavor and, in the case of whole cuts, it creates a crust which is preferable to a soft, mushy exterior. Translation: even with ground meat, it's important to sear both sides before separating into smaller bits.
While stuffed squash recipes are a tad more work than other meals, the dish is the complete package in terms of tasty smells in the kitchen, beautiful presentation on the plate, and layers of flavor that perfectly complement the season.
Ingredients for three servings:
3 acorn squashes, halved
3/4 pound upland bird, ground
1/4 pound pork shoulder, ground
1 – 2 cups shredded Parmesan cheese
1 cup wild rice
2 cups chicken stock
2 celery ribs, finely diced
1/2 medium yellow onion, finely diced
1 medium carrot, finely diced
1 Honeycrisp apple, finely diced
1/2 cup white wine
2 teaspoons freshly minced garlic
1 teaspoon each of freshly minced sage, rosemary, and thyme
Kosher salt and ground black pepper, mixed use
Olive oil
Cooking instructions
Preheat oven to 400 degrees Fahrenheit. Cut squashes in half and remove seeds, dust with salt and pepper, then lightly coat flesh with olive oil.


Cut upland bird and pork shoulder into chunks and lightly salt and pepper in a mixing bowl. Add 1 teaspoon each of freshly minced sage, rosemary, and thyme and mix thoroughly before putting through grinder using fine plate. Mix ground meat together, then refrigerate.


In an oven-safe baking dish, add a thin layer of water and place squashes flesh-side-down. Bake for 25-40 minutes, until a fork easily slides in and out of squash flesh, but before the flesh turns mushy. When done, remove and set aside.


Rinse wild rice under cold water in sieve. In a pot, add wild rice and chicken stock. Bring to a boil, then lower to a simmer and cover. Wild rice is finished when some grains crack open and when it has an overall tender texture. This likely takes about 45 minutes to an hour. During the simmer, add more chicken stock if necessary to avoid drying out the rice. If excess liquid remains, drain rice through a sieve afterward.


In a large skillet on medium heat, add a tiny bit of olive oil followed by finely diced onions. Dust with salt and pepper. Cook onions until brown, then add finely diced apple and finely minced garlic. Add another drizzle of olive oil plus another dusting of salt and pepper, then stir and sear for 2 minutes.


After cooking for 2 minutes, de-glaze pan with white wine. Continue to stir. Once wine is absorbed, remove diced apple and onion and set aside in a large mixing bowl.


When wild rice is finished, add it to the same large mixing bowl.


After removing diced apple and onion, add a very thin layer of olive oil to the same skillet, followed by diced celery and carrot. Lightly salt and pepper. Sauté until slightly soft, likely 5 to 7 minutes, then add to large mixing bowl with cooked diced apple and onion.


Once again, add a thin layer of olive oil to skillet and turn heat to medium-high. Add ground mix of pork and upland bird. Brown the underside then flip, continuing to brown the other side before using a spatula to separate into granular pieces. Once fully cooked, add to large mixing bowl along with the other ingredients.


To assemble stuffed squash, mix together all ingredients: diced apple, onion, carrots, celery, wild rice, and cooked ground meat. Spoon out a heap onto each squash half and top with shredded Parmesan cheese. Place in oven at 400 degrees, flesh-side-up, until cheese is melted and slightly browned. If you overcooked your acorn halves, make certain the stuffing mix is mostly hot (may need to heat in oven for a few minutes) then add to acorn halves, top with cheese, and set under the broiler just until the cheese is melted.
Enjoy! Reach out to me on Instagram (@WildGameJack) with any questions or comments and find my other wild game recipes here.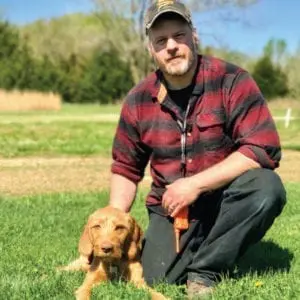 Jack Hennessy
Jack Hennessy grew up in the South Suburbs of Chicago and didn't start hunting until he attended graduate school in Spokane, Washington, at the age of 26. Hennessy began work in professional kitchens in high school but didn't start writing wild game recipes until he joined the Spokesman-Review in 2014. Since then, his recipes have appeared with Petersen's Hunting, Backcountry Journal, Gun Dog Magazine, among many others. He now lives with his wife, daughter, and Wirehaired Vizsla, Dudley, in Wichita, Kansas.