Home » Small Game Cooking » Upland Drunken Noodles with Thai Peanut Sauce
Upland Drunken Noodles with Thai Peanut Sauce
This delicious Thai recipe can be adapted for grouse, pheasant or quail meat.
Pad Kee Mao, or drunken noodles, got its name because the dish is meant to serve as a welcomed nightcap after hours of carousing late into the evening. The combination of spices, herbs, savory noodles, and, in this case, delicious wild birds is the perfect medicine for when you're feeling less than optimal thanks to tilting a few back.
You can use meat from any upland bird here. With these instructions, you can turn thigh meat into bacon-like bits in your drunken noodles, then serve sliced breast meat overtop. In regard to the noodle sauce, you can control the spice level based on whether or not you add in dry red Thai chili peppers. The Sambal chili paste adds to the heat, too. Not a spice fan? Forego both. Love spicy food? Double down.
Yes, suggest incorporating sake rice wine in the sauce and yes, I know sake is Japanese. But there are no laws against infusing one culture's food and drinks into another. The alcohol in the sake burns off, so you can certainly serve this dish to anyone, including kids. In terms of the Thai peanut sauce, I don't like mine overly sweet. However, if you prefer sweet sauces, you can add in brown sugar to sweeten it up.
I ordered my dry Thai basil from Amazon. Thai basil is a tad different from regular basil, but you can incorporate regular dry basil if you don't want to place a special order. You can also use fresh basil.
Upland Drunken Noodles with Thai Peanut Sauce
This delicious Thai recipe can be adapted for grouse, pheasant or quail meat.
Prep Time
30

minutes
mins
Total Time
1

hour
hr
30

minutes
mins
Ingredients
12

oz.

worth of upland breast and thigh meat

Kosher salt and freshly cracked black pepper

Peanut oil

12

oz.

wide rice noodles

1

bunch

green onions (scallions)

cut into 1-inch strips

1

cup

dry red Thai chili peppers

Optional for spicier noodles

Crushed peanuts for garnish

(optional)
Drunken noodle sauce ingredients
2

tsp

freshly minced garlic

1

tbsp

freshly minced ginger

¾

cup

chicken stock

minimum

¼

cup

soy sauce

¼

cup

sake rice wine

6

tbsp

oyster sauce

2

tbsp

dry Thai basil

1

tbsp

fish sauce

1

tbsp

Sambal chili paste

4

tsp

Mirin sweet rice wine

½

cup

water leftover from boiling rice noodles
Peanut sauce ingredients
1 ½

cup

coconut milk

1 ½

cup

creamy peanut butter

3

tbsp

red curry paste

Juice from half a lime

¼

cup

brown sugar

Optional for sweeter peanut sauce
Instructions
Lightly dust your thawed upland meat with kosher salt and freshly cracked black pepper. Leave in the fridge for couple hours uncovered to dry and absorb salt.

When you're ready to cook, heat a thin layer of peanut oil with medium heat in a large (preferably cast-iron) skillet. Finely dice the thigh meat and add it to the skillet. Once the meat is seared, add the freshy minced garlic and ginger. Cook for one more minute, stirring often. Deglaze the pan with 1/4 cup sake wine. Stir.

In a mixing bowl, add the remaining drunken noodle sauce ingredients other than leftover rice-noodle water (chicken stock, soy sauce, oyster sauce, dry Thai basil, fish sauce, Sambal chili paste, and Mirin). Mix the ingredients together and add it to skillet. Turn heat to low and simmer the sauce and meat for 20 minutes.

At this point, you can make the Thai peanut sauce by combining all its ingredients in a medium saucepan and heating to low. Stir every so often, careful not to let it burn. If it's not sweet enough for your taste, make sure to add the quarter cup of brown sugar. Leave it on low heat until you're ready to serve.

After the bits of thigh meat and the sauce have simmered for 20 minutes, start the rice noodles. To make rice noodles, follow instructions on the packaging. Aim for an al dente texture. Once the noodles are done, take 1/2 cup of water from the pot used to cook the rice noodles and add it to the sauce. Drain the rest of the water. Add al dente noodles and cut green onions to skillet with sauce and thigh bits and turn noodles over until the noodles are coated with sauce. If you want a spicier dish, add Thai red chilis to the skillet.

To cook your upland bird breasts, heat a separate skillet or grill to 500 degrees Fahrenheit. Lightly coat breasts with peanut oil and sear both sides adequately and continue cooking them until their internal temperature is 150. If the noodles look like they're drying out while you sear the breasts, add more chicken stock to the noodles.

To serve, plate drunken noodles and top with sliced breast meat and peanut sauce. Garnish with crushed peanuts.
Notes
Enjoy! Reach out to me on Instagram (@WildGameJack) with any questions or comments.
Keyword
Grouse, Pheasant, Quail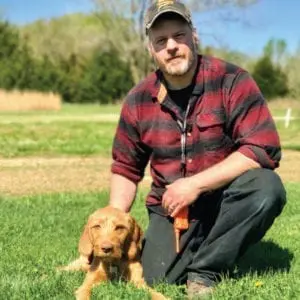 Jack Hennessy
Jack Hennessy grew up in the South Suburbs of Chicago and didn't start hunting until he attended graduate school in Spokane, Washington, at the age of 26. Hennessy began work in professional kitchens in high school but didn't start writing wild game recipes until he joined the Spokesman-Review in 2014. Since then, his recipes have appeared with Petersen's Hunting, Backcountry Journal, Gun Dog Magazine, among many others. He now lives with his wife, daughter, and Wirehaired Vizsla, Dudley, in Wichita, Kansas.