Utilize any upland bird meat and enjoy the Chinese takeout staple
Everywhere I have lived, I have always had my go-to Chinese takeout. Here in Kansas, it's a place called Panda—a small operation on K-15 tucked into the side of a dilapidated gas station. One would never suspect culinary treasures exit that kitchen one oyster pail after another. Their General Tso's Chicken is my favorite.
This recipe can utilize any upland bird. I actually put a couple of roosters from December 2019 to work here. The key is to properly brine the meat ahead of time. I did my best to recreate some of my favorite General Tso's takeout sauces, but I suspect there are a few family secrets in each of those sauces. This one is still very good—just more homage versus replication.
And, yes, you can use your favorite store-bought sauce versus making with these ingredients. I do believe homemade sauce is always better, but the choice is yours. Do note you are coating your pheasant with corn starch—not flour like most frying recipes—because this is how most of these Chinese recipes are created.
Lastly, don't read the package instructions for cooking Jasmine rice. It's never correct and you'll get mushy rice. Follow the ratios and steps in this recipe.
General Tso's Pheasant
Jack Hennessy
Utilize any upland bird meat and enjoy the Chinese takeout staple loved by many Americans.
Cook Time
30

minutes
mins
Ingredients
2

lbs

meat from two pheasant roosters, deboned and cut to 1-inch cubes

12-16

oz

fresh broccoli, cut into florets

Corn starch

for coating

Peanut oil

for frying

Kosher salt and ground black pepper

Toasted sesame seeds

for garnish

Scallions

for garnish

Red chili flakes

for garnish
Brine
1

gallon

cold water

1/2

cup

kosher salt

1/2

cup

sugar

1/2

cup

whole black peppercorns

2

tbsp

mustard seeds

2

tbsp

coriander seeds

8

oz

fresh ginger

smashed

1

bulb

fresh garlic

smashed
Sauce
1/3

cup

soy sauce

1/2

cup

Aji-Mirin (Japanese sweet cooking rice wine)

1/4

cup

chicken stock

2

tbsp

Sambal chili paste

2

tbsp

honey

2

tbsp

corn starch

1

tbsp

rice wine vinegar

1

tbsp

hoisin sauce

1

tbsp

brown sugar

1/4

tsp

sesame oil

1 1/2

tbsp

freshly minced garlic

added to skillet, not sauce

1

tbsp

freshly minced ginger

added to skillet, not sauce
Rice
2

cups

Jasmin rice

2 2/3

cups

cold water
Instructions
Debone the pheasant and brine for 6-8 hours.

Tips on brine: In a large pot, add just enough water to hold salt and sugar and bring to a simmer along with other ingredients. Once salt and sugar is dissolved, add cold water and cool before adding pheasant.

Upon removing pheasant from brine, thoroughly rinse under cold water and cut into 1-inch chunks. Lightly pat dry then toss in cornstarch to coat all sides.

To make the sauce, in a medium saucepan add all liquids on medium-low and stir often and thoroughly until well mixed. Do not add ginger or garlic. Turn off heat when thick and all lumps from the cornstarch are gone.

In a fryer, Dutch oven, or other large pot, heat 2-3 inches of peanut oil to 375 degrees. Fry pheasant chunks, being careful not to crowd the pot for approximately 5 minutes until golden brown. Set aside on a grate or stainless steel mesh so grease can drip and drain.

In a large, preferably cast-iron skillet, add a thin layer of peanut oil followed by broccoli and turn heat to high. Lightly salt and pepper broccoli, give florets a good sear, and then set aside.

In that same skillet, after removing broccoli, turn heat to medium-low and add a thin layer of peanut oil followed by the freshly minced ginger and garlic. Stir for 2-3 minutes until garlic and ginger release aromas then add fried pheasant. Stir in sauce and turn heat to low.

To make rice, add Jasmine rice and cold water to medium saucepan, cover, and turn heat to high. Turn heat to low once water comes to a boil. Rice is done once all water is absorbed, around 10-15 minutes.

When almost ready to serve, add broccoli back to skillet with fried pheasant and sauce and stir in. To serve, add rice to plate, top with skillet contents then garnish with sliced scallions, toasted sesame seeds, and red chili flakes if you want extra heat. Enjoy!
Nutrition
Calories:
4995
kcal
Carbohydrates:
682
g
Protein:
240
g
Fat:
158
g
Saturated Fat:
43
g
Polyunsaturated Fat:
35
g
Monounsaturated Fat:
66
g
Trans Fat:
1
g
Cholesterol:
683
mg
Sodium:
63216
mg
Potassium:
6511
mg
Fiber:
57
g
Sugar:
196
g
Vitamin A:
4110
IU
Vitamin C:
340
mg
Calcium:
1269
mg
Iron:
34
mg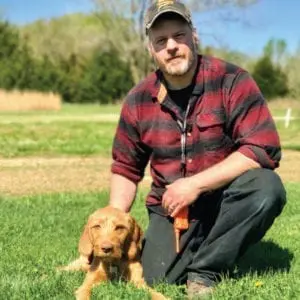 Jack Hennessy
Jack Hennessy grew up in the South Suburbs of Chicago and didn't start hunting until he attended graduate school in Spokane, Washington, at the age of 26. Hennessy began work in professional kitchens in high school but didn't start writing wild game recipes until he joined the Spokesman-Review in 2014. Since then, his recipes have appeared with Petersen's Hunting, Backcountry Journal, Gun Dog Magazine, among many others. He now lives with his wife, daughter, and Wirehaired Vizsla, Dudley, in Wichita, Kansas.