Home » Small Game Cooking » Removing Freezer Burn from Your Upland Birds
Removing Freezer Burn from Your Upland Birds
Photo by Jack hennessy
Tips for Saving Game Meat and Avoiding Waste in the Kitchen
What is the best way to avoid freezer burn? Simple—avoid it in the first place, right? Freezer burn occurs when frozen food has been dehydrated due to air exposure. Basically, if your birds aren't packaged airtight, you risk freezer burn.
But we've all been there: after a long day of bagging birds, we clean our game, toss it into a Ziploc bag, and stuff it somewhere in the back of the freezer. We sit back, have a few beers, and forget that we promised ourselves we'd package those birds better at a later time. Or maybe we took the time to vacuum seal the birds, only to discover later that the seal failed at some point.
Then next season comes along and, as we're taking inventory of our freezer to make room for this year's wild game, we find those butchered breasts caked in frost with splotches of skin the color of something they'd excavate from a tomb in Ancient Egypt. Translation: it looks gross.
Don't toss those birds! I have a very simple technique for saving this wild game meat that requires only a fillet knife and a bit of patience.
Most of that meat is likely still good and appears pink as it should. You just have to trim away the discolored segments of flesh to find it.
Instructions for Saving Freezer-Burnt Meat
Partially thaw your birds, leaving them just frozen enough that it is easy to slice thin pieces away from the meat.
Take that fillet knife and delicately trim away the freezer-burnt portions. I'm talking about slicing millimeters' worth until you find unburned flesh.
Troubleshooting the Process of Removing Freezer Burn
If you can't easily trim away the meat, your birds are still too frozen to trim effectively. Place the meat in a sink and submerge in cold water for 30 minutes, then check again. If it is still too frozen, drain and refill the sink with fresh, cold water and repeat the 30-minute wait time. If you find that you're chopping off more than you'd like, your birds are too thawed. Throw them back in the freezer for 30 to 60 minutes.
Disclosure: For ALL my initial pheasant recipes for Project Upland, I have been working with this freezer-burned chunk of pheasant breasts. The dishes still tasted amazing after carving off these freezer-burned sections.
Worth noting is that out of six pounds of meat (eight full breasts), I carved off under four ounces of meat. It is absolutely worth the extra effort to conserve the meat.
To be fair, I would consider the pheasant featured here somewhat of an extreme case. For slightly freezer-burnt meat, I would suggest one of the following techniques:
A soak in buttermilk for a couple hours, then throwing through a flour dredge for some comfort fried food.
Several hours stewing in your favorite marinade prior to cooking.
Maybe an hour-long soak in Coca-Cola or Dr. Pepper, then rubbed down with favorite spices and grilled.
The Bottom Line for Conserving Game Meat
There are several ways to fix freezer-burned meat. Always keep in mind this quote from Jim Harrison:
"Go to your freezer. How much and what kind of fish and game do you have left in there from the previous summer and fall getting freezer burn? Write it down and subtract it as penance from your bag limit this summer and fall."
I'll add the following insight: Correcting and cooking that fish and game getting freezer burn is the only path to absolution (and thus avoiding having to undergo penance during the season).
Reach out to me on Instagram (@WildGameJack) with any questions or comments and check out the rest of my wild game recipes here.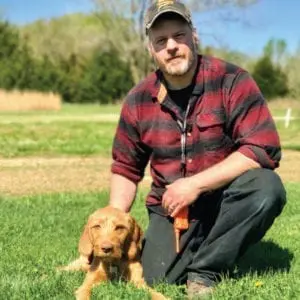 Jack Hennessy
Jack Hennessy grew up in the South Suburbs of Chicago and didn't start hunting until he attended graduate school in Spokane, Washington, at the age of 26. Hennessy began work in professional kitchens in high school but didn't start writing wild game recipes until he joined the Spokesman-Review in 2014. Since then, his recipes have appeared with Petersen's Hunting, Backcountry Journal, Gun Dog Magazine, among many others. He now lives with his wife, daughter, and Wirehaired Vizsla, Dudley, in Wichita, Kansas.