Photo by Jack Hennessy
Teriyaki and pheasant come together for your next pheasant recipe.
By now I suspect you are aware the ring-necked pheasant hails from China and East Asia. And you would be correct to assume the mandarin orange owes its origin to the same region. Teriyaki, on the other hand, was developed in farthest East Asia, in Japan, where the green pheasant is native. Regardless, the flavor of common pheasant still gets along quite well with Japan's sauce concoction.
This is indeed a stir-fry recipe, which means high heat and fast searing methods. I advise cooking vegetables and pheasant separately at first, as steam from vegetables will soften the pheasant meat and our goal is a nicely browned exterior on the meat.
For the recipe, I like to separate the tenderloins and then slice breast meat into a similar size, which requires cutting diagonally along the breast. The recipe works with any honey, but I prefer organic when possible and Firebee Honey has a great selection of raw honey made on farms in Kansas. If you enjoy spice, I suggest their signature Spicy Honey, though regular raw is great too.
Main Ingredients
12-16 ounces pheasant, tenderloins or breasts sliced into strips
1 medium yellow onion, julienne
1 cup fresh carrots, finely diced
2 cups fresh broccoli, cut into florets
8 ounces sliced baby portabello mushrooms
Kosher salt and ground black pepper, mixed use
Sunflower or peanut oil, mixed use
2 cups basmati rice
2 cups crushed cashes for garnish
1 stalk green onions, sliced (optional garnish)
Mandarin Teriyaki Ingredients
3/4 cup soy sauce
3/4 Mirin rice wine
3/4 cup honey
1 tablespoon freshly minced ginger
1-1/2 tablespoons freshly minced garlic
1 tablespoon brown sugar
1 tablespoon rice vinegar
1/2 teaspoon pure sesame oil
2 to 4 teaspoons corn starch slurry (depending on desired consistency)
2 mandarin oranges, peeled and split into slices
Cooking Steps
Add all Mandarin teriyaki ingredients EXCEPT mandarin orange slices and corn starch slurry to a medium sauce pot. Tip: It helps to heat up honey so it pours easier. Set pot to simmer for half hour.
In another medium pot, add 2 cups basmati rice and 2-3/4 cups of cold water, cover with lid. Bring to boil then reduce to low once boiling. Once all water is absorbed, turn off burner and leave lid on.
To finish teriyaki sauce, add mandarin oranges along with corn starch slurry. (For slurry, start with 2 teaspoons of corn starch added to a mixing bowl, then drizzle in water and mix by hand until liquid). Stir thoroughly and allow to simmer for 20-30 minutes. For thicker sauce, add 2 more teaspoons of corn starch slurry (or more).
In a wok or large cast iron skillet, heat a thin layer of oil on medium-high. Once oil surface temp reaches 500 degrees Fahrenheit, add onion, carrots, and broccoli and lightly salt and pepper.
Toss or stir until all vegetables are seared and slightly soft. Remove and set aside on a plate. Add another thin layer of oil then toss in pheasant, lightly salt and pepper.
Toss or stir pheasant until seared and thoroughly cooked. Add vegetables back along with sliced mushrooms. Stir and oil lightly if necessary, stir until mushrooms are slightly cooked.
To finish dish, add sauce to pan or wok with vegetables and pheasant, toss thoroughly then plate rice and top with pheasant and vegetables, ladle over extra sauce. Garnish with crushed cashews and sliced green onions.
Enjoy! Reach out to me on Instagram (@WildGameJack) with any questions or comments.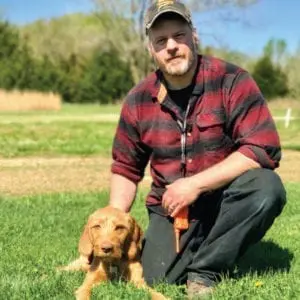 Jack Hennessy
Jack Hennessy grew up in the South Suburbs of Chicago and didn't start hunting until he attended graduate school in Spokane, Washington, at the age of 26. Hennessy began work in professional kitchens in high school but didn't start writing wild game recipes until he joined the Spokesman-Review in 2014. Since then, his recipes have appeared with Petersen's Hunting, Backcountry Journal, Gun Dog Magazine, among many others. He now lives with his wife, daughter, and Wirehaired Vizsla, Dudley, in Wichita, Kansas.