This roasted dove recipe is simple and rewarding for the best wild game dinner.
Each September I'm reminded of how much I love the taste of dove. In fact, it's a flavor I enjoy so much, I want a deeper sense of it. Dove poppers are an obvious favorite, especially on opening day. However, when I really want to savor my quarry, I make a simple roast. Since dove is a red-meat migratory bird, it is best served medium-rare. A proper roast should crisp the skin but never cook the meat inside past medium-rare.
I take the time to age and pluck my birds for a few days prior to roasting, too. If you've never aged doves, consider giving it a shot. Aging tenderizes meat and concentrates flavor. The best part? It only requires a little fridge space and a bit of patience. It works incredibly well for doves and makes them even more of a special treat.
After aging doves, give a pluck. Skin-on birds retain more moisture and in that skin resides more flavor. One dove doesn't take more than six minutes to pluck knee to wing tip. That time estimate includes singeing off errant feathers with a lighter. A limit may take you an hour and a half to pluck, but the effort is so worth it.
You can also brine your birds or incorporate a simple dry brine to your pre-roast preparations. Dry brining is easy; you just add salt, pepper, and sugar to the skin of your birds. A wet brine will help remove any residual blood, but it can potentially dumb down the flavor. To retain that authentic dove flavor, keep your birds dry and stick to simple spices, especially if they're fairly pristine (read: not shot up). If they are quite shot up, maybe forgo aging and plucking; add those birds to the popper pile.
Perfect Roasted Dove
Learn how to roast the perfect juicy dove this season with this simple recipe.
Ingredients
1

whole dove

plucked

Kosher salt

Freshly cracked black pepper

Brown sugar

Cooking oil spray
Sides & Toppings
10

oz

frozen corn

3

jalapeños

seeded and finely diced

½

medium

red onion

finely diced

Olive oil

Kosher salt and ground blackpepper

Cotija or feta cheese

Sliced scallions for garnish

(optional)
Instructions
Age your doves. Do not pluck or dress them; leave as-shot straight from field to fridge. Leave them in the fridge with ample airflow for three days.

After aging, carefully pluck, dress, and lightly salt and pepper your birds on all sides. Rub in brown sugar on all sides, too. Leave your birds in the fridge with ample airflow for one more day to dry out their skin (drier skin equals crispier skin when roasting).

To roast, remove your doves from the fridge and leave them out at room temperature for one hour. Preheat your oven to a minimum of 500 degrees Fahrenheit. If possible, your oven should be closer to 525 degrees. Using a separate stainless steel mesh rack, add your doves to the rack and place it in the oven to cook. After two minutes of roasting in the oven, spray the doves with cooking oil. Roast them for a total of five to six minutes, or until the skin is perfectly crisp. Remove the doves and let them rest for five to 10 minutes prior to serving.

To make the peach purée, peel and remove the seeds from two peaches. Add them to the food processor along with your tablespoon of Five Spice Powder. Add the mixture to a small saucepan and heat on low until it's warm.

To roast the corn, diced jalapeños, and red onion, add them to an oven-safe pan. Lightly salt and pepper it, then mix in a little bit of olive oil. Roast at 500 or 525 for 20 minutes, or until slightly browned and roasted.

Serve your roasted dove atop the peach purée. Dish it up with a side of roasted corn mix topped with cotija or feta cheese and sliced scallions. Enjoy!
Notes
Reach out to me on Instagram (@WildGameJack) with any questions or comments.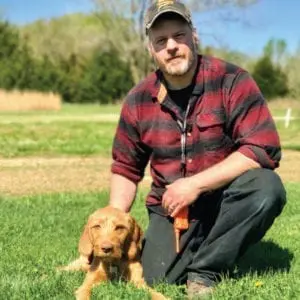 Jack Hennessy
Jack Hennessy grew up in the South Suburbs of Chicago and didn't start hunting until he attended graduate school in Spokane, Washington, at the age of 26. Hennessy began work in professional kitchens in high school but didn't start writing wild game recipes until he joined the Spokesman-Review in 2014. Since then, his recipes have appeared with Petersen's Hunting, Backcountry Journal, Gun Dog Magazine, among many others. He now lives with his wife, daughter, and Wirehaired Vizsla, Dudley, in Wichita, Kansas.