Dive into this delicious Indian dish, utilizing upland game in a spinach curry
My wife first introduced me to Indian food several years ago on one of our first dates in Spokane, Washington. The place was much like something you might find in a metropolitan subway—cramped but full of character.
Admittedly, I was resistant to the idea of something entirely new. It wasn't love at first bite. Over the years, whether while visiting India Palace in Lawrence, Kansas, or Passage to India in Wichita, I've learned to absolutely relish Indian food. The flavors are layered, with a deep sense of personality and spices in every dish.
For wild game, Indian cuisine is that special arrow in my quiver. Yes, I've had to invest in some above-average-cost spices, but that initial investment goes a long way and lasts for many dishes. Additionally, most Indian dishes are a "variation on that, a variation on this," but for the most part, the same roster of spices remain. For freezer-burnt game, Indian food, complete with a couple days in a yogurt marinade, is one of the best remedies.
So with the history of Indian food and my wife, and some pheasant gathering frost in the freezer, this dish made perfect sense as our first home-cooked meal upon returning home with our newest daughter, Zinnia Lone (her middle name even comes from a town in Washington).
Yes, there is a lot of reading below, but this dish isn't hard to make.
A note on ingredients: You want the kasoori methi and garam masala. Sometimes those are harder to find in some stores. Order online if your local grocer doesn't have them. No, you don't need mustard oil. A little bit of mustard oil drizzling adds a small something, but not a lot. Further, you don't need green tomatoes—you can use the same amount of pureed, roasted red tomatoes. It'll obviously change the flavor profile, but the headliner here is the pheasant and spinach.
Hope you enjoy this one. It was made with much love. Reach out to me on Instagram (@WildGameJack) with any questions or comments.
Palak Pheasant
Jack Hennessy
Dive into this delicious Indian dish, utilizing upland game in a spinach curry.
Ingredients
22

oz

cubed pheasant breast

cut into 1" x 1" chunks

1

cup

yogurt

1½

tbsp

garlic

minced

1

tbsp

ginger

minced

1

tbsp

kasoori methi

2

tsp

garam masala

1

tsp

ground mustard

½

tsp

ground cumin

2

tsp

red chili powder

1

tsp

kosher salt

½

tsp

white pepper

ground
Sauce
1

medium red onion

chopped

2

tsp

garlic

minced

1

tbsp

ginger

minced

½

tsp

ground cumin

1½

tsp

garam masala

1

tsp

ground coriander

1

cup

roasted green tomatoes

without pit, pureed

2

cups

chicken stock

½

tsp

red chili powder

1

cup

heavy whipping cream

1

tbsp

brown sugar

12

oz

spinach

(6 oz blanched and pureed, the other 6 oz stirred in)

2

tbsp

kasoori methi

Drizzle of mustard oil

Sunflower oil

Kosher salt

Black pepper

ground
Rice
2

cups

basmati rice

2¾

cups

cold water
Instructions
Cut pheasant breasts (or other upland bird breasts) into cubes.

In a food processor, blend all marinade ingredients other than yogurt and bird meat. Add blended mix to mixing bowl, then stir in yogurt.

Add cubed breast meat to mixing bowl. Thoroughly mix, then cover with plastic wrap. Place in fridge to marinate for 48 hours.

When ready to cook, in a large (preferably cast-iron) skillet on medium-low heat, add a thin layer of sunflower oil, followed by chopped red onion. Lightly salt and pepper. Once onions start to brown, add tablespoon of salted butter and stir in, picking up any brown bits from onions.

While cooking onions, heat oven to 400 degrees Fahrenheit and roast green tomatoes for 40 minutes. Once roasted, peel skin and cut out core. Blend green tomatoes (without skin or core) in food processor until thoroughly pureed. Set aside.

After deglazing onions with butter, add 1½ Tbs freshly chopped garlic and 1 Tbs freshly chopped ginger. Stir and allow to cook for couple minutes then add skillet contents to food processor and thoroughly puree. Set aside.

In same large skillet, add a very thin layer of sunflower oil and a few very small drizzles of mustard oil. Heat to 400-450 degrees and add marinated pheasant (no need to rinse yogurt off). Be careful not to crowd the pan as you want a nice sear on the pheasant, so this may take 3-5 batches of cooking (with potentially adding a few more drizzles of both oils).

After browning all pheasant chunks, add them back to the skillet along with all other ingredients: pureed green tomatoes, pureed onion, garlic, ginger mix, and 2 cups of chicken stock. Cook for 10 minutes with pheasant, stirring frequently, then add 1 cup of heavy whipping cream, along with 1 tbsp of brown sugar, 1½ teaspoons of garam masala, and ½ teaspoon each of cumin and red chili powder. Mix thoroughly and allow cream to reduce for 15 minutes.

In a separate, large pot, bring water and 6 oz of fresh spinach to a simmer and, when slightly soft, remove and drain water. Add the spinach to the food processor along with 2 Tbs kasoori methi. Blend thoroughly and add to skillet.

Stir the remaining spinach into the skillet slowly (a small handful at a time) until it's soft and mixed in with sauce. Allow to simmer for half hour. Salt to taste.

To make rice, add 2 cups of basmati rice and 2¾ cups cold water to medium saucepan, cover, and bring to a boil. Once boiling, reduce to very low and turn off the heat once all water is absorbed (usually takes 10-15 minutes).

To serve, spoon out sauce and pheasant into a bowl. Serve rice on the side, or serve sauce and pheasant atop rice. Garnish with sliced red sweet peppers and a side of warm naan bread.
Nutrition
Calories:
1762
kcal
Carbohydrates:
195
g
Protein:
101
g
Fat:
63
g
Saturated Fat:
33
g
Polyunsaturated Fat:
5
g
Monounsaturated Fat:
19
g
Trans Fat:
1
g
Cholesterol:
386
mg
Sodium:
2174
mg
Potassium:
3271
mg
Fiber:
12
g
Sugar:
23
g
Vitamin A:
19255
IU
Vitamin C:
82
mg
Calcium:
545
mg
Iron:
10
mg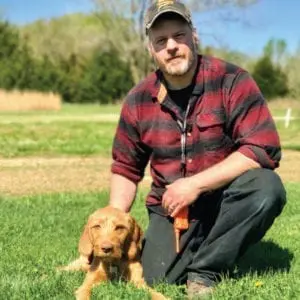 Jack Hennessy
Jack Hennessy grew up in the South Suburbs of Chicago and didn't start hunting until he attended graduate school in Spokane, Washington, at the age of 26. Hennessy began work in professional kitchens in high school but didn't start writing wild game recipes until he joined the Spokesman-Review in 2014. Since then, his recipes have appeared with Petersen's Hunting, Backcountry Journal, Gun Dog Magazine, among many others. He now lives with his wife, daughter, and Wirehaired Vizsla, Dudley, in Wichita, Kansas.