Photo by Jack Hennessy
Tackle turkey legs with a long marinade and a low-and-slow simmer to get a tender, delicious meal that will have you saving all the toughest cuts of wild meat
Best case scenario: Wild turkey thighs and legs don't get the culinary credit they deserve. Worst case scenario: They get left afield for coyotes or stuffed into the back of the freezer where they will remain forever caked in frost, growing ever-more dehydrated from freezer burn, year after year, until they're inevitably cast into the garbage to make room for more prized cuts. Let's change this trend and start a new wild-game movement: #NoThighLeftBehind
The hardest-working parts of any wild game—wild turkey thighs in this instance—are always the most misunderstood and underutilized. Why? Because you can't just throw them onto the grill and expect them to taste anything like breast meat. They're tough and, unless cooked low and slow, you had better have a good dental plan.
This recipe employs two key techniques to tenderize upland birds' toughest cuts. A minimum day-and-a-half in yogurt means that the mild acids will denature the meat, while hours simmering in crushed tomatoes, chicken stock, and other spices will further break down collagen and turn this typically tough wild protein into succulent bites. In the end, you won't even be able to tell this dish was made from the thighs of a wild thunder chicken.
Wild Turkey Tikka Masala
Jack Hennessy
Low and slow brings this Indian inspired to the tough parts of wild turkey meat.
Prep Time
1

day
d
12

hours
hrs
Cook Time
3

hours
hrs
30

minutes
mins
Total Time
1

day
d
15

hours
hrs
30

minutes
mins
Ingredients
Marinade Ingredients
22

oz.

de-boned turkey thighs (two thighs),

cut into 1 inch cubes

1

cup

plain yogurt

1 ½

tbsp.

minced garlic

1

tbsp.

minced ginger

2

tsp.

garam masala

1

tsp.

turmeric

½

tsp.

ground cumin

½

tsp.

red chili powder

1

tsp.

salt
Sauce Ingredients
1

tbsp.

unsalted butter

1-2

tbsp.

sunflower oil

1

tsp.

Kosher salt

1

tsp.

ground black pepper

1

large onion,

chopped

1 ½

tbsp.

garlic,

minced

1

tbsp.

ginger,

minced

½

tsp.

ground cumin

1 ½

tsp.

garam masala

1

tsp.

ground coriander

21

oz.

crushed tomatoes

2

cups

chicken stock

½

tsp.

red chili powder

1

cup

heavy whipping cream

1

tbsp.

brown sugar

1 ½

cup

basamati rice

2

cups

cold water

naan bread,

Optional side

finely minced fresh cilantro

Optional garnish
Instructions
Completely de-bone turkey thighs with a de-boning knife. To do so, make an incision along thigh bone to open up the thigh. Work knife around joints on either side. I prefer to run my fingers along the bones to separate the bone from the meat.

In a food processor, blend all marinade ingredients other than the yogurt and turkey thigh meat. Add blended mix to mixing bowl, then add yogurt and mix together with ingredients from food processor.

Cut turkey thighs into approximate 1 inch cubes and add to mixing bowl with yogurt and spices. Thoroughly mix and cover with plastic wrap. Place in fridge to marinate for 36-48 hours.

When ready to cook, in a large (preferably cast-iron) skillet heated on medium-low, add a thin layer of sunflower oil, followed by chopped onion. Lightly salt and pepper. Once onions start to brown, add tablespoon of unsalted butter and stir in, picking up any brown bits from the onions.

Add 1½ tablespoons freshly chopped garlic and 1 tablespoon freshly chopped ginger. Stir and allow to cook for couple minutes, then add 21 ounces crushed tomatoes (can and a half), 2 cups chicken stock, and for spices: ½ teaspoon cumin, 1½ teaspoons garam masala, 1 teaspoon ground coriander, ½ teaspoon chili powder, 1 tablespoon brown sugar, and 1 teaspoon each of kosher salt and ground black pepper. Stir and allow to simmer for 10 minutes.

Add liquid mix to food processor and blend thoroughly (still no cream). Leave in food processor and using the same skillet, add turkey thigh chunks to skillet. No need to rinse or shake off yogurt marinade. Turn heat to medium high.

Do not crowd skillet, which will likely mean adding only 6-8 pieces at a time when cooking. Overcrowding will cause the meat to steam and prevent adequate sear. Also, turkey gives off a lot of moisture when cooking, so after browning all sides, set chunks aside on a plate and drain liquids from skillet. Repeat until all chunks are seared.

Add liquids from the food processor back to skillet and reduce heat to medium-low. Add all seared meat turkey thigh chunks back into skillet.

Allow to simmer for 2½ hours. Stir often. Add more chicken stock if liquid starts to appear too dry or does not cover meat entirely. After 2½ hours, add 1 cup heavy whipping cream and allow sauce to reduce for 45 minutes to 1 hour.

In a medium covered saucepan, bring rice and water to a boil then reduce to low until water evaporates. Turn off burner once water evaporates.

Once sauce is thick and the meat is tender, salt sauce to taste. Plate rice and ladle over sauce. Optional: Garnish with finely minced fresh cilantro and pair with naan bread.
Nutrition
Enjoy! Reach out to me on Instagram (@WildGameJack) with any questions or comments and be sure to check out my other wild game recipes and cooking instructions here.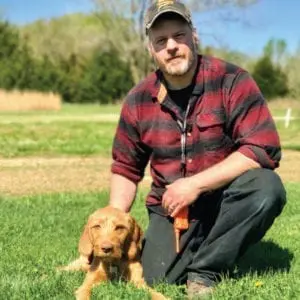 Jack Hennessy
Jack Hennessy grew up in the South Suburbs of Chicago and didn't start hunting until he attended graduate school in Spokane, Washington, at the age of 26. Hennessy began work in professional kitchens in high school but didn't start writing wild game recipes until he joined the Spokesman-Review in 2014. Since then, his recipes have appeared with Petersen's Hunting, Backcountry Journal, Gun Dog Magazine, among many others. He now lives with his wife, daughter, and Wirehaired Vizsla, Dudley, in Wichita, Kansas.