A sauce with layers of flavor, mole is an excellent vehicle to cook upland game in
Mole (pronounced "mo-lay") is a traditional Mexican sauce and marinade with many layers of flavor. Most folks associate chocolate with this sauce, but, as I understand it, most moles don't contain chocolate and those that do, including this one, shouldn't taste like chocolate. Nevertheless, your taste buds should take a rapid-transit ride through many levels of flavor when tasting this dish.
My coworker and friend, Matt Whitman, introduced me to some amazing mole in Salt Lake City at the Red Iguana. It's a gem of a place his wife originally discovered years ago and worth a stop for anyone passing through SLC. The flavor was reminiscent of other dishes I've made with chili paste, so I decided I could fine-tune earlier recipes and create my own mole, which I genuinely believe is on the level of Red Iguana.
I am often overly critical of everything I make, but I believe this one is definitely worth the effort. I don't blend the chiles, but rather rehydrate them and put them through a steel china cap strainer. Yes, this is more work and will make your hands hurt, but it's worth it. (You end up avoiding the somewhat plastic textures that come with blending chile skins.) Use a tough steel spoon to push the hydrated peppers through the strainer. This is the hardest part of the recipe. There is a bit of spice to this dish (not overly so), but if you don't want that, seed the chiles before rehydrating.
Note: Depending on where you live, some of this stuff may be difficult to find in local grocers. For red Irish ale, I love how Walnut River Brewing's Warbeard works with its caramel color and flavor. I use that beer for a lot of cooking, and it's perfect here, but only available in Kansas, Missouri, and Wyoming. Pick it up if you can, or find another dark red Irish ale to use.
Finally, you can use any upland bird—or, in fact, any game—for this recipe. If deboned, cut game into bite-size pieces. The minimum 3-hour simmer in the sauce ensures your game tenderizes. If cooking legs bone-in, make sure to pick out those tendons when done.
Any questions or comments, please reach out on Instagram @WildGameJack.
Upland Mole
Jack Hennessy
A sauce with layers of flavor, mole is an excellent vehicle to cook upland game in.
Ingredients
1 to 1 1/4

pound

upland game meat

1

yellow onion

diced

1/2

tbsp

salted butter

3/4

cup

red Irish ale

3/4

cup

beef stock

1/2

tsp

cumin

1/2

tsp

coriander

2

tbsp

morello cherry preserves

2

tsp

freshly minced garlic

2

tbsp

pumpkin seeds

toasted and blended

2

tbsp

almonds

toasted and blended

1

oz

Mexican chocolate

Peanut oil

6-inch tortillas

Kosher salt

Fresh cracked black pepper
Chili paste made from the following:
8

oz

dried guajillo chiles

8

oz

dried morita chiles

8

oz

dried chipotle chiles

1 1/2

tsp

cornstarch slurry
Garnish
Queso fresco or cotija cheese

Cilantro

minced

Avocado

sliced
Instructions
Chili Paste
To make chili paste, add all dried peppers to large pot and cover with water. Bring to a low boil for 15 minutes to rehydrate peppers.

Once rehydrated, strain. Once strained, scoop a large portion and put into steel China cap strainer.

Use a durable steel spoon to mash peppers so pulp comes through sieve. Have a bowl below to catch paste

Get as much as you can with each scoop of rehydrated peppers then discard, add next scoop until you've mashed all peppers through sieve.

Use a plastic scraper/rubber spatula to scrape off pulp from outer edges of sieve into bowl. You should get a cup from all of this effort.
Other prep
Butcher your upland game as you see fit. I personally used a whole pheasant, butchered into breasts (and tenderloins), which I diced, then bone-in thighs, legs, and thighs. (I cooked bone-in pieces whole then pulled shredded meat from bones, tossed bones.)

In a large cast-iron skillet, add a thin layer of peanut oil followed by diced onion. During this process pull butchered upland bird from the fridge and lightly salt and pepper all sides and leave out at room temperature.

Lightly salt and pepper diced onion in skillet. Sear on medium-high heat then turn to medium-low and allow the onion to caramelize. Once caramelized, add 1/2 tbsp salted butter to deglaze. Also add 2 tsp of freshly minced garlic and cook for 1-2 minutes Scrape onion and minced garlic from skillet and set aside.

In same skillet, add upland bird meat but be careful not to crowd pan (crowding pan will prevent a good sear). You may need to sear the bird in phases to avoid crowding pan. Sear all sides, then remove and set aside.

Add everything back to the skillet along with 1 cup chili paste, 3/4 cup Irish ale, and 3/4 cup beef stock. Stir together thoroughly to coat all the meat and leave at a simmer on low heat for 1 hour, stirring often.

To blend almond, pumpkin seeds, and chocolate, first toast almond and pumpkin seeds at 400 degrees Fahrenheit in the oven for 4-5 minutes until fragrant then add to food processor with 1 oz of Mexican chocolate and blend thoroughly.

After 1 hour simmering, add 2 tbsp of morello cherry preserves, 1/2 tsp each of cumin and coriander, along with onion and garlic mix. Simmer for another hour, stirring often. If it looks like it's starting to dry out, add a bit of beer and beef stock, no more than a 1/4 cup at a time to keep moist. Check every half hour to hour to make sure meat remains mostly covered and moist.

After another hour, add blended mix of almond, pumpkin seed, and chocolate. Simmer for one more hour stirring often and making sure liquids mostly cover meat.

After 3 hours, the meat should be tender and easily pulled off bone if you cooked bone-in. If not tender, low simmer for another half hour, or until tender. Continue to make sure liquids mostly cover meat.

Serve with warm tortillas and garnish with your choice of Mexican cheese or sour cream, freshly minced cilantro, and slices of avocado Enjoy!
Nutrition
Calories:
970
kcal
Carbohydrates:
100
g
Protein:
46
g
Fat:
44
g
Saturated Fat:
14
g
Polyunsaturated Fat:
11
g
Monounsaturated Fat:
16
g
Trans Fat:
1
g
Cholesterol:
110
mg
Sodium:
407
mg
Potassium:
811
mg
Fiber:
37
g
Sugar:
54
g
Vitamin A:
295
IU
Vitamin C:
8
mg
Calcium:
94
mg
Iron:
5
mg
Keyword
upland game birds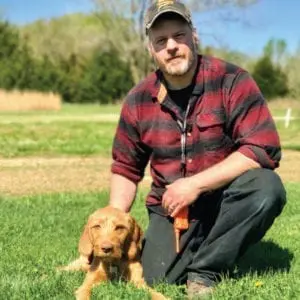 Jack Hennessy
Jack Hennessy grew up in the South Suburbs of Chicago and didn't start hunting until he attended graduate school in Spokane, Washington, at the age of 26. Hennessy began work in professional kitchens in high school but didn't start writing wild game recipes until he joined the Spokesman-Review in 2014. Since then, his recipes have appeared with Petersen's Hunting, Backcountry Journal, Gun Dog Magazine, among many others. He now lives with his wife, daughter, and Wirehaired Vizsla, Dudley, in Wichita, Kansas.