Home » Firearms and Shooting » Shotguns » AYA Shotguns Aguirre y Aranzabal – A Spanish Gunmaker Profile
AYA Shotguns Aguirre y Aranzabal – A Spanish Gunmaker Profile
A look into the history, models, and availability of the Spanish handmade AYA shotguns
After the recent film In Our Veins featuring the fourth generation of the AYA name Alex Aranzabal, there has been an increase in emails and questions regarding AYA shotguns and the revival of this Spanish gunmaker. Spain, or more accurately Eibar, is home to gunmakers like Arrieta, Grulla Armas, Armas Garbi, V. Sarasquota, and of course Aguirre y Aranzabal (AYA). There is some information floating around about the storied history of AYA shotguns but here we will give a more detailed and accurate account of the history, manufacturing process, and shotgun models that are now hitting the U.S. We've also compiled a list of places you can go to buy AYA shotguns and order custom fit models.
The history of AYA Shotguns
A quick Google search and you can read the iconic story of Miguel Aguirre and Nicolas Aranzabal journeying to Barcelona, Spain, to apprentice under German gunmaker Eduardo Schilling—eventually founding Aguirre y Aranzabal in 1915, or we as commonly refer to it, AYA shotguns. The unique nature of this whole story is partly held in Basque culture, a region of Spain that was culturally oppressed for a large portion of the 20th century after the Spanish Revolution ended in 1938. The regional dialect was forbidden and had since faded from the local population, but the food, wine, and other parts of the culture remain strong today. Despite a cultural block on the region by dictator Francisco Franco, the upper-class culture of fine guns and hunting survived, allowing AYA shotguns to continue its place in fine gunmaking.
Aguirre and Aranzabal, being Basque farmers, were taking a huge gamble regarding the cultural norm. But history would favor AYA over the years, despite some rocky times, and now has left them as the last powerhouse in handmade Spanish shotguns.
Ironically in the 1950s, Agustin Arazanbal (son of Nicolas) and famed second generation gunmaker Victor Sarasqueta II (no longer in business) competed heavily in trap and pigeon shooting. Sarasquete had dominated the competitive shooting world until Agustin beat him in 1958 in the Trap Championship of Spain. This is considered a legendary rivalry of the Spanish gun making culture and solidified AYA as a name in quality guns throughout the world. The over-and-under shotgun is still held in the vault at AYA by the family and the current Aranzabal brothers faces light up when telling this iconic story to this day.
Steel is the next important part to this story and something that set a foundational discussion or unfair rumor that surfaced after World War II.
Spanish steel and the AYA shotgun barrels
The end to the Second World War brought a market for cheap shotguns in the United States. Because of Spain's neutrality in the war they were one of the only places capable of filling the void as other factories throughout the world had been converted to make weapons of war.
Spain mass produced guns of varying quality during that time. A shortage of steel and the use of other materials in the process and American consumers developed something of a stigma surrounding these guns. Despite this moment of mass production (rather than handmade legacies), Spanish steel when compared with other grades of steel is even now considered one of the best in the world, particularly in the Basque region where AYA sits in Eibar.
The barrels of AYA are made in the demi-bloc fashion or "chopper lump" which is when a two solid pieces of steel make up the entire barrel. As Americans we are rarely exposed to this superior method as technology and cost have made mono-bloc barrel design more commonplace. Certainly check out the article What is the Difference Between a Demi-bloc and Mono-bloc barrel?
On an AYA barrel they are joined together using silver which is a traditional method of Spanish gunmaking and AYA remains the last factory in Spain to do so. It is widely considered one of the best barrels in the world. This is perhaps one of the most unique aspects of AYA shotguns which for the most part are made in the fashion of the famous British gunmakers.
The AYA shotgun models
The two most popular and in our opinion relevant shotguns of the AYA collection are the No. 2 sidelock and the No. 4 boxlock. From the mention of British gunmakers above it leads to the design of these two iconic shotguns that remain to this day, handmade.
And before we go as deep into these handmade models of shotguns, we feel it only necessary to talk of price. The No. 4 boxlock comes in at around $5,000 and the the No. 2 sidelock at around $7,000. Although steep in price, by the standards of mass-produced shotguns they stand unquestionably as some of the most reasonably priced handmade European shotguns. These are legacy guns, shotguns that are passed from generation to generation as family heirlooms and time capsules of memories in the field.
We had the pleasure to collaborate on a new series called "The Classic" with an MSRP of $4,200 which released in 202o. This model was to be based on the idea of a minimalist version of the No. 4 boxlock design with certain parts moved to machine engineering (CNCed parts). AYA, however, opted to maintain their handmade niche. But still lowered the entry point by almost $1000 for bespoke side-by-sides.
Although we could write volumes on the importance of gun fit we will leave that for another time and simply point out the opportunity to have these guns fitted to personal specifications. Every shotgun from AYA is essentially custom made.
The AYA No. 2 sidelock shotgun
The AYA No. 2 shotgun is a sidelock designed under the same concept as the Holland and Holland which is not only considered a staple in fine gun making but a foundational principle of side-by-sides. Other than the popularity of L.C. Smith the American gunmakers never really pursued this style of shotgun, favoring what many consider a more practical and simpler design in the boxlock. (Note the L.C. Smith is not a Holland and Holland Design but their own sidelock design). Yet some of the most famous models of British guns to this day are sidelocks.
This stands as AYA's most popular shotgun and with custom ordering in fixed chokes and barrel lengths, as well other upgrades like a rounded action, it's a versatile option for those seeking a truly custom gun. The shotgun can be made in .410, 28-gauge, 20-gauge, 16-gauge, and 12-gauge. It traditionally comes with a straight English stock with oil finish and case hardening finish on the action. Although traditionally made with two triggers, the option of a single trigger or single trigger with selector is also available. The classic English scroll engraving is the only part of the gun that is not done by hand but rather by laser.
Coming in at around $7,000 (depending on customizing), it is nearly impossible to find a European handmade sidelock shotgun at this price point. On the used market you might score an AYA No. 2 for around $4,500 or more, but forgoing the custom fitting that comes with handmade shotguns and growing more expensive with popular gauges.
The AYA No. 4 boxlock shotgun
For those of you who love the classic and simple design of the Anson and Deeley boxlock, the No. 4 is the shotgun for you. The Westly Richards design has held up since 1875 and is widely considered one of the most reliable actions in side-by-side shotguns. Many of the traditional American classic shotguns like Parker and A.H. Fox were built in the same style. It also uses a Purdy double underbolt locking system.
Much like the No. 2, the No. 4/53 shotgun (the base model) can come in bores ranging from 12-gauge to .410 with fixed chokes. The base version comes with a straight English stock and an oil finish. Two triggers, one selective trigger, or single non-selective trigger are available. It's classically case hardened but can come in other metal finishes. Like the No. 2 it still comes with the silver soldered demi-bloc barrels that AYA is famous for.
Coming it at roughly $5,000 this shotgun is unquestionably the best value handmade gun you can get custom ordered. Finding an AYA No. 4 on the used market is a lot more challenging than the No. 2, but some American importers did have their own custom versions of this gun and can sometimes be found for as little as $3,500 based on the demands for the gauge and chokes.
Other AYA Shotgun Models
AYA makes shotguns ranging in far higher prices as well as over-and-under models. The No. 37 is the most famous of the over-and-unders of the four models available. During our recent visit to the factory in Spain, AYA was producing a simple sleek looking over-and-under that has not yet hit the U.S. market
Their sidelocks range from the No. 2 to custom shotguns that are well into the tens of thousands of dollars in 13 different models. The No. 4 series of boxlocks come in four models. And finally, though less relevant to us wingshooting folk but still widely popular, AYA offers two side-by-side rifle models.
Where to buy AYA shotguns
Now that we've explored the unique history of Spanish shotguns and the AYA shotgun brand, where in the world can we find them? You can contact AYA directly to commission any of the above models for customization and then shipment to one of their U.S. dealers via email at aya@aya-fineguns.com. It's even possible to coordinate a trip and tour of the factory. You can explore their full range of custom shotguns on their website: here
But if you want to hold one in your hands, play around with it, and see the true beauty of an AYA shotgun, there are dealers spread out across the U.S. with shotguns on hand. It may take a bit of driving—but well worth it.
Houston, Texas – Gordy and Sons Outfitters
Byram Township, New Jersey – Griffin and Howe
Claremont, New Hampshire – New England Custom Guns (by appointment only)
Traverse City, Michigan – Fieldsport Ltd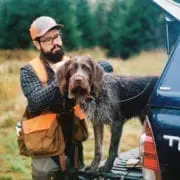 A.J. DeRosa
A.J. DeRosa founded Project Upland in 2014 as an excuse to go hunting more often (and it worked). A New England native, he grew up hunting and has spent over 35 years in pursuit of big and small game species across three continents. He has a passion for side-by-side shotguns, inspiring him to travel the world to meet the people and places from which they come. Looking to turn his passion into inspiration for others, AJ was first published in 2004 and went on to write his first book The Urban Deer Complex in 2014. He soon discovered a love for filmmaking, particularly the challenge of capturing ruffed grouse with a camera, which led to the award-winning Project Upland film series. AJ's love for all things wild has caused him to advocate on the federal and state levels to promote and expand conservation policy, habitat funding, and upland game bird awareness. He currently serves as the Strafford County New Hampshire Fish & Game Commissioner in order to give back to his community and to further the mission of the agency. When those hunting excuses are in play, you can find him wandering behind his Wirehaired Pointing Griffon in the mountains of New England and anywhere else the birds take them.