Photo by Craig Koshyk
Jennifer Wapenski
Jennifer Wapenski is the Director of Operations and Managing Partner…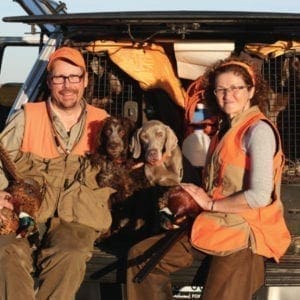 Craig Koshyk
From their home base in Winnipeg, Craig Koshyk and Lisa…
Versatile dogs and English Setters find their niche while hunting and trialing in Europe and North America
Continuing our discussion of the various methods with which hunters use hunting dogs, we discuss the origins of the term "gun dog" and how bird dogs developed right alongside modern firearms. Both pointing dogs and breech-loading shotguns tended to reach their peak at the same time in the same locations: the mid-nineteenth century in England, but not until the early twentieth century in places like North America. Because of their shared history, it's no accident that bird dogs and shotguns were developed and perfected on similar timelines.
Our guest interview this week stayed in the pointing dog theme, but we stepped across the English Channel into continental Europe to explore hunting opportunities and the field trialing scene on the mainland. Marjolein Kamman-van Eijk is an accomplished field trialer, dog breeder, and all-around hunting dog enthusiast. She began with longhaired Weimaraners, but as her interest in field trials grew, she started keeping and breeding English Setters along with the Weims.
LISTEN on Apple Podcast | Google Play | Spotify | Stitcher
We discuss the challenges with hunting and training big-running setters in the limited space available in Holland, which often requires traveling to France just to allow the dogs to really run. While bird hunting is almost nonexistent in Holland, there are still plenty of opportunities to hunt hare and geese, although that style of hunting favors the versatile Weimaraner and not so much the field trial setters.
Marjolein's passion for hunting has taken her across the Atlantic and to the prairies of Manitoba and North Dakota, which opened her eyes to what's really possible with these dogs when the landscape is endless. She found a love for sharp-tailed grouse and that all-too-familiar scene of beautiful dogs working wild birds on the American landscape.
Unlike what we discussed in last week's episode with David Hudson, the field trial scene in continental Europe is enormous. Hundreds of dogs are entered into big-stakes events, most of which are dominated by Italian lines of English Setters. We cover the ins and outs of running these events as an amateur and navigating this sport which is often dominated by professionals.
Finally, we explore the differences and similarities in hunting and trialing culture around the world, and how the dogs always find a way to adapt and thrive no matter the location or the limitations.
As always, we thank you for listening and invite you to submit feedback or questions to us at HDC@northwoodscollective.com . We would love to feature your questions in an upcoming episode! Record a voice memo and email it to us to be featured on the show and to have your question answered.
Share | Comment, review and discuss this episode of the podcast in our Project Upland Community Facebook group.
Enjoy the show and don't forget to rate, review, subscribe, and share this podcast.
Hunting Dog Confidential is presented by Eukanuba Premium Performance Dog Food and supported by Dakota 283, SportDOG Brand, and Syren USA.
Jennifer Wapenski
Jennifer Wapenski is the Director of Operations and Managing Partner at Project Upland Media Group. She has a lifelong passion for the outdoors, dogs, and wildlife; as an adult, she discovered that upland bird and waterfowl hunting were natural extensions of these interests. What started as initial curiosity soon escalated into a life-changing pursuit of conservation, advocacy, and education. Jennifer serves in a variety of roles such as the Breed Warden for the Deutsch Langhaar—Gruppe Nordamerika breed club, on the board of the Minority Outdoor Alliance, and on an advisory committee for the Washington Department of Fish and Wildlife.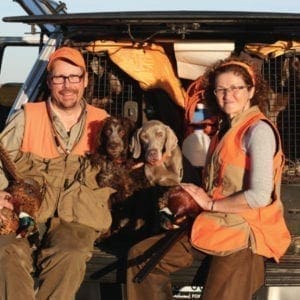 Craig Koshyk
From their home base in Winnipeg, Craig Koshyk and Lisa Trottier travel all over hunting everything from snipe, woodcock to grouse, geese and pheasants. In the 1990s they began a quest to research, photograph, and hunt over all of the pointing breeds from continental Europe and published Pointing Dogs, Volume One: The Continentals. The follow-up to the first volume, Pointing Dogs, Volume Two, the British and Irish Breeds, is slated for release in 2020.