Home » Hunting Policy » The Return Act Threatens Conservation via the Supreme Court
The Return Act Threatens Conservation via the Supreme Court
The Supreme Court could destroy the Pittman-Robertson Act in an age of culture wars.
Back in 1937, Senator Pittman (D-NV) and Congressman Robertson (D-VA) sponsored the Federal Aid in Wildlife Restoration Act. Hunters and firearms manufacturers championed the publicization of the proposed legislation which resulted in President Franklin D. Roosevelt signing it into law. Secretary of Agriculture Henry Wallace wrote in 1937, "The scheme of Federal aid to the States in constructing highways and roads has worked well and it is believed will work equally well and advantageously in the matter of wildlife projects as defined in the act."
Today, the Act is lovingly known as the Pittman-Robertson Act (PR). The core function of the Act is to give money back to the states, increasing conservation funding specifically for "wildlife restoration projects." PR also places a 10 percent excise tax on handguns and an 11 percent excise tax on all other firearms and ammunition, including things like rifles, shotgun cartridges, and archery equipment. Manufacturers, producers, and importers pay this tax. In 2021, PR collected $1.5 billion for conservation. More than $14 billion has been collected since its inception. All of this money goes back to the states via grants to fund conservation efforts, hunter education, the maintenance of public target shooting ranges, and more.
The Act has been amended multiple times to increase its effectiveness. The most recent proposed amendment is the Recovering America's Wildlife Act (RAWA). It would amend existing sub-account language in Pittman-Robertson to add an additional $1.3 billion a year. These funds would specifically be for the management of fish and wildlife species of greatest conservation need; a great step forward for sensitive game birds and at-risk habitat that find themselves in an unfunded middle ground between the Endangered Species Act and general wildlife management.
The Return Act could eliminate how Pittman-Robertson is currently funded entirely. Not because it might actually get signed into law, but because it could inspire the Supreme Court to question the validity of a tax on a fundamental right.
What is the Return Act?
"What does exist is a Constitutional right to keep and bear arms. By taxing a Constitutional right, I do not believe you can legally tax a Constitutional right. Because if you could, you could tax it out of existence," said Congressman Andrew Clyde (R-GA), the primary sponsor of the Return Act.
The Return Act says quite simply that a Constitutional right can not be taxed in the first place. Therefore, we need to amend the current 11 percent taxation on long guns and ammunition 10 percent tax on handguns and remove them altogether.
Thankfully, Congressman Clyde's bill has no stakeholder engagement and GovTrack.us shows this bill only having a one percent chance of making it into our legislature. However, the concept that the taxation of a right is unconstitutional combined with the state of our political environment could have real consequences, potentially devastating almost 100 years of sound U.S. conservation.
What the Return Act would do to Pittman-Robertson
The Return Act seeks to remove the taxation of firearms and ammunition on manufacturers. Not only would this eliminate a huge funding source for conservation and wildlife management, but states would no longer be encouraged to use hunting license sales to fund conservation, further decreasing funding for wildlife.
The Return Act proposes a replacement of the funding source to gas and mineral extraction, which is the exact funding source formerly proposed for the first iteration of Recovering America's Wildlife Act that failed to pass Congress based on the Republican party not supporting this as a viable funding source. Ironically, Congressmen Clyde brought the very nature of unstable funding sources and their impacts on state agencies ability to plan, a core tenet to Recovering America's Wildlife Act.
Travis Thompson said on his podcast Cast and Blast Florida, "If this legislation were to pass, no longer is a sportsman directly connected through their purchase of guns, ammunition, etc. to the funding of conservation. Which, in a state like mine, a state like Florida, we have no Constitutional right state-wise to hunt. Our value on the landscape is tied economically to our contributions as conservationists." Thompson's sobering experiences in Florida are very real examples of what a hunter's seat at the table means and what it means when it's taken away.
Thompson's latest podcast episode #227 with Congressman Clyde makes me miss moderate politics. My stomach turned as I drank my morning coffee, listening to the episode. Conservation would be better served with Pittman-Robertson intact as well as additional stable funding in the sub-account through a bill like RAWA.
How the Supreme Court Could Gut Pittman-Robertson
The majority of justices who make up the Supreme Court are pro-gun. Last month, during the landmark case New York State Rifle & Pistol Association (NYSRPA) v. Bruen, the Supreme Court struck down the limits a state can place on permitting our right to bear arms. This ruling will certainly be the basis for overturning many state laws regarding the Second Amendment.
That also puts a very painful and real point to what the Return Act is advocating. Is it a matter of time that the Supreme Court is presented with a case regarding the taxation of firearms and ammunition? Congressmen Clyde seems to have undertones that paint that plainly.
"If you go back to a Fox News interview I did in January of 2021, when they asked all the freshmen 'what's your big idea?' This is my big idea. To eliminate the taxation on the Second Amendment," Clyde proudly stated.
How the Struggle of Extreme Politics is Spilling into Conservation
Congressman Clyde says in his interview that the Return Act is not in retaliation to H.R. 8051: Assault Weapons Excise Act, another bill on the extreme fringes of our political landscape that proposes a 1000 percent tax on assault weapons. His website depicts a direct correlation between that Democrat-introduced bill and his Return Act. According to GovTrack.us, H.R. 8051 stands a 1 percent chance of passing.
The unfortunate side effect is bills like the Return Act and the Assault Weapons Excise Tax represent both extreme fringes of our politicians' opinions, not the average citizen's. As information sources cover these bills, they run the risk of furthering false extreme narratives.
There is still a lot of bipartisan conservation legislation going on, such as the Recovering America's Wildlife Act, the North American Grasslands Conservation Act, and the Rural Forest Markets Act of 2021, despite what extreme narratives may seem to invoke. The real fear here is that the Return Act strategically and intentionally opened Pandora's box.
If someone brings a case of this nature to the Supreme Court, it could very well spell permanent disaster for land, water, and wildlife conservation in this country.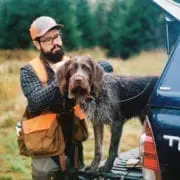 A.J. DeRosa
A.J. DeRosa founded Project Upland in 2014 as an excuse to go hunting more often (and it worked). A New England native, he grew up hunting and has spent over 30 years in pursuit of big and small game species across three continents. He started collecting guns on his 18th birthday and eventually found his passion for side-by-side shotguns, inspiring him to travel the world to meet the people and places from which they come. Looking to turn his passion into inspiration for others, AJ was first published in 2004 and went on to write his first book The Urban Deer Complex in 2014. He soon discovered a love for filmmaking, particularly the challenge of capturing ruffed grouse with a camera, which led to the award-winning Project Upland film series. AJ's love for all things wild has caused him to advocate on the federal and state levels to promote and expand conservation policy, habitat funding, and upland game bird awareness. He currently serves as the Strafford County New Hampshire Fish & Game Commissioner in order to give back to his community and to further the mission of the agency. When those hunting excuses are in play, you can find him wandering behind his Wirehaired Pointing Griffon in the mountains of New England and anywhere else the birds take them.