Home » Hunting Policy » Battle of the Hounds: Vermont Legislature Considering Bills to Limit, Ban Bear Hunting with Dogs
Battle of the Hounds: Vermont Legislature Considering Bills to Limit, Ban Bear Hunting with Dogs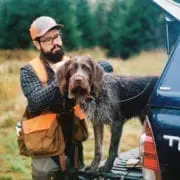 A.J. DeRosa
A.J. DeRosa founded Project Upland in 2014 as an excuse…
Andrew Spellman
Andrew Spellman is an award-winning photojournalist and author, as well…
A long-standing tradition is under threat in Vermont after legislators in the state's House of Representatives released H. 172 and 316 to limit or outright ban running hounds on black bear
The trucks halted to a stop and Dennis jumped out to retrieve the antenna to find where the dogs had gone. It had been well into an hour; we had crossed miles of land, a major road, and then some.
"I got them," he blurted, and everyone piled back in even faster to get on pursuit.
The convoy of trucks winded down a washed-out logging road, hard-driving, and could have certainly been a truck commercial for the beating the vehicles were taking. Soon, the engines were cut and the soft sound of hounds bellowed up the mountain.
"Get your rifle," Dennis said as he looked at me.
This was not the first time I had seen bear hounds run. I had spent part of the training season up in Vermont helping with the dogs, but this was the first time I got to be the one shooting. Having hunted over various types of dogs—from pointers to flushers and a lot of rabbit hounds—there is not much to compare to this style of hunting. When it happens, it's fast. With your heart racing with excitement and just a few steps away from danger, nothing ever quite prepares you for pulling dogs off a treed bear looking down at you with a foul sense of irritation. And despite what anyone might want to say there is true importance to this style of hunting.
Believe it or not, it's a pretty normal part of Mother Nature's doings.
While many will say it's important to preserve the tradition of the use of hounds—myself included—it's even more important for the practical management of bears in these parts of the country. But here we find ourselves at the twilight of increasing attacks on hunting dogs and their use throughout the country, with Vermont right now being center stage with bills H. 172 and 316.
Why bear management is important
Bears are held in high esteem among hunters and non-hunters alike, but the management of bear species is incredibly important as humans continue to utilize natural resource assets and exist among the landscape.
---
Current Status
Feb. 2, 2021: H. 172 — Introduced, read the first time, and sent to House Committee on Natural Resources, Fish and Wildlife.
Feb. 24, 2021: H. 316 — Introduced, read the first time, and sent to House Committee on Natural Resources, Fish and Wildlife.
---
In news spanning the previous year, New Jersey was in the hot seat for Gov. Phil Murphy banning the state black bear seasons beginning this fall. While some non-hunting groups praised Murphy for his executive action, the objective truth is that the decision was not rooted in science and was politically motivated. But the restrictions on bear hunting in the Garden State are not a new thing; it has been a pendulum for decades. However, data shows that Category I complaints fell following the season's most recent re-opening in 2010 from 235 to 71 in 2020 (New Jersey Division of Fish and Wildlife, 2021).
Further, according to a study performed by Utah State University and published in the Journal of Applied Ecology that looked at New Jersey's management history, researcher Jarod Raithel noted that a well-regulated harvest will aid in species longevity because "removing the 'problem' individuals more frequently than those that stay out of trouble may ultimately increase the cultural carrying-capacity of New Jersey residents who live and recreate alongside bears" (Utah State University, 2016).
Continuing, Raithel noted in the study that, because we don't have enough designated public land for large carnivores like bears to continue to grow their population in states like New Jersey, there needs to be a focus on how to maintain the correct carrying capacity to ensure violent or deadly interactions with humans are mitigated. The answer: a managed harvest (Utah State University, 2016).
Breaking down Vermont's H. 172 and 316
With the knowledge of why managing bear populations is important, it's not hard to see that H. 172 and 316 are direct affronts to the practice and tradition of running hounds.
In part, H. 172 introduced by state representative James McCullough, reads: "This bill proposes to prohibit trapping of animals unless conducted by a licensed nuisance wildlife control operator. It establishes a nuisance wildlife trapping license. It also prohibits the use of dogs in hunting black bears."
Further, H. 316 was introduced by Rep. Michael Yantachka and five co-sponsors with the purpose to "clarify that a hunter training dogs or using dogs to hunt black bear must retain visual and verbal control over the dogs while hunting."
While trapping is also thrown into the mix, that is a story for another day. Still, most would see both pieces of legislation as an overreach by the state legislature and actions the state's fish and wildlife department should take under consideration if constituents have an issue with hounds pursuing bears. When asked about this, Joseph Mullin, the Congressional Sportsmen's Foundation assistant manager of northeastern states and states program assistant, noted that the line between legislative action and wildlife laws is thin.
"There's certainly a balancing act with this," Mullin said. "Our general position is that when it comes to wildlife-specific matters, such as hunting season dates, bag limits, harvest criteria, etc., those decisions are best left to the agencies who have the expertise to make those decisions. We also encourage those decisions to be made through the regulatory process rather than through legislation to allow for a more expedient process should adaptive management decisions need to be made in response to changed conditions.
"However, depending on the state, and the specific delineation of powers between the agency and the legislature, it is sometimes necessary to approach wildlife management matters through the legislature. In such instances, we encourage the legislators to work alongside the fish and wildlife managers at their agency(ies) towards passing laws that work to the benefit of our nation's fish and wildlife and their habitats. Specific to Vermont, the Fish and Wildlife Department has an excellent track record of managing the resources in the Green Mountain State, and we encourage wildlife management-related matters to remain within their jurisdiction while encouraging the legislature to focus on hunting-related matters such as providing enhanced access and opportunity for sportsmen and women by tackling issues the Department does not have the authority to change."
Additionally, Mullin noted that, should the Vermont legislature pass these bills, it would create a slippery slope for future legislation in a similar vein.
"As we've seen in other instances in just New England alone, there have been numerous legislative attempts to restrict the use of hunting dogs while afield," Mullin said. "While these efforts may have been intended to curb the hounding of bears, they would ultimately have had significant repercussions on many other pursuits that involve sporting dogs, such as waterfowl hunting, upland hunting, and even field trials."
With both bills still stuck in the Natural Resources, Fish, and Wildlife Committee, there is still hope for pro-hounding groups that the legislation could be squashed. There have, however, been two movements sparked since the adjourning of this year's regular session, according to Mullin.
On one side, an anti-hounding petition—"coupled with a deliberately disingenuous video circulating on social media," Mullin noted—has begun to circulate. In response, a petition in favor of the tradition was released. Mullin further noted that "anti-hounding sentiments" are beginning to ripple through the federal level as well, with the U.S. Fish and Wildlife Service's August 2021 plan for the Silvio O. Conte National Fish and Wildlife Refuge included restrictions on the number of dogs a hunter could use, as well as limiting what quarry can be taken behind dogs in certain units and training restrictions.
Of particular interest, Vermont's tradition of utilizing dogs to track and hunt bears runs deep, despite a changing political landscape, something Mullin pointed to.
"Vermont has a rich, tenured history with hunting, angling, and trapping and most residents do support these traditions," he said. "In fact, Vermont has one of the highest per-capita hunting participation rates in the nation. However, as with national trends, support for hunting in Vermont is conditional, and it begins to drop off when examining specific species being pursued or methods of take. That said, the current makeup of the legislature, and particularly the current committees of jurisdiction through which bills of concern for sportsmen and women typically move, is not representative of the support (and certainly the high participation numbers) seen in the population at large. Advancing solid, pro-sportsmen proposals in the legislature has been challenging of late, and most of the recent work of the sportsmen's community in Montpelier has been focused on beating back a slew of anti-sportsmen proposals."
A complicated issue for public access and private landowners
My heart raced as the dogs, leashed up and pulled back, came into sight and a black blob stood out on the tree above. I loaded my Ruger M77 chambered in 7mm Remington Mag, closed the bolt, and mounted my rifle. I lined up the sights, let one slow breath out, and squeezed the trigger.
The bear fell, our hunt over. At that moment, over 20 years ago, the tradition lived on. Yet, with these two bills still alive in committee and with a chance to pass, that moment all houndsmen share could be no more.
"If the bills in Vermont were successfully passed it would effectively end hounding in the state, and there would almost certainly be resounding repercussions," Mullin said. "Hunting is a proven and effective method of managing bear populations and taking one tool out of the shed in terms of hunting practices limits a state agency's ability to rely on sportsmen and women to control population numbers. In turn, it's reasonable to expect an increase of instances of human-wildlife conflict wherein the Department will need to expend funds to manage the numbers and/or deal with specific animals in a more costly manner.
"Additionally, through the American System of Conservation Funding, a unique 'user pays–public benefits' structure, revenue derived from hunting and fishing license sales and excise taxes on sporting-related goods provides the vast majority of conservation dollars for state fish and wildlife agencies. The money collected through this system is crucial for the Vermont Fish and Wildlife Department and its ability to conduct on-the-ground projects that benefit all Vermont residents. Decreases in hunting and fishing access and opportunity lead to decreased participation. Less participation means fewer license dollars that the Department can leverage against federal funds to conduct their wide range of conservation work that benefits the broader public, and game and non-game fish and wildlife populations alike."
But what about private landowners and their role in this? Are they onboard with these laws?
"Some are and some aren't," Mullin said. "Private property owners span a wide spectrum of attitudes towards wildlife and hunting, from those with a preservationist, 'hands-off' mindset, to those active in hunting, logging, and other industries and activities that fall more on the sustainable use/conservation side of the equation. Anecdotally, during the pandemic, some areas of the state have been experiencing a real estate boom which had seen many individuals from out of state now moving to Vermont for their full-time residences. With that shift, more posted signs have been going up on private landholdings which pose obvious access challenges to hunting generally. It is too early to say for certain, but it will be interesting to see how these new residents begin to shift the conversation in Montpelier, positively or negatively, in the years ahead."
Most notably, though, the petitions and proposed bills ignore one glaring fact.
"The bills and subsequent petition to end hounding in Vermont ignore the common ground that Vermont's private landowners and hunting community have already agreed upon," Mullin said. "It's also worth mentioning that a strong population of bear hunters are also private landowners themselves and thus have seasoned insight into the elements that cultivate strong relationships with landowners and the hunting community. Vermont law (12 V.S.A. § 5793) protects landowners from being held liable for property damage or injuries resulting from the recreational use of their land, not accounting for other exigent circumstances. This protection from liability applies to those who have land that is open for public use, as well as those who have posted their grounds."
Still, while these bills would kill one of the best forms of conservation in the Green Mountain State, it's no secret that the art form of hunting bear over hounds is already under threat, dying as the tradition has not been passed on at a high rate. It is a topic that people with no true understanding of bear hunting or the use of dogs get a lot of feels on. It is one that as purveyors of the love of working dogs, and their love for it, need to educate ourselves on, experience, and help push back against to not only protect a tradition but also a viable and meaningful management tool.
"A lack of understanding certainly plays a significant role in efforts to ban the use of dogs while bear hunting and other game species alike," Mullin said. "Using bear hounds, hunters can estimate the sex, age, and weight of a particular bear prior to determining whether they wish to harvest it. Many hunts successfully result in 'treeing' a bear, but it's fairly common for these hunters to pull their dogs off of the scent once they realize that it's not the specific bear that they had been scouting. The use of hounds allows for a much more selective approach to bear hunting than the anti-hunting community is willing to admit or even recognize."
Whether people like it or not, humans have engaged in hunting these landscapes for thousands of years. Our presence as a predator and the methods we have adopted are as natural as any other form Mother Nature throws at the wild.
We are not tourists to the trees; we are part of the system. We are stewards that have a responsibility to continue to let science dictate the rules and regulations that manage our landscape for a better and more biodiverse future.
Sources:
New Jersey Division of Fish and Wildlife. (2021, June 21). New Jersey Black Bear Activity Reports. Trenton.
Utah State University. (2016, November 29). Regulated hunting key to black bear conservation, scientists argue. ScienceDaily. Retrieved October 5, 2021, from www.sciencedaily.com/releases/2016/11/161129153839.htm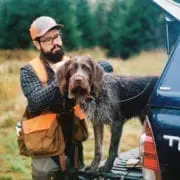 A.J. DeRosa
A.J. DeRosa founded Project Upland in 2014 as an excuse to go hunting more often (and it worked). A New England native, he grew up hunting and has spent over 30 years in pursuit of big and small game species across three continents. He started collecting guns on his 18th birthday and eventually found his passion for side-by-side shotguns, inspiring him to travel the world to meet the people and places from which they come. Looking to turn his passion into inspiration for others, AJ was first published in 2004 and went on to write his first book The Urban Deer Complex in 2014. He soon discovered a love for filmmaking, particularly the challenge of capturing ruffed grouse with a camera, which led to the award-winning Project Upland film series. AJ's love for all things wild has caused him to advocate on the federal and state levels to promote and expand conservation policy, habitat funding, and upland game bird awareness. He currently serves as the Strafford County New Hampshire Fish & Game Commissioner in order to give back to his community and to further the mission of the agency. When those hunting excuses are in play, you can find him wandering behind his Wirehaired Pointing Griffon in the mountains of New England and anywhere else the birds take them.
Andrew Spellman
Andrew Spellman is an award-winning photojournalist and author, as well as the editor or ProjectUpland.com and managing editor of both Project Upland and Hunting Dog Confidential Magazines. A 2017 graduate of West Virginia University's Reed College of Media, Andrew's work has appeared in multiple newspapers and magazines. He is also an avid hunter and angler who enjoys chasing varying game in his pocket of Appalachia.