Home » Hunting Culture » You Do Not Need a Double Gun to be an Upland Hunter
You Do Not Need a Double Gun to be an Upland Hunter
Photo by Adam Regier
An exploration into the personal ethics and community of upland hunting shotguns
Lately, there has been an increasing amount of "heat" around the shotgun choices of upland hunters of every stage and stripe. Now, the rant that could follow that statement could be contained in volumes. Instead of adding to the rants, we have decided to take the approach of addressing each myth one-by-one over the course of time so as not to cause a larger and more hostile panic from any one camp. This first myth I'd like to address is the idea that you need to shoot a double gun to be a bird hunter. The conversation certainly has some depth to it as that perception increases and decreases depending on which subculture you find yourself in. But here's the short form summary of this whole article – shoot whatever shotgun that works for you.
I will start first in the area I'm most seasoned – ruffed grouse hunting. Double guns are a beautiful thing. I personally made the switch some six or so years ago. It's possible I would have sooner, but money was always a factor. Before I toted my first over-and-under, I shot an 870 pump Youth Model 20-gauge. It's still in my safe and I still use it on the rare occasion I deer hunt. It kills deer, and ruffed grouse, without discrimination. No grouse has yet to cry "fowl."
Some years back, I handed a semi-automatic shotgun to one of my camera guys. A grouse got up and he shot it (on the wing) with one shot. Later that day, another cameraman shot his first grouse with an 870 pump (again, on the wing). Then a bird got shot in the road, with a double gun. It was that gentleman's first . . .
All versions of the above story are potentially frowned upon in the eyes of the some based on two factors: choice of gun and location of the grouse. Beginning with the issue of gun choice, the fact of the matter is that Fox, Parker, and L.C. Smith typically don't make good entry-level shotguns. Neither do premium Italian-crafted over-and-under or European side-by-side brands. And regarding the location of the grouse, can you honestly say you've never shot a grouse in the "pre-flight" position? If yes, more power to you. Either way, I only ask that you remember where you started and where somebody else might be on the spectrum of newbie to pro.
There are certainly ethics to be observed when you take to the field as well as laws that are required, not suggested. But the particular ethics I am talking about here are relative to the person, not normative to the whole world of grouse hunting. And just because one hunter has confined their personal ethic to only shooting grouse over a staunch pointing dog while carrying a vintage side-by-side and then kneeling as their English setter returns the bird to hand, that doesn't mean that someone else's approach is wrong. The reality is most ruffed grouse rarely behave for anyone and, statistically speaking, the setter most likely didn't bring the bird back to hand. (Sorry, I love setters, but we all know it's true). And the irony is that many of these advocates sometimes seem to have amnesia about how they arrived at their current ethical framework.
Personal standards dictate the use of a double gun, not some official rule of grouse hunting. No one is shooting up hordes of grouse because they have semi-automatics. The ruffed grouse himself sees to that, challenging as he is. Additionally, I have no doubt that birds will always be shot off roads (unless it's outlawed) no matter the gauge, action, or age of a shotgun. And quite frankly, if you think any of the above is the true threat to the future of ruffed grouse populations – wake up, there are bigger issues.
Semi-automatics catch the most flak in the upland world. Less so in the Western states, but especially in the South. Our recent film Flushing Grouse particularly caught some isolated grumbling. According to some, you cannot use a semi-automatic to shoot at ruffed grouse! Imagine now if they are public land quail, and the hunters are following up on singles! Perhaps it would be more acceptable at the $3000 per day hunting experience where the birds are "managed" in a different manner? But then again, if you can afford $3000 a day for bobwhite quail hunting, you can probably afford the London Best . . . no need for that all-around semi-auto. Ethical dilemma solved.
I cannot say I've ever heard or seen a rant from or against those chukar folks — who generally seem like more of a sadistic club than those in the grouse hunting community — about what gun you can and cannot use. Apparently, they seem more concerned with running up impossible terrain while trying not to break an ankle than to worry about someone's superior opinion.
The same goes for the pheasant hunting world. Not that I've ever shot a wild pheasant, but some of the New England stocked birds I happen upon in American woodcock covers certainly can take the heat. I will take any shots I'm afforded (I've got a hungry freezer) and that seems to be the sentiment of the general community.
Read: The Difference Between Upland Purists and Opportunist
In short, you should shoot the shotgun that works for you. You should make your decision based on what matters to you, whether it's price, fit, or anything else that has nothing to do with my (or anyone else's) life and opinions. Upland hunting is a single user experience with a very large and intertwined community. Follow the laws, be mindful of the conservation issues that surround your pursuit, and don't forget about ethics. If anyone has a case to make for this gun over that or this method of take versus that, we should be glad to hear it. And also glad, if their cases don't woo us, to shrug it off and go about our business.
And to those that would insist on a certain type of gun or a certain type of method of take, I can guarantee that no one's mind was ever changed by a red-faced judgemental rant. You catch more flies with honey than you do with vinegar.
Sure I shoot a side-by-side these days, but that's my bubble and while I write this, my semi-auto is sitting by my desk ready to be cleaned after a solid turkey hunting season.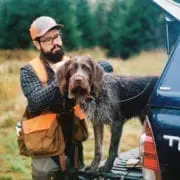 A.J. DeRosa
A.J. DeRosa founded Project Upland in 2014 as an excuse to go hunting more often (and it worked). A New England native, he grew up hunting and has spent over 30 years in pursuit of big and small game species across three continents. He started collecting guns on his 18th birthday and eventually found his passion for side-by-side shotguns, inspiring him to travel the world to meet the people and places from which they come. Looking to turn his passion into inspiration for others, AJ was first published in 2004 and went on to write his first book The Urban Deer Complex in 2014. He soon discovered a love for filmmaking, particularly the challenge of capturing ruffed grouse with a camera, which led to the award-winning Project Upland film series. AJ's love for all things wild has caused him to advocate on the federal and state levels to promote and expand conservation policy, habitat funding, and upland game bird awareness. He currently serves as the Strafford County New Hampshire Fish & Game Commissioner in order to give back to his community and to further the mission of the agency. When those hunting excuses are in play, you can find him wandering behind his Wirehaired Pointing Griffon in the mountains of New England and anywhere else the birds take them.