A look into the new Premium Grade Beretta SL3 in words and film
The screen above me said my flight was on time, and after a 2 1/2 hour drive to the airport I needed that good news. It was winter in Boston and a storm had delayed just about every flight. International is always tricky, and as I stood in line to check my bags an email made quick work of my hopes.
Flight canceled.
There I stood, hours from home wondering how in the world am I ever going to get to Italy for the 72-hour window I had to tour Beretta—to be fair, something I was giddy about. Soon I was on a call with the travel agent and the folks from Beretta to resolve the issue. The travel agent wanted to make travel easy on me, but I was determined: get me there as soon as you can. I can sleep when I get back stateside.
My answer came in a crazy travel barrage that involved driving between airports in rental cars and all sorts of minor details that seemed daunting with a ticking clock going. But I made it. And as you can watch in the video, I got to experience 500 years of the Beretta tradition.
The first day I did not sleep. We went straight to the Beretta factory in the Province of Brescia, Italy. There were a number of industry writers and editors present when I arrived—big names like Garden and Gun, Shooting Sportsmen, and Wildfowl. I stood there with my camera, out of place, but ready for whatever an editorial trip entailed. Then I spotted a familiar face: Gregg Elliot, writer and owner of Dogs and Doubles. The ice was broken for my introvert engagement and we began our way into the reveal of the SL3 in the Beretta Premium line.
The Beretta SL3 is sleek. In fact, I will never forget how Roberto Zarrillo, who is charge of the Premium Business in Italy, described the design as the flow of a ponytail in his thick accent. Take high-end Italian cars, apply it to shotguns, and you land at Beretta Premium. Probably why their running video of the Beretta SL3 shows an Italian sports car—it confused me a bit at first until I got my hands on one.
The Beretta SL3 is a marriage of the cutting-edge technology Beretta is known for and the old-world craftsmanship of handmade guns. I think it is always necessary to point out the success and reliability of the Beretta 686 as a staple in a world of over-and-under shotguns. This shotgun is worlds past that, which leads to the why and how.
The SL3 is a box lock design, simple and reliable mechanics that are anchored at three separate points. Beretta threw 11,500 magnum rounds through this masterpiece and it came out locking the way it did at the start. The trigger is the same used on their competition shotguns, which have a lot of medals to show for it.
Like all of Beretta's over-and-unders, it is built with a mono-bloc barrel. It's widely agreed upon that they make the best mono-bloc barrels in the world so there is something to say for that. At one point we sat in a boardroom and talked to an engineer who went through the science of how they reduced recoil in barrel design. Over my head, I'm not even going to try and repeat it. For the sake of my skillset and simplicity, I will say as someone who hates 12-gauges, it did not have much of a bite to it at all.
The science inside the Beretta world I think is what took me most by surprise. The research that is going on to better improve their product through 3D printing, virtual imaging, and god knows what else was going on around me. You can understand why its products hold up over time.
Shotguns are like ice cream flavors: we all have our picks. And as a lover of side-by-sides shotguns I will say that, although I shot this shotgun well, it is not on my wish list. Maybe if they had only had a 20-gauge or 28-gauge when I was there, they could have swayed me. Lately, I have mused more on the idea of single shotguns that you will never have to replace, a shotgun that can be passed on and stand the test of time. This shotgun falls in that realm and, carrying a price tag of $20,000, it makes sense that this is a legacy gun.
This shotgun can take a few months to turn around as much of the work is still handmade in the Beretta factory under the watchful eyes of Maestro Ferdinando Belleri, including an in-house custom case. He really fulfilled any childhood imaginations I had about what master gunmakers should look like and carry themselves. But that says something about this shotgun; each one will pass through this man's hands before it reaches the States. That detail is across the whole process.
Eventually, my trip came to an end. My 72 hours exploring the Beretta SL3 had been more than I could have imagined. I had seen Roman ruins, the private Beretta museum, ate good food, and, of course, enjoyed good Italian wine. And a part of me wishes I could take an SL3 for another spin back stateside in the grouse woods of the North Country.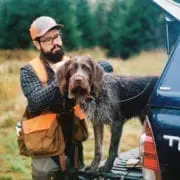 A.J. DeRosa
A.J. DeRosa founded Project Upland in 2014 as an excuse to go hunting more often (and it worked). A New England native, he grew up hunting and has spent over 30 years in pursuit of big and small game species across three continents. He started collecting guns on his 18th birthday and eventually found his passion for side-by-side shotguns, inspiring him to travel the world to meet the people and places from which they come. Looking to turn his passion into inspiration for others, AJ was first published in 2004 and went on to write his first book The Urban Deer Complex in 2014. He soon discovered a love for filmmaking, particularly the challenge of capturing ruffed grouse with a camera, which led to the award-winning Project Upland film series. AJ's love for all things wild has caused him to advocate on the federal and state levels to promote and expand conservation policy, habitat funding, and upland game bird awareness. He currently serves as the Strafford County New Hampshire Fish & Game Commissioner in order to give back to his community and to further the mission of the agency. When those hunting excuses are in play, you can find him wandering behind his Wirehaired Pointing Griffon in the mountains of New England and anywhere else the birds take them.