This open letter originally appeared in the Fall 2023 issue of Project Upland Magazine and has been released digitally to reach a wider audience.
Inside a multi-million dollar mansion, I took a seat around a large wooden table in such pristine condition that I was afraid to touch it. A glass of water sat in front of each occupied seat, giving the space the air of a boardroom. The year was 2017, and my unfamiliar surroundings gave me the sense that I was struggling to translate my idea of what Project Upland Magazine should be.
Listen to more articles on Apple | Google | Spotify | Audible
"We have to change the name. It cannot be called Project Upland."
The words were rehearsed, no doubt, and brimming with legitimate wisdom. I wasn't quite blindsided by them; instead, their tone was more of a general confusion. Why would I pitch something so insane?
"You also need to have at least a million dollars in the bank," they said.
A million dollars? My internal dialogue was snarky and humorous. I cannot even comprehend a method or way to get a million dollars, never mind applying some willful reason to spend it.
I envisioned that Project Upland would be a "zine," or, more specifically, the Thrasher Magazine of hunting publications. However, I wanted it to look nice on a coffee table. But between its covers, we would say anything and do anything we thought was important, no matter the consequences. I was going against the grain with a purpose.
To me, Thrasher evolved in real time. They translated old-school skateboarding into the new-school era. It did dumb, embarrassing, cool, and groundbreaking things while never skipping a beat. But while the magazine continued to take risks and stand out, it had a profound love for skaters before us. They aimed to preserve their moment in time while laying waste to the present and contemplating the future. Thrasher wasn't about one brand or person but a community wanting to do cool things. The kicker was that everyone could win. You cheered each other on.
What I learned from Thrasher was to continually evolve and never look back.
As you can imagine, I am naive and a bit reckless. Over the last few decades, I floated through life, held various jobs, and never found the sense of purpose I sought. Throughout that tumultuous time, I skateboarded. I adored the street punk music scene. However, I never loved anything quite like how I love hunting. But those aspects of me, in addition to my passion for hunting, influenced my goals and dreams for Project Upland. I thought, How do I create Frankenstein and let it have a mind of its own?
"Why in the world would we call it anything other than Project Upland? That's literally the point," I replied. I am known for saying things too candidly, too much, or saying nothing at all. In this case, I asked a simple and honest question regarding the biggest point I was caught up on.
"No one will ever advertise with you because Project Upland is too edgy," said someone ten to fifteen years my senior who is still well-respected in this "industry." In other words, things are done a certain way, and no one is to deviate from said course, or there will be fiscal consequences.
Honestly, I think even writing or saying the word "edgy" out loud is stupid at worst and dated at best. But it sums up everything one needs to know about the launch of Project Upland Magazine Issue Zero in September of 2018. Five years later, we are still here 😜🤘🛹🔥
We created a Kickstarter and landed almost no advertisers because we were, in fact, too "edgy" for their brands. We stayed the course and hustled from print bill to print bill, just like many of us live paycheck to paycheck.
It was punk rock, but that was precisely the point. We would not be a host to advertorial content, we would not stage reviews for guns we never shot, and we would not corrupt our messaging because of the pressure of the "industry." The whole point was to be candidly in the moment of our culture, even when it scared advertisers away. We aren't like this because of some financial motivator but because that candidness matters so much more than dollar signs.
Project Upland is like PBS: we survive because of "viewers like you," not because of advertisements. That gives us something more important than fiscal independence: editorial integrity, the ability to change, and the freedom to say things out loud that others cannot.
I have been slow to articulate so much with you. In fact, I have always struggled to articulate exactly what I truly wanted Project Upland to become. I have also done a poor job of translating what exactly Project Upland does. I feel guilty about that. Although it's a small business, this brand is made up of more people than just me. Just five people make up the company known as Project Upland Media Group. My colleagues are proud of their work here and their commitments to conservation, even though they're hidden away deep on our website.
One of the most meaningful things Project Upland does is donate over $50,000 in advertisement space to conservation nonprofits yearly. This helps these organizations grow their reach and increase their funding. On top of that, we encourage all employees to dedicate their time and skills to these organizations to help enhance their efforts. Project Upland Media Group employees dedicate over 80 hours monthly to various nonprofits, state and federal agencies, and lobbying efforts for wildlife habitat.
By way of our online editorial, we seek to publish quality journalism that highlights major habitat policies and issues across the United States. Topics range from the latest legislation on state and federal levels to the ongoing challenges of climate change and habitat loss.
We also offer financial and consulting resources to professional organizations focusing on scientific management, research, and educational growth.
I hate shining a light on these efforts. Donating to nonprofits and putting our best effort into our work is fundamental to us. I naively assumed that to be true for others.
There is a reason I chose the tagline "These are your stories." I am shocked that "hosts" and "personalities" geared around one person don't realize how limiting that foundation is. Their success is about the individual, not everyone, which bases their success on the failure of others. It is a single perspective that casts a shadow on authentic culture.
Project Upland has worked with people that did not understand our vision. Regretfully, some are resentful because their featured story was not a launching pad for becoming a "professional" hunter. Given our tagline, I take that misunderstanding as a personal failure because I assumed people did not see us as such.
Today, I am choosing to be more transparent.
Project Upland will evolve, change with the generations that come after us, and leave a collective mark on the world of the uplands. Project Upland's purpose is to remember our past and preserve it, all while living in the moment and dreaming of a better future. Ironically, as the years passed, some advertisers saw the light. Despite the fiscal motivation, we have never surrendered our donated advertisement spaces to paying clients despite our ad space being sold out commercially. Demand is cool, right?
Project Upland Magazine is about embracing the diversity of our space, be it spaniels or pointers, conservative or liberal. Project Upland is about the exposure of contrasting preferences, from semiautomatics to double guns or chukar hunters to grouse hunters. Not one style is right or wrong. This is where we can celebrate each other's victories, fight for our future, and rally by each other's sides. And, to my pleasure, live vicariously through the vast cast of characters found in North America's uplands.
Thank you for these five years of print. Thank you to all those who helped us along the way. Thank you to those who make Project Upland their own. Hopefully, Project Upland has outgrown the simple worldview of a New England grouse hunter. I hope this magazine captures the hearts and minds of every uplander because, after all, these are your stories.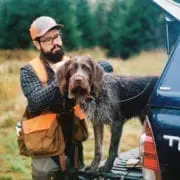 A.J. DeRosa
A.J. DeRosa founded Project Upland in 2014 as an excuse to go hunting more often (and it worked). A New England native, he grew up hunting and has spent over 35 years in pursuit of big and small game species across three continents. He has a passion for side-by-side shotguns, inspiring him to travel the world to meet the people and places from which they come. Looking to turn his passion into inspiration for others, AJ was first published in 2004 and went on to write his first book The Urban Deer Complex in 2014. He soon discovered a love for filmmaking, particularly the challenge of capturing ruffed grouse with a camera, which led to the award-winning Project Upland film series. AJ's love for all things wild has caused him to advocate on the federal and state levels to promote and expand conservation policy, habitat funding, and upland game bird awareness. He currently serves as the Strafford County New Hampshire Fish & Game Commissioner in order to give back to his community and to further the mission of the agency. When those hunting excuses are in play, you can find him wandering behind his Wirehaired Pointing Griffon in the mountains of New England and anywhere else the birds take them.