Home » Hunting Culture » Bird Hunting Without a Dog – Breaking the Stigma
Bird Hunting Without a Dog – Breaking the Stigma
Bird hunting without a dog is a controversial subject in the upland community, but nevertheless it is an important part of our culture.
I shot my first American woodcock and my first ruffed grouse over an Brittany back in the late 80's. The dog listened, but was not the most conventionally trained bird dog. He acted more like a flusher than a pointer and would eat the first bird of every season (without fail). I learned to hunt birds over that Brittany, but would spend the largest part of my upland adventures bird hunting without a dog. It was an amazing time in my life and I respect it as a difficult and challenging path that leads many to owning a bird dog. Some, not.
Differences are okay, calm down.
Bird hunting without a dog is different. In fact, I will quickly agree that it is altogether a separate pursuit. It's like comparing deer hunting with a bow to hunting lions with a rifle. The methods, the measure of success, and the outcomes are all different. For that fact, we should respect it as the separate hunting pursuit it is. Some of us will only hunt with a dog, some of us just want to watch a dog work. Some of us want to just walk alone with no dog, some of us have never wanted a dog. Heck, maybe some of us are even allergic to dogs. These reasons are personal choices and should not be the subject of vicious snobbery or public judgment.
It's no different than the debate over steady or not steady. I do not tell you how to live your life, you do not tell me how to operate my dog. Constructive conversation over expanding varying training methods, reasoning for training, and any other healthy discussion is important to the advancement of our pursuit. After all there, is more than one way to skin a cat.
For Conservation's Sake, leave the Dogless Hunters Alone
According to Minnesota, 56.3% of people are bird hunting without a dog. The math starts to make a lot of sense fast when we think about losing more than half of the revenue for the pursuit of upland birds. When we start singling out people bird hunting without a dog, we begin to also turn them away from conservation efforts that are questionably more critical than big game issues. For the fight of future hunting, we need everyone's help as a community and not as enemies. At the end of the day, the fight for the future of upland hunting trumps all our opinions.
Other Reasons than Wanting a Bird Dog are Maybe at Play
I want plenty of things in life—we all do. But that does not always make them obtainable. Inviting a bird dog into our lives is not a small decision. It involves a 365 day a year commitment. It requires money, time, and space. Some people cannot afford it, some people live in small apartments. The fact is that sometimes dogs just do not fit into our lives at some given moment. Just because someone is bird hunting without a dog does not always translate to an option. All the more reason to take someone else hunting if you do have dogs and leave a dogless hunter free from judgment.
The Ethics Debate.
Most publications wouldn't touch this subject with a 300 foot pole, but we are going to take it head on. I will start by suggesting anyone hunting without a dog to read How to Recover More Birds Without a Dog. The single most common debate of why birds should be hunted with a dog is because of bird recovery. The facts are simple and straight forward: yes, dogs will recover more crippled birds. However, in my opinion, the issue of ethics comes into any commitment to recover a wounded animal, dog or no dog.
How many deer hunters will lose deer? How many of them put in the most effort possible to recover that deer? This question is the one that determines ethics. In my days of bird hunting without a dog, there was almost no limit to the commitment of time and energy to finding a bird. That is the ethical choice: give it our everything because the bird owns that respect. Having a dog does not make it more ethical than the next hunter without one. We have all seen hunters with dogs put little effort into recovering a bird. This is the kind of thing that should get under the skin of any real hunter, regardless of your pursuit.
We are hunters. If there is one thing that we all understand as part of the natural order, it's that nothing goes to waste. It's harsh, but real. Our bird populations will not be saved one cripple at a time, it will be saved one conservationist at a time, dog or no dog.
Still Have a Problem with Bird Hunting Without Dogs?
That is okay, but I want to challenge you. Instead of being critical to those that do not hunt with a dog, convert them. Offer your own dogs. That will be an experience they will cherish and remember. Then, maybe one day they will join the other bird hunting pursuit (with dogs).
If you asked me the question, "Would you go bird hunting without a dog," five years ago, I would have said "Let's go." Ask me the same question today and yes, I would be a little bit more hesitant to start putting boot rubber over the Appalachian Mountains. Nevertheless, we have still taken the time to document dogless bird hunting with films such as Partridge Country, The Experience, and Searching. Despite the difficulty of the challenge, it is an important part of culture to celebrate and welcome into our community.
Although the greater part of my upland adventures was bird hunting without a dog, I am eager to not only continue the training of my first bird dog but also to give the opportunity to my hunting friends to experience shooting their first pointed birds this fall and covert them. The same way I was converted.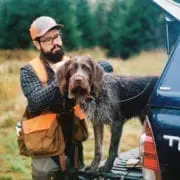 A.J. DeRosa
A.J. DeRosa founded Project Upland in 2014 as an excuse to go hunting more often (and it worked). A New England native, he grew up hunting and has spent over 30 years in pursuit of big and small game species across three continents. He started collecting guns on his 18th birthday and eventually found his passion for side-by-side shotguns, inspiring him to travel the world to meet the people and places from which they come. Looking to turn his passion into inspiration for others, AJ was first published in 2004 and went on to write his first book The Urban Deer Complex in 2014. He soon discovered a love for filmmaking, particularly the challenge of capturing ruffed grouse with a camera, which led to the award-winning Project Upland film series. AJ's love for all things wild has caused him to advocate on the federal and state levels to promote and expand conservation policy, habitat funding, and upland game bird awareness. He currently serves as the Strafford County New Hampshire Fish & Game Commissioner in order to give back to his community and to further the mission of the agency. When those hunting excuses are in play, you can find him wandering behind his Wirehaired Pointing Griffon in the mountains of New England and anywhere else the birds take them.