Home » Hunting Gear » Dogtra 2700T&B Training and Beeper Collar Review
Dogtra 2700T&B Training and Beeper Collar Review
Photo by A.J. DeRosa
A look into the Dogtra 2700T&B, a practical everyday collar for bird dog folks
The bell went silent some 70 yards ahead, the young growth thick with green leaves almost tricking my mind to the coming fall. That's what October 1 looks like in New Hampshire, and so the American woodcock opener. Despite all the efforts to peer through the impenetrable woodcock habitat, my wirehaired pointing griffon was nowhere to be seen, but the telltale silence meant he was, in fact, on point.
As I pushed my way closer to the last area I'd seen him, I pressed the locator button on my Dogtra 2700T&B. The beep carved through the early morning mist and signaled he was farther to my right than I'd realized. My pace quickened, fearing he would not hold much longer as his nostrils were no doubt filled with the scent of a local bird. It was too early for flights.
Get it Amazon for $349.99 + FREE SHIPPING: Shop Now
Then a flash of a wagging tail caught my eye, his body rigid, held awkwardly in a 90-degree angle lowered halfway to the ground. The intensity of stance made me worry my time was running out for this young dog's patience. But still, I worked around to the front of him. His eyes glanced over at me as I worked closer and his lips released a puff of air through his wet beard.
"Any second now . . . " I said to myself as I walked straight at him, the direction of the wind giving me the hunch the bird was between us. Then our ears were graced with the first rising whistle of the season. Both Grim's and my own eyes locked on this unsuspecting mud bat as he made a straight shot for the canopy, his head rising to watch it break into the first leaves above as my shotgun rang out. It was officially hunting season.
If I were to make a top five list of important gear when I go bird hunting, the Dogtra 2700T&B would be on that list right after my bird dog. That is a bold statement and maybe more of a confession of how much I've come to rely on this collar. In fact, this e-collar has become a part of my daily life, not just for hunting upland birds and training.
To give the introductory base look at this collar: it serves as a stimulation unit as well as a locator beeper. Starting with its stimulation application, the collar comes with Dogtra's standard 127 nick/constant levels. This kind of precision allows you to be very accurate on what level of stimulation your dog best responds to. My wirehaired pointing griffon ranges from settings of 27 to 39 depending on if it's daily life or the pursuit of upland. I like that level of control which has made me a loyal Dogtra e-collar user for a few years now.
I owned the collar that was the predecessor to this, the Dogtra 2600T&B. One of the new features not offered on the previous model has become my favorite, the pager. The pager is a vibration rather than a stimulation, and since using it I very rarely use the nick button anymore when correcting my dog. The idea of causing focus through this cue has worked well for Grim and has the added benefit of helping me to become a more sensitive millennial.
Being a ruffed grouse and woodcock hunter, a beeper collar is very important in hunting thick cover. As a nostalgic New Englander, I still use a classic bell; however, the continuous beep mode is meant to replace this ancient method which is combined with a change in sound when the dog goes on point. You can also set it for "point only" which will allow the beeper to begin its beeping sound only when the dog goes on point. This is achieved through the new "Accelerometer sensor" which knows when the dog is moving or still.
The last setting on the beeper is the locator button. This button will sound off a beep to help you locate a dog that may be in cover too thick to see through. This is a feature I often use once the bell goes silent to help me navigate to the dog correctly; such as the story above told, it is commonplace. The remote comes with a high pitch and low pitch beep option.
Being one of the stranger North Woods upland folks I use a bell, a beeper, and a GPS collar at the same time. Grim looks good with all his necklaces and I can be Goldilocks about how I work out my world. I combine the Dogtra 2700T&B with the Dogtra Pathfinder (with a bell on it) which is a very reasonably priced GPS collar that operates with your cell phone. The GPS collar is more about an insurance policy for me and less about practical use; the Dogtra 2700T&B is my primary tool. In fact, the reason my bell is on the GPS collar is because we use the Dogtra 2700T&B in daily life.
The range on the Dogtra 2700T&B is one mile, which in my opinion is more than enough if you intend to see the bird your dog points. Coming in at $359.99 I would not call this collar cheap, but the quality and durability is well worth every penny. If you're anything like me, this collar is an essential piece of upland gear and daily life at this very reasonable price.
The charge on the collar holds up well. Although I do not often have to use it while hunting, I can easily get a few days out of it if I want to. If you are heavy on the buttons or rolling that continuous beep, I'm sure that could get cut down to a full day, still more than enough that you wouldn't need to own a second collar.
Unlike some other brands, all the settings for the beeper are located on the remote along with the dial to change stimulation level. You also must hold the remote up to the collar to turn it on so there is no possibility for a collar being turned off accidentally while hunting.
This is, in my opinion, the single most important piece of gear for your bird dog. If you have not considered this collar in your research, I would highly recommend looking into it — and if opportunity presents itself, out it head-to-head with other brands.
As much as I would like to continue that story above of Grim's and my outing, my shooting only put one bird in the bag that day. I would be quick to argue that the Dogtra 2700T&B and bird dog training efficiency that it creates allowed Grim to give me many generous opportunities. My shooting not so much. Guess I'll keep working on my Churchill Method of wingshooting over the summer.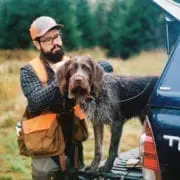 A.J. DeRosa
A.J. DeRosa founded Project Upland in 2014 as an excuse to go hunting more often (and it worked). A New England native, he grew up hunting and has spent over 30 years in pursuit of big and small game species across three continents. He started collecting guns on his 18th birthday and eventually found his passion for side-by-side shotguns, inspiring him to travel the world to meet the people and places from which they come. Looking to turn his passion into inspiration for others, AJ was first published in 2004 and went on to write his first book The Urban Deer Complex in 2014. He soon discovered a love for filmmaking, particularly the challenge of capturing ruffed grouse with a camera, which led to the award-winning Project Upland film series. AJ's love for all things wild has caused him to advocate on the federal and state levels to promote and expand conservation policy, habitat funding, and upland game bird awareness. He currently serves as the Strafford County New Hampshire Fish & Game Commissioner in order to give back to his community and to further the mission of the agency. When those hunting excuses are in play, you can find him wandering behind his Wirehaired Pointing Griffon in the mountains of New England and anywhere else the birds take them.