Home » Hunting Gear » Dogtra Pathfinder – GPS Dog E-Collar Review, Use, and Value
Dogtra Pathfinder – GPS Dog E-Collar Review, Use, and Value
Photo by A.J. DeRosa
Overall, the Dogtra Pathfinder is a great solution for those who want a gun dog GPS insurance policy without breaking the bank
The story of GPS dog collar ownership often enough begins with the experience of your dog…running off. This review of the Dogtra Pathfinder is no different. My pup took one big vacation off in the woods just before the season last year. I stood exactly where I last saw him, rotating every ninety degrees and calling his name. Those thirty minutes felt like hours. And while I felt good about how I handled the situation, the gut-wrenching feeling of having lost him left me with never wanting to repeat the experience.
This is where the Dogtra Pathfinder figures into my story: a cost-effective solution to an expensive problem. Coming in at $399.99, the Dogtra Pathfinder is half the price of most GPS dog dollars. It's also built differently. Instead of being a handheld GPS device, like other brands, this system works with your cell phone. Now I know this would scare plenty of people. Using your cell phone for your gun dog GPS? Well, I was scared, too.
Check it out on Amazon for $409.99 + FREE SHIPPING: Buy Now
The first question you'll have is: "What happens when I am out of cell service?" The Dogtra Pathfinder doesn't rely on cell service. Instead, it utilizes the GPS technology of your device via an antenna that hangs around your neck. The maps, like most GPS units, has to be downloaded in advance. This offline mode is relatively easy to use and doesn't take up much space on your phone.
The second concern was cell phone battery life. As someone whose phone is affected by the recent Apple battery issues, this was a huge concern. Right out of the gate, I purchased some eternal battery chargers to keep in my bird vest. But by the time I get back to my truck, no more than half my battery is gone. And since I charge my phone in the truck until the next cover, I haven't had to use the battery chargers.
Which brings up an interesting option. Since the Dogtra Pathfinder uses the GPS abilities of your phone, you can use a retired cell phone. As long as you can get wi-fi somewhere to download the apps and maps, you'll never have to use data. It's an appealing option I have yet to try.
Other functions on the Dogtra Pathfinder are like most GPS dog collars. You can use stimulation (nick and constant) and know when your dog is on point or barking. It will tell you his distance and direction, his audible tone, and provide with a 9-mile range. It also has a "Geo Fence" feature that can be placed to mark property boundaries and other areas you do not want you dog to enter. The ability to share dogs with other hunters on the app makes hunting in a group easier as well.
The one quirk that stood out was that it does not track how many miles my dog or I went in a day. Maybe the feature exists, but as of right now it's eluding me.
What I did find is that I am not one for constantly using a GPS. I'll turn it on and just keep it in my pocket—like an insurance policy. It's there if I need it, but by bell and beeper collar all I need for the most part. That's just my preference and I wouldn't say the product led me that way. (Read: Bird Dog Tracking with a Bell, Beeper, and GPS?)
I have not had any issues with the unit failing, but do find it a bit slow to start up. Because of the good battery life of the collar and receiver, I usually turn it on before I leave my house so the GPS has time to synchronize before we hit our first spot. Mind you, I am foaming at the mouth when I pull up to a grouse cover, so maybe I am just not as patient as most.
Overall, the Dogtra Pathfinder is a great solution for those who want a GPS insurance policy for a fair price. I have no intention to replace it with a different unit, because of the manner in which I use it. If I were more inclined to have it hanging around my neck for constant updates, I may consider another brand. But the ease of use and reliability of this unit solved my issues without breaking the bank.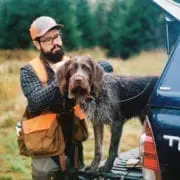 A.J. DeRosa
A.J. DeRosa founded Project Upland in 2014 as an excuse to go hunting more often (and it worked). A New England native, he grew up hunting and has spent over 35 years in pursuit of big and small game species across three continents. He has a passion for side-by-side shotguns, inspiring him to travel the world to meet the people and places from which they come. Looking to turn his passion into inspiration for others, AJ was first published in 2004 and went on to write his first book The Urban Deer Complex in 2014. He soon discovered a love for filmmaking, particularly the challenge of capturing ruffed grouse with a camera, which led to the award-winning Project Upland film series. AJ's love for all things wild has caused him to advocate on the federal and state levels to promote and expand conservation policy, habitat funding, and upland game bird awareness. He currently serves as the Strafford County New Hampshire Fish & Game Commissioner in order to give back to his community and to further the mission of the agency. When those hunting excuses are in play, you can find him wandering behind his Wirehaired Pointing Griffon in the mountains of New England and anywhere else the birds take them.