Home » Woodcock Hunting » Woodcock Shooting – Edmund Davis' 1908 Classic in Audio Format
Woodcock Shooting – Edmund Davis' 1908 Classic in Audio Format
'Woodcock Shooting' stands as a timeless classic in upland hunting books and is now available on Audible
Lazy days spent in the uplands inevitably bring a closer connection with nature. Especially when your sport is seeking that game little bird, the woodcock. For the woodcock reassures us that the brooks are still dancing merrily through the woods and are on their way to sweet-scented meadows. So it is, the woodcock brings joy to the lovers of forest, cover, and stream.
Woodcock Shooting was first published in 1908 and in an effort to continue to bring classic upland hunting books to a wider audience than could possibly be reached by access only to those remaining copies of originally published works, Project Upland is proud to make it available in audiobook.
Get it on Audible Now: Woodcock Shooting by Edmund Davis
Foreword: The Space and Time of Woodcock Shooting
In the 21st century, it's hard to be an upland hunter from New England and not have a profound love for the American woodcock. Without it, the decrease in ruffed grouse populations in the southern reaches of those states would leave them void of any wild bird hunting outside snipe and waterfowl. My anticipation mounts every year as the idea of flights flooding my covers comes closer. Resident birds live within a mile of my house, but as the unusual love for this bird often goes, I give them sanctuary in return for training my dog on them as the season approaches.
Our love for the woodcock in this day and age is just a new version of a wingshooting tradition that spans well over 100 years. In 1908, Edmund Davis published the book Woodcock Shooting, which proved to be a declaration of a love for this bird far before many of us were a thought of a thought. It is quite literally one of the foundation stones for how we hunt woodcock in America in modern times. Mr. Davis is the O.G. of "How To" woodcock hunting techniques and the originator of many of the North Woods upland hunting ideals that still exist today.
It's important that we understand the time and space of Davis' book. A modern reader can easily pause to question many moments and perspectives in this book as heresy. Bird counts and a complete lack of regulation that would still be years away may turn our stomachs, but that does not degrade how much of a conservationist Edmund Davis was in his own time and right. Additionally, some of his ideas of bird behavior and biology have been discarded on account of the research accomplished over the 110 years since this book was published. But those blemishes do not diminish his passion for woodcock as something to be marveled at, celebrated, and learned from. And we could certainly use more of that reverence in our modern times.
As a lover of woodcock, I remember a watershed moment in my upland life when I had an office in downtown Boston. I noticed that a woodcock lay dead on State Street as I walked to a meeting, a casualty of the skyscrapers during his fall migration. In Davis' time, the mortal threat was telegraph lines and he seemed to linger in what I can only guess to be a similar horror at the infringement of mankind on the natural world, mirroring what I had experienced that day. He seemed to have the same impulse as many of us to go back to wild places, deeper into covers.
Times change and some things stay the same, but many others fade in and out of style. I cannot help but admire his discussion on eating woodcock and think the idea of tapas restaurants in the United States is nothing new. In that case, he is light years ahead. As Davis expands on dogs, it's important for all us versatile breed owners to know that this book was written decades before many of these breeds came to the states and had yet to gain popularity. But many principles like the use of a bell and even musing on a bird's reaction to a color of a dog is still relevant today. He has a level of tenderness that's evident on the topic of relationships with dogs that seems to give an insight to the person Edmund was. His passion for dogs is only eclipsed by what is clearly a profound love for the woodcock itself.
I find it hard to not think of Jay Dowd—upland writer, artist, and guide in Michigan whose old soul seems to be cut from the cloth of the legends of our past. His love for woodcock is one quite difficult to express in words, but spend a few days in covers with him hunting the bird he calls "October Souls" and you will understand the parallels. Add in setters, a vintage shotgun, and—close your eyes for just one moment—you have effectively moved back 60 years closer to Edmund.
In an article written in the Winter 2019 issue of Project Upland Magazine covering Davis, Dowd says "Edmund Davis' Woodcock Shooting sheds light on a time when sport hunting and conservation in North America were in their relative infancy. For those of us who wax romantic about the golden age of North American wingshooting and have kindled a fondness for 'the little russet feller,' his book is a true treasure."
In memory of Davis and in honor of a bird that is truly a wonder, I must also take this moment to speak to the future of this precious species. Since the 1970s, the population has declined at a consistent 1 percent per year, every year. No one needs to be a mathematician or biologist to figure out we are driving at 60 mph into a rock wall. As woodcock make their journey from Canada to the southern reaches of the United States along either the central or eastern flyway, they must find habitat to suit their needs. They must also find it where they breed and where they winter. That's where the gap lies and that is the biggest culprit in the decline.
Changing weather patterns and recent reports that have yet to be digested on unusual breeding situations seem to be contributing to an even greater recipe for disaster. The one thing we must do is help create more habitat for the American woodcock and speak in behalf of a creature that does not have its own voice. For that, I would prompt you to join and support the American Woodcock Society so that they can continue their research and development of habitat to protect the bird along its long journey. Volunteer, engage, and help grow our knowledge.
Get it on Audible Now: Woodcock Shooting by Edmund Davis
I have no doubt that Davis would be as vocal on this topic as he was on the idea of shooting summer woodcock. And if you find a love for this bird, a place in your heart for those special wandering souls, I hope we can come together to reverse the decline. Until then, let this book inspire you. The moments in time he has captured here in words are not much different that when someone in 2019 walks up to a silent bell on a point in a woodcock cover today. The same whistle of wings, the same shooting, the same meal at the end of a hard hunt. Repeat and repeat again. Make it sustainable for all our futures.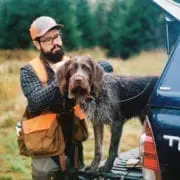 A.J. DeRosa
A.J. DeRosa founded Project Upland in 2014 as an excuse to go hunting more often (and it worked). A New England native, he grew up hunting and has spent over 35 years in pursuit of big and small game species across three continents. He has a passion for side-by-side shotguns, inspiring him to travel the world to meet the people and places from which they come. Looking to turn his passion into inspiration for others, AJ was first published in 2004 and went on to write his first book The Urban Deer Complex in 2014. He soon discovered a love for filmmaking, particularly the challenge of capturing ruffed grouse with a camera, which led to the award-winning Project Upland film series. AJ's love for all things wild has caused him to advocate on the federal and state levels to promote and expand conservation policy, habitat funding, and upland game bird awareness. He currently serves as the Strafford County New Hampshire Fish & Game Commissioner in order to give back to his community and to further the mission of the agency. When those hunting excuses are in play, you can find him wandering behind his Wirehaired Pointing Griffon in the mountains of New England and anywhere else the birds take them.