Make a fantastic Asian inspired soup out of your wild turkey
Miso soup is a traditional Japanese soup on many sushi restaurants' and hibachi grills' menus. The soup's flavor tone stresses umami, which is recognized as savory and considered one of our five basic tastes. Traditional miso soup is made from a Japanese stock called dashi, but instead of using dried fish flakes, we are using leftover wild turkey bones in this recipe.
I've covered how to make stock and broth here, which I recommend you attempt whenever possible. The miso soup you find at Japanese restaurants is rich and savory because someone spent several hours tending to the fine art of making stock or broth. It's not too hard; it simply requires checking in on the stock pot occasionally.
The toppings you want to put on your wild turkey miso soup are up to you, but I recommend some ingredients in this recipe. Sometimes miso soup is just broth with miso paste stirred in and garnished with scallions. I also share how to adequately tenderize and prepare wild turkey wings, though you can use any bird protein (or tofu) if you'd like.
The bottom line? Save and roast your spring turkey carcass, and make amazing soup.
Here are some less common ingredients you will need:
Wild Turkey Miso Soup
Make a fantastic soup out of your spring turkey
Ingredients
Stock Ingrediants
4

carrots

sliced

1

large yellow onion

sliced

1

celery stalk

sliced

1

cup

whole black peppercorns

1

sprig

fresh rosemary

1

sprig

sage

1

sprig

oregano

1

sprig

thyme
Other Ingredients
1

gallon

wild turkey stock or broth

4

large fresh garlic cloves

smashed

1

oz

package of kombu

1/3

cup

white miso paste

4

nori sheets

broken into pieces

8

oz

thin rice noodles

5-8

oz

sliced shiitake mushrooms

1

cup

sliced scallions for garnish

2

wild turkey wings

cut in half, sous vide cooked, then fried

Sunflower oil

Kosher salt and freshly cracked black pepper
Instructions
Using the remaining carcass of your turkey after you're done butchering, make turkey broth following these steps. Make sure to use a large stock pot capable of holding two gallons or more, as you'll want to cover your bones by several inches, and some water will evaporate while the stock warms.

After sautéing your vegetables and roasting your turkey bones, add cold water and fresh herbs to the pot. Set the burner heat so water barely steams and leave it to steam for at least eight hours. Twelve hours is preferred, but don't do it overnight; check the pot regularly so water never goes above a steam. Add more water if necessary to always keep the bones covered. Remove herbs after one hour.

Strain your stock through a paper towel-lined sieve. Either refrigerate your stock or start making soup. You can also can it to save for later. This broth will keep in the fridge for five to six days.

To make soup, lightly dust both wings with salt and pepper. Seal and sous vide your turkey wings for at least six hours at 180. You should go as long as 10 hours for larger, more mature turkeys. If you don't have a sous vide, barely simmer your turkey wings in either chicken stock or turkey broth (if you have extra) for three hours.

Add one gallon of turkey broth to the pot for the soup, along with garlic and kombu. Allow to steam for one hour.

Twenty minutes before getting ready to serve, remove the garlic and kombu from the broth; strain if necessary. Add in miso and stir it in until it's dissolved.

Meanwhile, heat an inch of sunflower (or similar cooking) oil in a large skillet to 400 degrees Fahrenheit. Remove the wings from the sous vide, pat them dry, and fry each side until golden brown. Set aside.

Once the miso is dissolved in your soup, salt it to taste. Then, add the thin rice noodles. Once the noodles are al dente, add the mushrooms and nori (torn into bite-size bits). You can add in the sliced scallions now or when you go to serve the dish.

To serve each serving, ladle a quart of soup into a large bowl. Add a fried turkey wing, and garnish it with more sliced scallions.
Notes
Enjoy! Reach out to me on Instagram (@WildGameJack) with any questions or comments.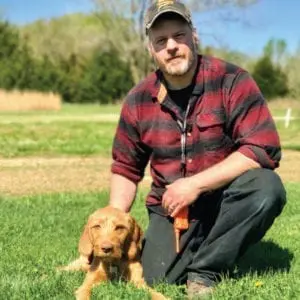 Jack Hennessy
Jack Hennessy grew up in the South Suburbs of Chicago and didn't start hunting until he attended graduate school in Spokane, Washington, at the age of 26. Hennessy began work in professional kitchens in high school but didn't start writing wild game recipes until he joined the Spokesman-Review in 2014. Since then, his recipes have appeared with Petersen's Hunting, Backcountry Journal, Gun Dog Magazine, among many others. He now lives with his wife, daughter, and Wirehaired Vizsla, Dudley, in Wichita, Kansas.