This wild turkey recipe will give you mouth watering flavor without over drying the meat.
Often, turkey hunters long to carve out wild turkey breast meat and throw them directly over a fire after a successful spring outing. In fact, it's a ritual for some turkey hunters. However, it is very easy to overcook the outer layers of a turkey breast by simply throwing it over a fire. When dealing with a hunk of meat the size of your head, by the time the middle reaches 155 degrees Fahrenheit, the outer layers will be dry and well-well-done due to high heat methodology.
To avoid overcooking your wild turkey breasts, either carve up the breast and cook pieces separately or keep it whole. If you're keeping the breast whole during cooking, we want to cook the meat slowly, allowing a low-heat temperature to move slowly through the meat. To do this, I recommend a sous vide cooker. If you don't own one, you can try a similar technique in your oven, assuming your oven will go as low as 150 Fahrenheit (or potentially lower).
Turkey breasts can also be smoked whole. However, I don't recommend going above 160 degrees when cooking a whole breast under any circumstances. Instead, finish with a sear to put a nice crust on the breast meat while keeping the meat's internal temperature at 155. You don't want the internal temperature of the meat to get hotter than this, which includes during the resting period when that internal temp continues to rise. Instead of a white meat appearance running through the entire breast, we want a slight blush in the meat that's the color of a cheap rosé.
Turkey breast sizes vary. That means cooking directions vary, too. I cover this in detail below.
Delicious Wild Turkey Breast Recipe
This easy wild turkey recipe will give you mouth watering flavor without over drying the wild turkey meat.
Prep Time
20

minutes
mins
Ingredients
1

whole wild turkey breast

likely at least 3 pounds

Dustings of kosher salt and freshly cracked black pepper

2

Honeycrisp (or similar) apples

sliced

1

garlic bulb

peeled and cloves cracked

1

sprig

fresh rosemary

2-3

sprigs

fresh thyme

2-3

sprigs

fresh sage

2-3

sprigs

fresh oregano

½

cup

white wine

1

carton of chicken stock

*If you're using your oven

Olive oil for coating ahead of searing
Instructions
Lightly dust the turkey breast with kosher salt and freshly cracked black pepper. Seal the turkey breast in the sous vide bag with sliced apples, crushed garlic cloves, fresh herbs, and a little white wine. Allow this mixture to marinade in the fridge for a few hours.

To sous vide cook, if you're working with a turkey breast larger than two pounds, set sous vide to 140 degrees. If the breast is smaller than two pounds (think of a young jake), set your sous vide to 130 degrees.

If the sous vide is set to 140 for a larger breast, sous vide cook for three hours. If it's set to 130 for smaller breasts, sous vide cook for two hours. When finished, remove the breast from the bag and pat it dry. Then, heat a skillet or grill to 600 degrees. Lightly coat the breast meat with olive oil and sear each side for one minute. Allow the breast to rest for 10 minutes before carving.

If you don't have a sous vide and need to use an oven, lightly dust your turkey breast with kosher salt and freshly cracked black pepper. Put it in an oven-safe baking dish. Add your sliced apples, garlic, and herbs overtop. Add one cup of white wine and enough chicken stock to cover the ingredients. Cover the tray with aluminum foil and place it in an oven set to 150 degrees. Bake for two hours for larger breasts and 1.5 hours for smaller breasts. When done, remove the breast, pat it dry, lightly coat it with olive oil, and sear each side for one minute on a 600-degree skillet or grill.

Wait 10 minutes before carving.
Notes
Enjoy! Reach out to me on Instagram (@WildGameJack) with any questions or comments.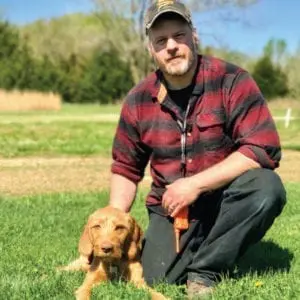 Jack Hennessy
Jack Hennessy grew up in the South Suburbs of Chicago and didn't start hunting until he attended graduate school in Spokane, Washington, at the age of 26. Hennessy began work in professional kitchens in high school but didn't start writing wild game recipes until he joined the Spokesman-Review in 2014. Since then, his recipes have appeared with Petersen's Hunting, Backcountry Journal, Gun Dog Magazine, among many others. He now lives with his wife, daughter, and Wirehaired Vizsla, Dudley, in Wichita, Kansas.