Home » Small Game Cooking » Jalapeño and Sun-dried Tomato Wild Turkey Thigh Sausage
Jalapeño and Sun-dried Tomato Wild Turkey Thigh Sausage
Read about turning those tough turkey thighs into delicious sausage, plus sausage-making advice from expert and award-winning chef Cosmo Goss
A common complaint regarding wild turkey thighs is their tough texture when cooked. There are several cooking methods to counter this and break down the tough muscle fibers and collagen, one method being sausage, which, because of grinding (in this case, grinding twice), shortens muscle fibers and results in more tender bites throughout.
Sausage is a very scientific product, as you'll see in this article, and I would argue it is not intuitive to most folks and will take some practice. Translation: don't be frustrated if your sausage isn't perfect on your first try. Make a party of it—have fun, take notes, earn that crown as "Sausage King of ."
Important steps while making sausage
Aside from choosing the right spices, there are a few crucial steps to keep in mind when making sausage. Mixing is likely where most sausage novices will fail. If the sausage is undermixed, not enough protein will be extracted and no bond will form between protein, hydrogen, and fat molecules, which means when you cook your sausage, fat will melt, leak, and leave you with crumbly sausage or even shrunk casings.
Protein extraction occurs most efficiently between 32 and 34 degrees Fahrenheit. Keep that meat cold, which may mean adding back to the freezer between steps—you want that ideal bond and you don't want to smear your fat. In terms of how many times to grind, in this recipe I recommend two, a course then fine grind, but that choice is up to you as some sausage recipes call for just a course grind.
Despite making a few hundred pounds of various wild-game sausage, I am admittedly still learning how to perfect my process so, for this article, I reached out to an expert as there is a great skill gap between someone who makes sausage casually at home and a person who can likely brag to making tens of thousands (perhaps more) of sausages in a career in numerous restaurants.
Cosmo Goss is a Culinary Hospitality Consultant with Graduate Hotels in Nashville, Tenn., New York, N.Y., and Seattle, as well as the Roosevelt Hotel in Hollywood, Calif. Despite that, he spends most of his time working as the chef and culinary director at the Shalhoob Meat Company in Santa Barbara, Calif. Further, Goss has made thousands upon thousands of pounds of sausage and has won awards for his charcuterie spreads.
"The science is you are forming a bond of protein molecules and hydrogen molecules around fat molecules," Goss said. "To do this, we, as sausage makers, add 1/2 cup of ice-cold water (or another liquid) per 5 pounds of sausage during mixing. Some beginners may add 1/2 to 1 cup of non-fat dry milk powder for every 5 pounds. Fowl tends to be tackier so you may want to add more ice water than you would for other meats."
But how do you know when you have mixed enough?
"I think a good, simple test is to take a golf-ball-size of sausage, roll it in your hands into a ball, leave it on your palm, and flip your hand over," Goss said. "If the sausage falls off, mix it more, if it sticks to your palm, you are good to go."
Still, you can overmix and you certainly want to avoid that.
"You can see it start to break the same way you can see an aioli or salad dressing break," Goss noted. "You are flattening the proteins; the bond will break and it gets greasy and slick, not sticky and tacky."
Equipment for making sausage
What equipment do you need? You will of course need a grinder, then a sausage stuffer if you plan to stuff your sausage into casings. Most professionals prefer a meat mixer, so I would consider picking that up as well. MEAT! (meatyourmaker.com) sells a lot of gear direct-for-less at reasonable prices on their website. That's what I used here.
In terms of casings, that choice is up to you—you can opt for collagen or natural casings. I am usually a fan of natural hog casings for most sausage, and perhaps sheep casings for breakfast links.
More sausage-making tips
Do not brine your meat, as brine will alter protein molecules and inhibit bind during mixing.
Work with the metric system and add spices based on a percentage (for example, 1.8 percent of kosher salt for the total amount of meat).
Wild, lean game runs the risk of drying out, so pure pork fat—which is flavorless—helps keep that meat moist during cooking. (Ask your butcher for pork fat or "fatback.")
For most wild game meats, I recommend a coarse then fine grind before mixing.
Keep meat incredibly cold, perhaps partially frozen, during grinding, mixing, and stuffing, ideally no higher than 33 degrees Fahrenheit. Add to the freezer between steps if necessary.
When mixing, in addition to meat and spices, add 1/2 to 1 cup of ice-cold liquid or non-fat dry milk powder for every 5 pounds of meat.
Check meat for tacky texture to test. Do not overmix.
If stuffing, err on side of under-stuffing as you can move meat through casings when creating links. Over-stuffing could result in a casing blowout.
Ideally, you want to hang your sausage links (still linked together) for three to six hours in the refrigerator before freezing, cooking, or trying to cutting links into individual sausages. This helps ensure the mix binds together properly and flavors fully develop inside the casing.
Jalapeño and Sun-dried Tomato Wild Turkey Thigh Sausage
Jack Hennessy
Turn those turkey thighs into a delicous, tender meal by creating loose or stuffed sausages
Equipment
1 Meat Grinder

with course and fine grinding plates

1 meat mixer

1 sausage stuffer

optional, if stuffing
Ingredients
1,349

grams

wild turkey thigh meat

3 pounds/70% of meat

578

grams

pork fat

20 ounces/30% of meat

120

grams

ice-cold puréed sundried tomatoes

6% of total meat

60

grams

cold finely diced jalapeños (seeded)

3% of total meat

34

grams

kosher salt

0.18% of total meat

6

grams

white pepper

0.3% of total meat

6

grams

paprika

0.3% of total meat

4

grams

nutmeg

0.2% of total meat

3

grams

sage

0.15% of total meat

2

grams

ground celery seed

0.1% of total meat

1/2

cup

ice-cold sherry

per 5 pounds/2268 grams of total meat

Natural hog casings

32-35 mm

Kosher salt

Freshly cracked black pepper
Instructions
Puree sundried tomatoes and diced jalapenos (keep seeds if you want spice) in a food processor with a dozen pulses (until desired texture is reached). Add to the fridge to keep very cold until ready to use.

Cut turkey thigh and fat into chunks, ideally when still partially frozen. Put through a coarse grinding plate, add to the freezer if necessary to keep cold, then grind one more through a fine grinding plate. Add to the freezer to get closer to 32 degrees, then prepare to mix.

Make sure sherry is 32 degrees when you're ready to begin mixing. Using a meat mixer, add spices as you mix, along with ice-cold sherry. Meat is mixed properly when it is tacky and will stay sticking to your palm in golf-ball size and help upside-down.

Place mixed meat in the freezer until ready to stuff. Follow respective casing directions to prepare them, and, once ready to stuff, slide casings onto the stuffer. Load stuffer with cold meat and begin stuffing casings. Carefully pop any air bubbles with a sausage pricker.

Spin into links, alternating spin direction with each link to keep them tight. Hang for a few hours in the fridge.

To cook, preheat oven to 300 degrees and cook sauages for 30 minutes. Enjoy!
Nutrition
Calories:
1423
kcal
Carbohydrates:
20
g
Protein:
5
g
Fat:
146
g
Saturated Fat:
57
g
Polyunsaturated Fat:
17
g
Monounsaturated Fat:
65
g
Cholesterol:
137
mg
Sodium:
3331
mg
Potassium:
1105
mg
Fiber:
5
g
Sugar:
13
g
Vitamin A:
472
IU
Vitamin C:
32
mg
Calcium:
56
mg
Iron:
3
mg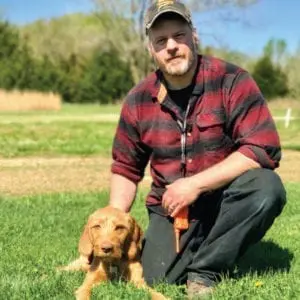 Jack Hennessy
Jack Hennessy grew up in the South Suburbs of Chicago and didn't start hunting until he attended graduate school in Spokane, Washington, at the age of 26. Hennessy began work in professional kitchens in high school but didn't start writing wild game recipes until he joined the Spokesman-Review in 2014. Since then, his recipes have appeared with Petersen's Hunting, Backcountry Journal, Gun Dog Magazine, among many others. He now lives with his wife, daughter, and Wirehaired Vizsla, Dudley, in Wichita, Kansas.