Lean turkey breast benefits from being grilled in smaller chunks to cook evenly
In most things I've not been one to learn from others' lessons, but rather my own mistakes—it's a talent I have. Recently I've been watching clips of Aaron Franklin's MasterClass on how to smoke a brisket and while I've been too cheap or stubborn or both to pay for the full session, one quote stuck out for me: "You only learn how to make good barbecue by making bad barbecue." So, so true, and if you've read anything I've written on wild turkey recipes, you likely know by now I personally have made my fair share of mistakes.
When it comes to wild turkey breasts, a far leaner piece of meat compared to its domestic counterpart, it has been my experience this cut is far too often misunderstood and overcooked. When you have a chunk of meat as big as your face and as thick as your fist, putting it whole over fire will produce mixed results. More often than not, by the time the middle reaches the ideal 160 degrees Fahrenheit, the exterior is dried out. A slow-and-low roast or a low smoke can avoid this, but if you're just looking to grill and feast, other prep methods can help.
My recommendation: use smaller cuts with overall less mass for a more even cook. Kebabs, like this recipe, are a great option. If that's not your style, I would suggest—if you take anything from this article—to consider at least butterflying your big spring gobbler breasts, versus tossing it on the grill whole for the reason mentioned above. A marinade ahead of time is great to help retain tenderness, and afterward, for this recipe, I added an extra dusting of flavor with Montana Mex's Mild Chile Seasoning. If you don't have the time to pick that up, check out your local Mexican grocer for ground guajillo chile pepper.
Enjoy! Reach out to me on Instagram (@WildGameJack) with any questions or comments and be sure to check out my other wild game recipes and cooking instructions here.
Wild Turkey Kebabs
Jack Hennessy
Smaller chunks of meat allow the lean turkey breast to cook evenly to perfection
Course
Appetizer, Main Course
Ingredients
1

lb

wild turkey breast

cut into approximate 1" by 1" cubes

1

medium

red onion

chopped

1

red bell pepper

chopped

1

green bell pepper

chopped

1

cup

cherry tomatoes

Dusting of Montana Mex mild Chile Seasoning

or ground guajillo chile pepper

Cooking spray

(suggested)
Marinade
½

cup

soy sauce

1

cup

sherry cooking wine

1

cup

apple juice

½

cup

olive oil

2

tbsp

fresh garlic

smashed

4

oz

ginger

smashed
Instructions
Cut wild turkey breast into approximate 1-inch-by-1-inch cubes. Chop vegetables (NOT cherry tomatoes) to similar-size squares.

In a medium saucepan, bring all marinade ingredients, aside from olive oil, to a low simmer.

Pour marinade in bowl or deep tray. Slowly stir in 1/2 cup olive oil. Place marinade in fridge to cool. Add wild turkey and vegetables (not cherry tomatoes though) only once the marinade has cooled

To grill, heat grill to 450 to 500 degrees Fahrenheit

Assemble kebabs in your preferred order(include cherry tomatoes now) and be sure to pack tight.

TIP: a square of bell pepper on either side of each turkey chunk helps keep turkey in place and facilitates rotating the kebab without the turkey turning on you. You'll want to rotate, ideally, three times for an even sear on all four sides.

Lightly dust kebabs on all sides with chile seasoning or ground guajillo chile pepper.

Lightly spray grill with cooking spray. LIGHTLY spray in intervals to avoid flare-ups.

Grill kebabs evenly. I like a little bit of char to my vegetables and turkey, so I grill hot and fast. The marinade should help keep the turkey tender.

Remove and let kebabs rest 5 minutes prior to serving. Enjoy!
Nutrition
Calories:
252
kcal
Carbohydrates:
17
g
Protein:
35
g
Fat:
5
g
Saturated Fat:
1
g
Polyunsaturated Fat:
1
g
Monounsaturated Fat:
3
g
Trans Fat:
1
g
Cholesterol:
82
mg
Sodium:
494
mg
Potassium:
849
mg
Fiber:
3
g
Sugar:
7
g
Vitamin A:
1663
IU
Vitamin C:
99
mg
Calcium:
49
mg
Iron:
2
mg
Keyword
Grilling, Wild Turkey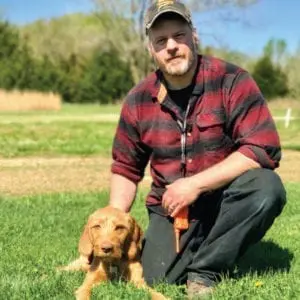 Jack Hennessy
Jack Hennessy grew up in the South Suburbs of Chicago and didn't start hunting until he attended graduate school in Spokane, Washington, at the age of 26. Hennessy began work in professional kitchens in high school but didn't start writing wild game recipes until he joined the Spokesman-Review in 2014. Since then, his recipes have appeared with Petersen's Hunting, Backcountry Journal, Gun Dog Magazine, among many others. He now lives with his wife, daughter, and Wirehaired Vizsla, Dudley, in Wichita, Kansas.