Though pellet grills are the trendy way to prepare many types of meat nowadays, you can successfully smoke a delicious pheasant with any grill and some balanced spice rubs
Yes, I know the first thought that pops into the head of those who don't own a pellet grill: "Oh great—I can't make this recipe." Incorrect, friend. You can make this smoked pheasant with a variety of grills (I'll explain how).
"Pellet Grill Pheasant" just had a nice ring to it, and it would seem these days pellet grills are trendier than German shorthaired pointers. So by popular demand, right?
For many years I did everything on a charcoal stainless-steel grate Weber. Anytime you use charcoal, I'd implore you to never use lighter fluid to start your coals. The main reason: if not burned off properly (and it rarely burns off properly), lighter fluid fumes can get absorbed by your grill grate and leach into your food. Use a chimney starter or electric starter instead.
If wishing to smoke using a charcoal grill, you can use the snake method or what I would do for years was soak wood chips half hour prior to smoking and just sprinkle them over charcoal. I used a chimney starter and barely grayed my coals, then dropped the coals into the grill and put damp wood chips overtop. I managed my vents diligently and would remove the grate every hour to add fresh chips, potentially a handful of unlit coals.
If running a propane grill, you can invest in smoker boxes to make this type of cooking possible.
In terms of recipe instructions, however you choose to smoke your pheasant is up to you, but the temp and smoking times will remain the same (180 for 1 hour, 275 for 30-45 minutes). Make sure to read further details below.
Dry brine
A spice rub is essentially a dry brine and should be treated as such. Similar to a wet brine, salt in the mix penetrates meat and adheres to muscle fibers, helping decrease moisture loss during cooking by upwards of 50 percent. A properly applied rub will be done at least a couple hours ahead of time so the salt has time to do its thing.
With a dry brine, salt on the exterior of meat absorbs moisture from the meat, which dissolves the salt into sodium and chloride ions. It's fancy science talk, but the bottom line, not only does salt help retain moisture during cooking, it also enhances your tastebuds. Per FineCooking.Com: "Sodium ions zero in on bitter flavor compounds and suppress them, making the sweet flavors seem stronger."
Chemistry is playing out on your palate, enriching the taste profile of what you're eating.
Sugar
Not only should your smoking spice rub of choice contain salt, it should contain sugar, as sugar both forms a pellicle to which smoke can adhere and helps caramelize the meat while cooking, creating a delicious, crispy crust. So pick a spice blend with a solid array of overall flavor, but most importantly the right balance of salt and sugar.
Enjoy! Reach out to me on Instagram (@WildGameJack) with any questions or comments and be sure to check out my other wild game recipes and cooking instructions here.
Pellet Grill Smoked Pheasant
Jack Hennessy
An easy, delicious way to prepare a whole pheasant on any type of grill.
Equipment
Pellet grill

Charcoal grill with soaked wood chips

Propane grill with smoker box
Ingredients
1

Whole pheasant

Plucked, preferably skin on

Your favorite spice rub

(I've had success with both Meat Church Rubs and Bearded Butchers Splice Blends)
Instructions
Liberally rub the entire pheasant with your chosen spice rub.

Truss phesant (tying legs together and pulling wings close to breasts with kitchen twine). Place an ice pack on the breast and leave out at room temperature for 2 hours. (The ice pack will keep breasts cool to help them hit 160 internal while legs hit 180ish in the end).

Set smoker or pellet grill to 180 degrees Fahrenheit using mesquite wood or pellets.

Spray all sides of pheasant with canola oil then add to smoker to smoke for 1 hour.

Increase heat to 275 after 1 hour at 180 and roast for 30-45 minutes, until internal temp of breast reads 160 and legs are 180-190.

When done, pull pheasant and allow to rest for 15 minutes prior to carving and serving.
Nutrition
Calories:
450
kcal
Protein:
39
g
Fat:
32
g
Saturated Fat:
9
g
Polyunsaturated Fat:
6
g
Monounsaturated Fat:
14
g
Cholesterol:
227
mg
Sodium:
137
mg
Potassium:
531
mg
Vitamin A:
243
IU
Vitamin C:
1
mg
Calcium:
25
mg
Iron:
2
mg
Keyword
Grilling, Pheasant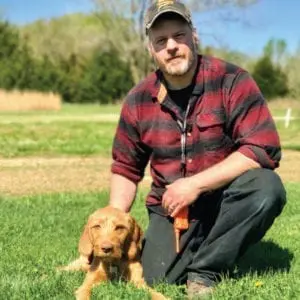 Jack Hennessy
Jack Hennessy grew up in the South Suburbs of Chicago and didn't start hunting until he attended graduate school in Spokane, Washington, at the age of 26. Hennessy began work in professional kitchens in high school but didn't start writing wild game recipes until he joined the Spokesman-Review in 2014. Since then, his recipes have appeared with Petersen's Hunting, Backcountry Journal, Gun Dog Magazine, among many others. He now lives with his wife, daughter, and Wirehaired Vizsla, Dudley, in Wichita, Kansas.