This Indian inspired recipe will give your wild turkey meat great flavor with tender meat
Indian-inspired marinades are an excellent approach for tenderizing any tough wild game cut. The strong, deep flavors also help neutralize "gamey" flavor notes. Tandoori chicken first gained popularity following the Partition of India in 1947 when, as I understand it, Kunda Lal Gujral opened a restaurant in Delhi and served this dish. He saw immediate success. Renditions of his recipe spread throughout South Asia and the Middle East, eventually making their way into Western countries.
Tandoori is traditionally roasted in a tandoor. After marinating in yogurt and Indian spices, this wild turkey variation calls for several hours in sous vide, as opposed to a tandoor, followed by a sear over a hot grill or fry in an air fryer. This finishing step helps firm up the texture of the wild turkey meat. In addition to being delicious, this recipe is quite healthy.
Raita, a yogurt-based condiment, pairs incredibly well with this dish. You can indeed serve this raita with any wild bird, or any wild game for that matter. You can also make this Tandoori Wild Turkey with any upland bird cut, though you will want to adjust the temp and time in the sous vide depending on the size of the cut. Tougher parts like wings, thighs, and legs require several hours in a sous vide at 185 degrees Fahrenheit, while breasts benefit from a sous vide bath at 140 F for two to three hours. A quick sear follows both approaches.
Tandoori Wild Turkey Recipe
This Indian inspired recipe will give your wild turkey meat great flavor with tender meat
Prep Time
1

day
d
3

hours
hrs
Ingredients
Tandoori Wild Turkey
Turkey thighs and legs from one wild bird (skin on or off)

1

cup

nonfat Greek yogurt

2

tbsp

fresh garlic

2

tbsdp

fresh ginger

Juice from ¼ of a medium lemon

3

tsp

ancho chili powder

2

tsp

paprika

2

tsp

garam masala

1 ½

tsp

kosher salt

1

tsp

ground black pepper

1

tsp

ground cumin

1

tsp

Chinese five spice powder

1

tsp

ground coriander

½

tsp

turmeric

Chicken stock (if not using a sous vide)

Extra fresh cilantro, chopped

for garnish
Raita
⅓

medium red onion

finely diced

2

medium tomatoes

finely diced

1

jalapeño

seeded and finely diced

2

medium-ripe avocados

smashed

½

cup

fresh cilantro

finely chopped

Juice from 1/4 of a medium lemon

½

tsp

kosher salt

1

cup

nonfat Greek yogurt
Rice
¼

cup

ghee or sunflower (or similar) cooking oil

1

cinnamon stick

2

tbsp

coriander seeds

2

tbsp

cumin seeds

½

bulb fresh garlic

peeled

5

whole cloves

1

cup

basmati rice

2

cups

cold water
Instructions
In a food processor or a blender, thoroughly blend the turkey spices, garlic, and ginger; do not add the yogurt. After the spices are blended, mix them with the yogurt in a mixing bowl.

Seal your turkey legs and thighs with the yogurt-spice marinade in a vacuum-sealed bag. Refrigerate overnight.

To cook the turkey, heat your sous vide up to 185 F. Add the sealed bag with the legs, thighs, and yogurt-spice mix to the bath. Sous vide the wild turkey for four to six hours (four hours for jakes, six for mature gobblers). If you don't have a sous vide, remove your turkey legs and thighs from the vacuum-sealed bag and add them to an oven-safe pot. Cover the meat with the yogurt-spice mix with some chicken stock. Place it in the oven at 200 F for three hours or until tender.

To make the raita, first, halve, seed, and finely dice your jalapeño. Finely chop the red onion, tomatoes, and cilantro next. Add all the ingredients to a mixing bowl. Peel and seed your avocados, and mash them into the same mixing bowl along with kosher salt. Add the yogurt and lemon juice. Mix everything together, leaving some of the avocados intact for texture. Refrigerate the raita until you're ready to use it. (Tip: Assemble the raita as close to serving time as possible so the avocados don't brown. You may wish to cut the vegetables and cilantro and refrigerate them beforehand, then wait to add the avocados, yogurt, salt, and lemon juice just before serving.)

To make the rice, add ghee or cooking oil to a medium saucepan on medium heat to make the rice. Add the spices and garlic cloves and simmer them for ten minutes, until the garlic is brown. Drain the ghee or oil through a sieve to remove the cloves and spices, then add the oil back to the saucepan. Add the rice and stir often to sauté it slightly for ten minutes. Then, add water and raise the heat to high. Cover the saucepan and turn the burner to low once it's boiling. Turn it completely off once all the water is absorbed (approximately ten minutes).

Once the legs and thighs are tender, briefly sear them over a hot fire or air fry them at 400 F on each side for a couple of minutes. Serve with the assembled raita, basmati rice, and maybe even freshly chopped and sliced cucumbers and red onions. Garnish with more cilantro, if desired.
Notes
Enjoy! Reach out to me on Instagram (@WildGameJack) with any questions or comments.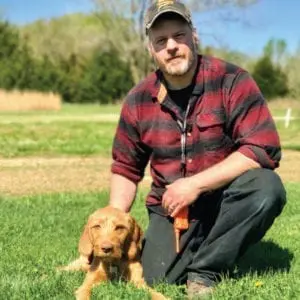 Jack Hennessy
Jack Hennessy grew up in the South Suburbs of Chicago and didn't start hunting until he attended graduate school in Spokane, Washington, at the age of 26. Hennessy began work in professional kitchens in high school but didn't start writing wild game recipes until he joined the Spokesman-Review in 2014. Since then, his recipes have appeared with Petersen's Hunting, Backcountry Journal, Gun Dog Magazine, among many others. He now lives with his wife, daughter, and Wirehaired Vizsla, Dudley, in Wichita, Kansas.