Home » Small Game Cooking » Spring Pasta with Wild Turkey Tenderloins and Morels
Spring Pasta with Wild Turkey Tenderloins and Morels
Combine your wild turkey tenderloins with freshly foraged morel mushrooms for a bright springtime pasta
Spring is my second favorite season. It might have been my first if it included dog work, but what it does include makes it a close second: wild turkey and morels. Both are used here to create this very brightly-toned spring pasta.
A quick note on morels: if you haven't had them before, you want to clean and cook thoroughly. Undercooked morels will make you sick; err on the side of overcooking. Also, you may want to try a teaspoon and wait 24 hours before consuming the rest, as a small percentage of people are allergic to morels, even if cooked properly.
For the wild turkey cut, I recommend using the tenderloin. On mature gobblers, those tenderloins can be the size of pheasant breasts or slightly larger. To find out how to find the tenderloin, check out this upland bird butchering guide. Already gobbled down the tenderloins? You can use another cut of the breast—just cut off about 5 to 6 ounces, butterfly if necessary to try and reach the size of a tenderloin, then use a meat mallet to tenderize that cut.
Lastly, to a certain extent, there is a bit of juggling going on here with your stove. Keep that in mind as your prepare and cook this meal. Reach out to me on Instagram (@WildGameJack) with any questions or comments.
Spring Pasta with Wild Turkey Tenderloins and Morels
Jack Hennessy
Combine your wild turkey tenderloins with freshly foraged morel mushrooms for a bright springtime pasta
Cook Time
20

minutes
mins
Ingredients
Fried Wild Turkey
2

tenderloins or two 5-ounce cuts of breast meat from a wild turkey

2

eggs

beaten

1

pint

buttermilk

1/2

cup

Frank's Red Hot

1 1/2

cups

all-purpose flour

divided

1/2

cup

cornstarch

divided

1/4

tsp

kosher salt

1/4

tsp

freshly-cracked black pepper

Peanut oil

for frying
Pasta
16

ounces

Cavatappi pasta

2-3

ounces

fresh morels

or other mushrooms

1

cup

white wine

1

cup

goat cheese

2

tsp

freshly minced garlic

4-6

ounces

cherry tomatoes

1

medium red onion

sliced

1/2

lemon

juiced

Salted butter

Kosher salt

Freshly cracked black pepper

Olive oil

Fresh basil

cut chiffonade, for garnish
Instructions
Soak turkey tenderloins in a mix of buttermilk and Frank's Red Hot overnight. If using a cut from the breast, slice off a 5- to 6-ounce segment, butterfly if necessary, and use a meat mallet to pound, thin, and tenderize.

To clean morels, cut any larger than your thumb in half and keep others whole. In a large pot, simmer 4 cups of water with 1/4 cup kosher salt. When salt is dissolved, remove the pot from heat and add 12 cups of cold water. Once water is mostly cool, add morels and stir around and let soak for 1 hour.

When ready to cook, slice the red onion (the thinner the slices, the better) and add to a large skillet with a thin layer of olive oil. Heat on medium. Once the onion is slightly seared, turn the heat to low and slightly salt and pepper. Slowly cook onions on low until caramelized.

Once caramelized, add freshly minced garlic and raise the heat back to medium. After stirring for a couple of minutes, add cherry tomatoes, juice from half a lemon, a bit more olive oil, and white wine. Stir often and allow to simmer. Add more wine if necessary, if too much starts to evaporate as the wine is the base of your sauce. Turn heat to low once cherry tomatoes are cooked.

Bring water to a boil for pasta. Cook pasta to al dente, then drain and set aside in a sieve.

Next prepare the turkey dredge by mixing 3/4 cup flour and 1/4 cup cornstarch in two separate pans. Add 1/4 teaspoon of kosher salt and black pepper to the first pan and mix in with flour and cornstarch. Beat two eggs and place in a third pan or large mixing bowl.

Heat peanut oil to 375 degrees Fahrenheit in either a Dutch oven, fryer, or stainless steel pot. Remove the turkey tenderloins from buttermilk and toss them in the first pan with salt, pepper, flour, and cornstarch. Shake off any excess. Add to bowl with egg wash, and finally into the final pan of unseasoned flour and cornstarch. Shake off any excess and add to the hot peanut oil. Fry each turkey tenderloin until the sides are golden brown. Once done, place on stainless steel mesh or grate and pat dry.

To cook morels, make sure to rinse thoroughly under cold water after 1 hour in brine. Heat a separate skillet to 300 degrees. Add a bit of salted butter and sear each morel without crowding the pan. Add more butter if necessary. Make sure to cook each morel for at least 5 to 6 minutes until seared and completely cooked.

To assemble pasta, in a large stainless steel mixing bowl (or something similar), add the contents of the skillet with caramelized onion, cherry tomatoes, garlic, and white wine. Add 12 to 16 ounces of pasta (your call for how much per serving). Add 1 cup goat cheese and thoroughly mix. Note, the heat from skillet contents should melt goat cheese, making somewhat of a cream sauce.

To serve, top with sliced fried turkey tenderloin, freshly seared morels, and fresh basil. Enjoy!
Nutrition
Calories:
2089
kcal
Carbohydrates:
298
g
Protein:
104
g
Fat:
41
g
Saturated Fat:
23
g
Polyunsaturated Fat:
4
g
Monounsaturated Fat:
10
g
Trans Fat:
1
g
Cholesterol:
312
mg
Sodium:
2951
mg
Potassium:
1483
mg
Fiber:
13
g
Sugar:
25
g
Vitamin A:
2087
IU
Vitamin C:
33
mg
Calcium:
577
mg
Iron:
15
mg
Keyword
Pasta, Wild Turkey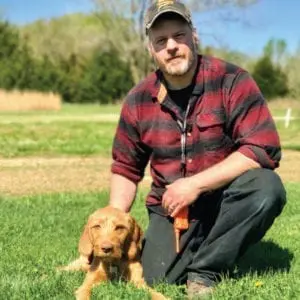 Jack Hennessy
Jack Hennessy grew up in the South Suburbs of Chicago and didn't start hunting until he attended graduate school in Spokane, Washington, at the age of 26. Hennessy began work in professional kitchens in high school but didn't start writing wild game recipes until he joined the Spokesman-Review in 2014. Since then, his recipes have appeared with Petersen's Hunting, Backcountry Journal, Gun Dog Magazine, among many others. He now lives with his wife, daughter, and Wirehaired Vizsla, Dudley, in Wichita, Kansas.