Photo by Jack Hennessy
Add some spice to your holidays with this celebration of roasted quail paired with seasonal flavors
The holidays are a time for family, festive dishes, and eating too much sugar. It's a good thing that many of us walk half-marathons most days afield! Nevertheless, it's always fun to put a special treat on the plate for family and guests around Christmas—something other than your traditional ham-and-turkey table fare.
This glaze recipe is incredibly easy to make and can be applied to any upland bird, skinned or plucked. The recipe calls for Firebee Spicy Honey, though any honey will work. You can also use more brown sugar if you don't have honey (substitution directions in recipe steps). Also, with these ratios, it isn't TOO spicy—I fed it to my 3-year-old and she loved it. This recipe is safe to serve to children because the alcohol burns off during the simmer.
However, if you wanted to go full-send spicy, you could use all Firebee Spicy Honey and no brown sugar, which I would recommend for spice lovers. Firebee is organic farm-fresh raw honey from Kansas farms infused with chili peppers. It's good stuff and a family-owned business, so I like supporting them when possible.
I prefer to pluck all my birds when possible, as the crispy skin of quail is always an added bonus. However, skinned birds work, too; if you are using birds larger than quail, you might wish to brine them prior to roasting. Truth be told, for birds as small as quail, I don't always brine ahead of cooking. Larger birds are more at risk of drying out because of their longer cooking times, which is why brining is a good idea to help retain moisture during cooking.
A basting brush is helpful for applying the glaze, but you can use a large spoon in a pinch. This glaze recipe makes a lot, volume-wise, so it'll be more than plenty for four quail. The glaze will keep in the fridge for at least a week, so feel welcome to apply to any other dishes, including that Christmas ham. You could even mix it with a full glass of brandy and turn it into a cocktail, too. No one would judge you, I promise.
Hope every one of you and your families has a very merry, delicious, and safe Christmas and a happy New Year!
Ingredients for two servings
Four quail or 16 ounces of upland bird meat
1/2 cup brandy
1/2 cup freshly squeezed orange juice
Zest from half an orange
1/2 cup Firebee Spicy Honey
1/2 cup brown sugar
14-ounce can of jellied cranberry sauce
Optional Substitutions:
1 cup of Spicy Honey and no brown sugar for more spice
1/2 cup of regular honey and 1/2 cup brown sugar for no spice
1 cup brown sugar if you don't have honey
Cooking instructions
In a medium saucepan, combine all glaze ingredients and allow to simmer for one half to one hour, stirring often. Do not allow the glaze to burn. Simmer until the glaze is thick and all the sugar and honey has dissolved. (TIP: heat honey in a microwave for 10-20 seconds for ease of pouring.)
Season the quail with salt and pepper or brine the birds. I simply dusted with kosher salt and freshly ground pepper for this recipe. Roast the quail at 325 degrees Fahrenheit for 25-30 minutes, until fully cooked.
Once the glaze has finished simmering and is thick, turn off the burner and allow to rest for 10-15 minutes before applying to roasted quail with a basting brush.
Allow the glaze about a minute to adhere to birds, then serve!
Enjoy! Reach out to me on Instagram (@WildGameJack) with any questions or comments and be sure to check out my other wild game recipes and cooking instructions here.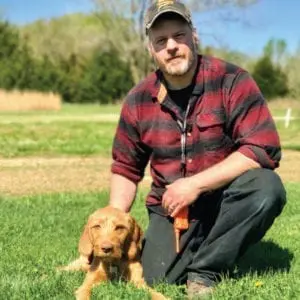 Jack Hennessy
Jack Hennessy grew up in the South Suburbs of Chicago and didn't start hunting until he attended graduate school in Spokane, Washington, at the age of 26. Hennessy began work in professional kitchens in high school but didn't start writing wild game recipes until he joined the Spokesman-Review in 2014. Since then, his recipes have appeared with Petersen's Hunting, Backcountry Journal, Gun Dog Magazine, among many others. He now lives with his wife, daughter, and Wirehaired Vizsla, Dudley, in Wichita, Kansas.