A mouthwatering wild chukar recipe with a lemon zest
This straightforward, one-skillet recipe makes use of simple ingredients. Any white-fleshed upland bird can be used in this recipe, though remember that roasting times will vary based on the size of the bird(s) you are cooking. In this instance, I used spatchcocked chukar meat.
If you need a quick guide on how to spatchcock your birds: How to Butcher an Upland Game Bird
This recipe is based on one from Ina Garten's cookbook Cooking for Jeffrey: A Barefoot Contessa Cookbook. There are some differences, of course, like that I use wild birds. Additionally, whole lemon slices with the rind attached are incorporated. However, I would suggest cutting off the rinds and removing the seeds from your lemon halves. Otherwise, that bitter rind flavor will come through in the sauce; I learned this the hard way.
Another difference from the original recipe is that I begin by caramelizing my shallots. You can use yellow onions if you can't locate shallots at your grocer. By caramelizing the shallots, there is a sweeter flavor profile in the sauce after deglazing with chardonnay. You may not get this flavor profile just from roasting all the ingredients together from start to finish.
I served this atop some oven-roasted chard, but whatever side dish you choose is up to you. Wild rice is another excellent option. In terms of what olive oil to use, like most things in life, you get what you pay for when it comes to olive oil. Investing in a more expensive option will likely result in a richer flavor profile, but that decision is entirely up to you.
Skillet-Roasted Lemon Chukar
With zesty flavors and moist meat this chukar recipe is a must try.
Cook Time
45

minutes
mins
Total Time
12

hours
hrs
45

minutes
mins
Ingredients
2

chukars

plucked and spatchcocked

Kosher salt and freshly ground black pepper

⅓

cup

olive oil

2

tsp

freshly minced thyme

1

tsp

freshly minced fennel seeds

¼

cup

ghee or clarified butter

1 ½

cup

shallots

sliced julienne

2

tsp

freshly minced garlic

1

lemon

halved, sliced 1/4-inch thick, and rind and seeds removed

½

cup

chardonnay

1

tsp

freshly minced rosemary

½

lemon

juiced

Freshly chopped Italian (flat-leaf) parsley for garnish

(optional)
Instructions
Night Before Prep
Spatchcock your chukar and pat them dry. Grind both fresh kosher salt and black pepper over top of your birds. Let them sit uncovered in the fridge overnight.
Cooking
Preheat the oven to 500 degrees Fahrenheit when you're ready to cook. Finely mince the thyme and fennel seeds, and mix them into the olive oil. Set aside.

Add your clarified butter along with the shallots in a large (preferably cast-iron) skillet heated to medium-high. Lightly salt and pepper the shallots. Once they are seared and slightly soft, turn the heat to low and add your garlic. Stir it together for a couple of minutes, then remove the skillet from the heat.

Spread your lemon halves (with the rind cut off and seeds removed) atop your shallots and garlic in the skillet. Place your chukars breast-side-down and brush the backside with half of the olive oil mixture. Flip the chukars so their breasts are facing up, pat them dry, paint them with the rest of the olive oil mixture, and place them into the oven to roast.

Roast the chukars for 12 minutes. Then, add the wine to the side of the skillet, not over the chukars. Roast for five to seven more minutes or until the chukar skin is crispy and their internal temp reads approximately 155 F.

Remove the skillet from the oven and sprinkle the chukars with freshly minced rosemary and freshly squeezed lemon; half a lemon should work. Cover the skillet with aluminum foil and allow it to rest for five minutes before serving.

To serve, carve the chukars and plate them. Top carved chukar with sauce from skillet, and garnish them with freshly chopped parsley (optional).
Notes
Enjoy! Reach out to me on Instagram (@WildGameJack) with any questions or comments.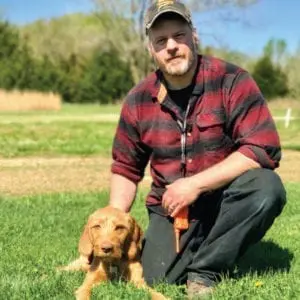 Jack Hennessy
Jack Hennessy grew up in the South Suburbs of Chicago and didn't start hunting until he attended graduate school in Spokane, Washington, at the age of 26. Hennessy began work in professional kitchens in high school but didn't start writing wild game recipes until he joined the Spokesman-Review in 2014. Since then, his recipes have appeared with Petersen's Hunting, Backcountry Journal, Gun Dog Magazine, among many others. He now lives with his wife, daughter, and Wirehaired Vizsla, Dudley, in Wichita, Kansas.