Home » Small Game Cooking » Grouse Milanese – A Classic Italian Recipe Gone Upland
Grouse Milanese – A Classic Italian Recipe Gone Upland
Bring this fried cooking tradition of Southern Italy to North American upland game birds with this recipe from the Old Country
There were certain cooking days for which our mother would ban us from the kitchen, especially around holidays. In one notable incident, she was making meatballs for a Parents Without Partners event she organized, and one by one my brothers and I sampled away throughout the day. By the time the pot made it to the event, to my mother's horror, the pot had but a few lonely meatballs left.
There was a more frequent cooking day that led to our banishment about once a week: Milanese. As my mother would fry away, you could try to raid the plate covered in newspaper only at the penalty of getting your knuckles whacked with a wooden spoon. Fully worth the risk. In America, we know it as Chicken Milanese, essentially boneless chicken dipped in egg and breadcrumbs and then fried to a light crispy meat dish often served with anything from mashed potatoes to mixed vegetables.
Despite the name containing the word "Milan" it did not originate in Northern Italy. Its origins were Southern Italy and, depending on where your family immigrated from, some seasonings in this breaded tradition could vary. Journey back to those regions today (or sit with the immigrated families in America) and this method of cooking is applied to just about anything from rabbit to veal. in true Sicilian fashion, my mother would make it with whatever was on sale at the grocer that week, but the basic ingredients would stay the same past that: breadcrumbs, eggs, milk, and some spices.
The thing I love most about Milanese is the ability to fine-tune it to personal taste. Beyond what type of meat you choose, there are a few variables you can play with to make it fit your taste buds. In fact, I encourage everyone to make this recipe their own and experiment with this very simple Italian traditional meal.
The egg mixture
The egg mixture is probably the least exciting part, but depending on personal tastes or eating habits, you can alter a few things here. You can go dairy-free by using just egg or egg-free by using just whole milk or cream, if perhaps you run out of eggs. Personally, I usually go with a 50/50 mix but a straight egg wash is totally acceptable.
The breadcrumbs for Milanese
Breadcrumbs come in all kinds. For simplicity, I am just talking store-bought Italian-style breadcrumbs. You could get a little more sustainable and authentically Italian by turning stale bread into incredible homemade breadcrumbs. Others may add in flour with the breadcrumbs. That ratio can really start to move you from Milanese to other Italian classics like Chicken or Veal Parmesan. Traditional Milanese would call not call for flour but, hey, this is the New World! Whether you buy plain breadcrumbs, Italian breadcrumbs, add some panko flare, or use up the stale bread on hand, the core spices are where things get really interesting.
Some regions of Italy, like where my wife is from in Formia, use no seasoning beyond salt. My family would often use garlic powder and dried parsley. The older I got the more I experimented with making onion powder a staple in mine. On days I am feeling a bit more exciting I turn things up with paprika, chili powder, and red pepper (not very Italian of me). As noted below, my recipe calls for both onion powder and garlic powder. Some Italian chefs I used to work with would object to using both these root vegetables in a single meal, but this is a melting pot after all.
The oil and fat to cook Milanese
Growing up, my mother would usually use olive oil or sometimes just vegetable oil depending on costs and availability. Today, I use only olive oil; my wife's family uses butter. I can imagine using some kind of rendered fat or lard but I like to keep it healthy. Olive oil does present the challenge of burning at a lower temperature than other oils; it's something you get used to with time, and slower is better in that case.
Cooking Milanese in a pan or oven
Putting it in the oven is about as American health food as you can get. Yes, restaurants are mass-producing Chicken Milanese in ovens, but fried in oil or butter in a pan is traditional. When I do it in an oven, I usually mist the top side of the breaded meat with olive oil, let it bake at 350 degrees for 5 minutes, flip, mist with olive oil (as well as misting any dry spots on the first side) and bake for another 5 minutes. Depending on how thick you cut your meat, you can go as low as 3 to as high as 12 minutes per side.
The meat choices of Milanese
Milanese in Italy, as mentioned above, is made with just about anything. When I was a kid, my mother would use pork sometimes. She learned this from my grandfather (her father-in-law), who hailed from a mountain town outside Costiera Amalfitana or as we say in tourist Italian, the Amalfi Coast. Chicken was very common in the States so that was the most common meat used as I was growing up. However, it was not unusual to end up with some unidentified fried meat at some point.
When it comes to wild game meat, one must be more cautious of drying out the meat. Ruffed grouse is my go-to wild game meat for Milanese, but occasionally I will use wild turkey, pheasant, sharptails, woodcock, wild boar, venison, and just about anything else you can think of. Ruffed grouse can be served slightly pink; in fact, serving it past that would be blasphemy. Consequently, I will usually opt for a slightly hotter pan to crisp the outside faster before the inside cooks through fully. That is probably the real trick to master when cooking Milanese with delicate upland game meats.
Grouse Milanese – An Italian Classic Gone Upland
A.J. DeRosa
Milanese is a traditional Southern Italian breaded and fried meat style that can be tweaked to anyone's taste.
Ingredients
4

Ruffed Grouse Breasts, butterflied

(can substitute with just about any upland game bird breast)
The Egg Wash
1

egg

½

whole milk or cream
The Breadcrumbs
1

cup

Italian style breadcrumbs

¼

cup

flour

1

tbsp.

onion powder

1

tbsp.

dried parsley

(can use fresh)

½

tbsp.

garlic powder

kosher salt to taste
Instructions
In a frying pan add olive oil to make about a ¼" deep in the whole pan and set heat to a low setting.

In a bowl, beat together the egg and milk until consistent.

In another bowl, mix the dry ingredients together.

Lay plastic wrap over the grouse meat on a cutting board and pound with meat tenderizer or rolling pin. (Do not go to crazy here; you do not want them too thin like other Italian style breaded meats).

Test the heat of the pan by dipping finger in water and flicking a a few drops into pan and see if it sizzles. Be careful to not overheat the olive oil.

Dip a grouse slice in egg wash then coat with breadcrumb mix. I usually use a spoon to press the mix in well on both sides.

Add slice to pan and repeat till all the meat is in the pan.

Each piece should cook for about 2 mins per side. Do not be afraid to pull a piece and cut open and test. Since this is grouse and we are trying to not dry it out, timing may vary depending on stoves and pan heat distribution.

Remove pieces onto a plate with either newspaper or paper towels to absorb excess oil.

Serve over a salad or with some kind of side. Pay close attention the subtle influence of the spices and reinvent this recipe on your next try!
Notes
Italians are known to use every part of an animal. That is the way I grew up, and I am overjoyed when I see modern sustainable movements push for similar food habits. Breasting out a ruffed grouse still leaves a vast amount of meat on the bird. I suggest that you use the rest of the bird boiled down into soup, pies, or even in Italian style sauces. After that, adding the bones to compost, or even further boiling for broth are all ways to give that bird's life the greatest purpose.
You will also have left over egg and breadcrumbs from this process. The best way to use it up is to make a small pasta dish using both. Starting with things left over in the fridge like vegetables, or meats. Add in breadcrumbs fry, add pasta, continue to fry, and add egg mix at the end. Sauce bases can be anything from oil and wine to lemon or cream. Experimentation is a great way to not only cater to your own tastes but also achieve zero waste. 
Nutrition
Keyword
Grouse, Milanese, Ruffed Grouse, Venison, Wild Boar, Woodcock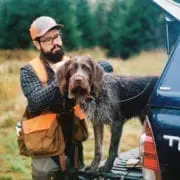 A.J. DeRosa
A.J. DeRosa founded Project Upland in 2014 as an excuse to go hunting more often (and it worked). A New England native, he grew up hunting and has spent over 30 years in pursuit of big and small game species across three continents. He started collecting guns on his 18th birthday and eventually found his passion for side-by-side shotguns, inspiring him to travel the world to meet the people and places from which they come. Looking to turn his passion into inspiration for others, AJ was first published in 2004 and went on to write his first book The Urban Deer Complex in 2014. He soon discovered a love for filmmaking, particularly the challenge of capturing ruffed grouse with a camera, which led to the award-winning Project Upland film series. AJ's love for all things wild has caused him to advocate on the federal and state levels to promote and expand conservation policy, habitat funding, and upland game bird awareness. He currently serves as the Strafford County New Hampshire Fish & Game Commissioner in order to give back to his community and to further the mission of the agency. When those hunting excuses are in play, you can find him wandering behind his Wirehaired Pointing Griffon in the mountains of New England and anywhere else the birds take them.