Ruffed grouse habitat identification can be complicated, and sometimes simplifying things can be a good foundation for learning
As the days of fall push closer, my phone calls start shifting more toward bird numbers and upcoming hunting outings than to work. The phone rings with calls from people who have drifted apart over the long winter, blooming spring, and hot summer. It's all part of this distinctive ritual that is unspoken and fueled by an upland fever that cannot be broken. The excitement of fall begins to accelerate us toward what always seems like a blink of an eye.
With this increase in chatter, I start to think about new pursuits for the fall. This year I promise myself I will hunt snipe for real (for the third year in a row), because the season opens weeks before the grouse and woodcock seasons in New Hampshire. But many of those conversations are brainstorming sessions, mentoring moments, and healthy debate over hunting theory.
On one particular call, I was discussing ruffed grouse covers in southern New Hampshire. I had recently discovered that is considered a holy grail hunt but for another time. As I spoke to Joe Levesque, Northeast Regional Director of the Ruffed Grouse Society he casually said, "I have this Mountain Ash in my front yard covered in fruit but I have never seen a grouse on it."
Mountain Ash? I thought to myself. As I started probing the internet to find an image. "I have seen this stuff!" I exclaimed excitedly.
Joe was taken aback that I did not know what mountain ash was, but I'm a mostly self-taught grouse hunter. What I learned of grouse hunting as a kid came from my father or uncle showing me where the grouse were without explaining why grouse would be there.
Read: Upland Stuffed Acorn Squash
What is Mountain Ash?
Mountain Ash is a native deciduous tree that is found throughout the cold climates of the northern hemisphere and as far away as Tibet. It yields a rich bounty of small orange-red berries that ruffed grouse happen to love. Its berries tend to stay on the branch long into the winter, providing a food source for many birds, including grouse. The images in this article or a quick google of "Mountain Ash" can help with visual identification.
If you look for Mountain Ash when it is not bearing fruit, it may be hard to spot; luckily, when the grouse season is upon us, so is the Mountain Ash's fruiting season. It sticks out like a sore thumb with its bright red clusters of fruit.
Highbush cranberry has always been a coveted target for me but now this other red fruit is on my radar. In parts of Canada and the northern reaches of New England, some call it "dogberry." Wikipedia can tell you a lot of the folklore and mythology surrounding this wonder plant.
Simplifying grouse hunting with Mountain Ash
Ruffed grouse hunting can be as complicated or simple as we make it. I have seen hunters pass up easy shots on pointed grouse because their dog took one step. And to the idea of ruffed grouse hunting being "an act of violence"—I have hunted over the best of meat dogs. That personalized user experience is what draws many of us back again and again, for a bird that can be very frustrating.
Recognizing ruffed grouse habitat can take years of mentoring, education, studying, and practical experience. Some have a knack for seeing the bigger picture; others, like myself, could get you killed with their plant identification skills. That has led me to focus on simple basics, like the food source Mountain Ash.
When opening day finally came, I had stewed for weeks over targeting Mountain Ash, googling photos and even taking screenshots. I went on a mission to target it and found a bunch while driving down a narrow old logging road heading to the backside of one of my favorite mountains to hunt. I stopped the truck and stared at what looked like a dozen separate trees weighed down by the red fruit. The cover was moderately thick and some dark cover (soft woods) ran next to it. Grim, my Wirehaired Pointing Griffon, whimpered in the back; he knew a slowing truck on dirt with the smell of a shotgun close at hand was a grouse hunting day.
In short order, Grim was on point not 10 yards off the logging road but some poor shooting let the grouse live another day. Even in what seemed like a simple 5-acre piece, we moved six grouse total and took one home. I had no doubt those grouse had been feeding on that Mountain Ash within the past hour and a quick inspection of the crop contents confirmed it. For most of the season, as the fruit held on these Mountain Ash, we replicated this simple targeting method to find grouse again and again.
READ: Ruffed Grouse Hunting Hack – Know what they are Eating
Another piece to the grouse habitat puzzle
Though I found new covers as a result of Joe Levesque's unexpected mentoring, I also found another piece to the puzzle of my already known covers. One of my favorite spots had Mountain Ash bordering the cover. It was another piece of knowledge that would lend itself to my ongoing learning of grouse habitat.
It's these simple building blocks that can give you grouse action today without expert knowledge. With time, these tidbits and little leaps help us along the road while still providing us with opportunity. If you find yourself overwhelmed by identifying ruffed grouse habitat, just take a step back. Start with an obvious element like a food source and start the learning with simple application and observation.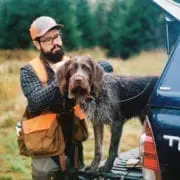 A.J. DeRosa
A.J. DeRosa founded Project Upland in 2014 as an excuse to go hunting more often (and it worked). A New England native, he grew up hunting and has spent over 35 years in pursuit of big and small game species across three continents. He has a passion for side-by-side shotguns, inspiring him to travel the world to meet the people and places from which they come. Looking to turn his passion into inspiration for others, AJ was first published in 2004 and went on to write his first book The Urban Deer Complex in 2014. He soon discovered a love for filmmaking, particularly the challenge of capturing ruffed grouse with a camera, which led to the award-winning Project Upland film series. AJ's love for all things wild has caused him to advocate on the federal and state levels to promote and expand conservation policy, habitat funding, and upland game bird awareness. He currently serves as the Strafford County New Hampshire Fish & Game Commissioner in order to give back to his community and to further the mission of the agency. When those hunting excuses are in play, you can find him wandering behind his Wirehaired Pointing Griffon in the mountains of New England and anywhere else the birds take them.