Home » Small Game Cooking » Grilled Quail with Chipotle Strawberry Sauce
Grilled Quail with Chipotle Strawberry Sauce
Celebrate summer with the sweet and savory flavors of this sauce served over wild quail fresh off the grill
It hit me like a ton of bricks the moment I checked our community's pool schedule: The pool was closing and school was starting in a week. Summer was over in Mulvane, Kansas. Of course every parent looks forward to the start of school, and every hunter looks forward to the start of fall, but—for whatever reason—this summer just went by too quickly for my liking. We bought a 10-visit pool pass and went just once as a family—we even missed out on the doggy swim! So to both mourn and commemorate this melancholy occasion, I had to put together something "summery" on the plate.
Strawberries, to me, are synonymous with summer. But to add a bit of savory and a bit of heat, I opted for a little chipotle in adobo sauce (pureed) to help balance out the flavor profile here. I didn't want this sauce to be too sweet and, depending on which strawberries you use, there is the possibility the sauce may taste a bit tart. Brown sugar helps here, but more importantly, the proper amount of kosher salt will help balance the sweetness while also neutralizing that tart, bitter flavor tone. So add kosher salt gradually to the sauce after it has simmered on low for a while.
"Salt to taste" is an odd phrase, as you shouldn't actually taste salt or "saltiness," but rather you should "taste" the full flavor potential of a dish.
I've covered the reasons to spatchcock quail in preparation for the grill in previous articles, but it does wonders to ensure the quail cooks evenly without drying out the breast meat.
Enjoy! Reach out to me on Instagram (@WildGameJack) with any questions or comments and be sure to check out my other wild game recipes and cooking instructions here.
Grilled Quail with Chipotle Strawberry Sauce
Jack Hennessy
Celebrate summer with this sweet and savory sauce atop wild quail
Prep Time
15

minutes
mins
Cook Time
30

minutes
mins
Total Time
45

minutes
mins
Ingredients
4

whole

quail

spatchcocked

1

cup

chardonnay

½

tsp

thyme

fresh

1½

tbsp

garlic

freshly minced

1½

tbsp

shallots

freshly minced

1

tbsp

salted butter

1

tsp

chipotle in adobo sauce

pureed

8

oz

fresh strawberries

pureed

1

tbsp

brown sugar

½

tsp

kosher salt

½

tsp

black pepper

freshly cracked

Suggested side

Steamed baby spinach topped with goat cheese

Suggested garnish

Fresh basil, cut chiffonade
Instructions
To make sauce, in a medium saucepan, add 1 tablespoon salted butter along with 1½ tablespoons freshly minced shallots. Lightly salt and pepper.

Heat on medium low until shallots are soft, then add freshly minced garlic and fresh thyme. Cook for a couple minutes, then add 1 cup chardonnay.

Puree chipotles in adobe sauce in food processor and set aside puree. Rinse out food processor and dry.

Add strawberries (without stems) to food processor along with 1 teaspoon chipotle puree. Blend thoroughly. When 1 cup of wine has reduced to half in saucepan, add it to food processor and blend with chipotle-strawberry mix.

Once thoroughly blended, add food processor contents back to medium saucepan and heat on low for a low simmer. Add 1 tablespoon brown sugar and 1/2 teaspoon each of kosher salt and freshly cracked black pepper.

Grill spatchcocked quail until fully cooked (breasts reaching an internal temperature of 160 degrees Fahrenheit, thighs closer to 180-190 F)

Lightly steam baby spinach by adding to a skillet heated on medium. Throw in a few droplets of water to steam

Sauce should simmer on low for about 20-30 minutes. Salt to taste. If bland, add a small pinch more of kosher salt. Taste and repeat salt addition until flavors are balanced. You can add more brown sugar, but I personally prefer this to be a balance of savory and sweet. Too much brown sugar will tilt sauce more toward sweet.

To serve, add sauce to plate followed by lightly steamed spinach topped with goat cheese. Add grilled quail and garnish with freshly cut (chiffonade) basil.
Nutrition
Calories:
878
kcal
Carbohydrates:
21
g
Protein:
68
g
Fat:
47
g
Saturated Fat:
15
g
Polyunsaturated Fat:
11
g
Monounsaturated Fat:
16
g
Trans Fat:
1
g
Cholesterol:
274
mg
Sodium:
822
mg
Potassium:
1061
mg
Fiber:
3
g
Sugar:
13
g
Vitamin A:
1043
IU
Vitamin C:
91
mg
Calcium:
98
mg
Iron:
15
mg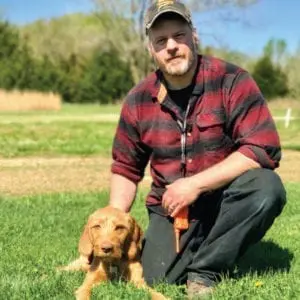 Jack Hennessy
Jack Hennessy grew up in the South Suburbs of Chicago and didn't start hunting until he attended graduate school in Spokane, Washington, at the age of 26. Hennessy began work in professional kitchens in high school but didn't start writing wild game recipes until he joined the Spokesman-Review in 2014. Since then, his recipes have appeared with Petersen's Hunting, Backcountry Journal, Gun Dog Magazine, among many others. He now lives with his wife, daughter, and Wirehaired Vizsla, Dudley, in Wichita, Kansas.