Marinated quail sits atop a fresh Mediterranean salad with bright, bold flavors
Tabbouleh salad, also spelled tabouli or tabouleh, is a Mediterranean salad that continues to grow in popularity worldwide and especially in the United States. It originated in Lebanon and is basically a parsley and bulgur salad, which is perfect for summertime when temps are reaching upwards of 102 in my home state of Kansas. You can likely find box kits at your local grocery store but if you believe "fresh is best," here is a simple, refreshing take on this recipe.
The quail marinade is also very simple but when grilled, these birds pair perfectly with this herby, aromatic salad. For the salad dressing, how much lemon juice you want to add will depend on how lemony you want the salad to be. After the initial dressing of the salad, if still bland, sprinkle a little more kosher salt. I recommend coarse sea salt for garnish on the quail, but if you don't have that, sprinklings of kosher salt on freshly grilled quail will work.
A note on the bulgur: Grind size varies on bulgur. I used Bob's Red Mill here, which is a medium #2 grind. If you choose another brand or grind, please review that brand's cooking instructions, as they may vary from those below.
Enjoy! Reach out to me on Instagram (@WildGameJack) with any questions or comments and be sure to check out my other wild game recipes and cooking instructions here.
Grilled Quail Tabbouleh Salad
Jack Hennessy
A fresh and bright salad pairs perfectly with tender, marinated quail
Prep Time
20

minutes
mins
Cook Time
45

minutes
mins
Marinating Time
3

hours
hrs
Total Time
4

hours
hrs
5

minutes
mins
Ingredients
8

quail

spatchcocked and, ideally, skin-on

2

bunches

curly parsley

finely chopped

¼

red onion

finely diced

2

on-the-vine tomatoes

finely diced

1

bunch

green onions

diced (green and white parts)

¼

cup

fresh mint

finely minced

2-3

tbsp

lemon juice

freshly squeezed

⅓

cup

extra virgin olive oil

1

cup

Bob's Red Mill whole grain red bulgur

requires 1 cup boiling water to prepare

½

tbsp

salted butter

1

tsp

kosher salt

mixed use

½

tsp

black pepper

freshly cracked
Quail marinade
2

large

lemons

juiced

¾

cup

olive oil

2

cloves

garlic

smashed

¼

cup

black peppercorns

1

tsp

kosher salt
Instructions
For marinade, squeeze or juice two large lemons. This should provide 1 to 1½ cups of lemon juice. Slowly stir in olive oil. Stir in smashed garlic, black peppercorns, and 1 teaspoon kosher salt. Once thoroughly mixed, add quail to marinate for 2-3 hours.

To cook bulgur, bring 1 cup water to a boil. Once boiling, immediately add 1 cup bulgur. Stir in and reduce heat to medium-low. Continue to stir often as the bulgur absorbs water. After 10 minutes, turn heat to low and stir for another 5 to 10 minutes, until water is fully absorbed. Once water is fully absorbed, add ½ teaspoon kosher salt and ½ tablespoon salted butter. Stir in, then remove bulgur from stove and refrigerate.

To make the tabbouleh salad, remove heads of parsley from stems and chop/mince thoroughly. Your final product should have texture but not be minced into dust. Essentially, the parsley should be somewhere between a rough chop and fine mince.

Add remaining ingredients to salad: two finely diced on-the-vine tomatoes, ¼ cup finely diced red onion, 1 diced bunch of green onions, and ¼ cup of finely minced fresh mint. Add ½ teaspoon kosher salt and ½ teaspoon freshly cracked pepper. Mix delicately so as not to bruise the parsley or smash the tomatoes.

For the dressing, mix 2-3 tablespoons of freshly squeezed lemon juice (depends on how lemony you want it) along with ⅓ cup extra virgin olive oil. Delicately mix into salad.

Once the bulgur has cooled, add to salad and delicately mix in.

After the quail has marinated for 2-3 hours, grill until the exterior is crisp and the internal temperature has reached 160 degrees Fahrenheit. Do not rinse off the marinade prior to grilling. When finished cooking, remove quail and allow to rest for 5 minutes prior to serving.

Dish out the salad and top with grilled quail. Top the grilled quail with sprinklings of coarse sea salt to bring out the flavor. Kosher salt would work if you don't have coarse sea salt.
Nutrition
Calories:
740
kcal
Carbohydrates:
33
g
Protein:
49
g
Fat:
47
g
Saturated Fat:
11
g
Polyunsaturated Fat:
9
g
Monounsaturated Fat:
23
g
Trans Fat:
1
g
Cholesterol:
169
mg
Sodium:
737
mg
Potassium:
972
mg
Fiber:
9
g
Sugar:
3
g
Vitamin A:
3671
IU
Vitamin C:
65
mg
Calcium:
101
mg
Iron:
12
mg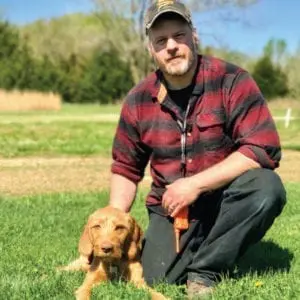 Jack Hennessy
Jack Hennessy grew up in the South Suburbs of Chicago and didn't start hunting until he attended graduate school in Spokane, Washington, at the age of 26. Hennessy began work in professional kitchens in high school but didn't start writing wild game recipes until he joined the Spokesman-Review in 2014. Since then, his recipes have appeared with Petersen's Hunting, Backcountry Journal, Gun Dog Magazine, among many others. He now lives with his wife, daughter, and Wirehaired Vizsla, Dudley, in Wichita, Kansas.