More aptly called Bird Dog's Pie, this savory dish uses any upland bird meat
Despite its roots in English cuisine, you'll find Shepherd's Pie on the menus of many Irish pubs. Make certain to note the apostrophe "S," as the shepherd was responsible for the sheep, which is the meat used in Shepherd's Pie. If any meat other than lamb or mutton is used, it can't be called Shepherd's Pie. I used ground pheasant with a little bit of ground pork shoulder to add a bit of fat, but any upland bird can be used here, including your dark-meat birds like sharp-tailed grouse. We call this one Bird Dog's Pie because a bird dog is responsible for putting this meat on the table–not a shepherd–and though you may have folded the bird, would you have found it without that pup?
Ingredients
Makes 4-6 servings
1 pound pheasant or other upland bird, ground
4 ounces pork shoulder, ground
1 medium yellow onion, finely minced
6 ounces frozen pea-and-carrot mix (or 3 ounces each of frozen peas and carrots)
6 ounces frozen corn
1/2 teaspoon freshly minced rosemary
1/2 teaspoon freshly minced thyme
1 teaspoon freshly minced garlic
2 cups beef stock
3 tablespoons all-purpose flour
1/2 teaspoon Kitchen Bouquet Browning Sauce
Olive oil
Kosher salt and freshly cracked black pepper
Sherry cooking wine
Freshly minced Italian parsley for garnish (optional)
Mashed potatoes
2 pounds potatoes, peeled and chopped into 1-inch cubes
2 tablespoons unsalted butter
2 cups heavy whipping cream
1/2 teaspoon kosher salt
1/2 teaspoon ground white pepper
1 teaspoon paprika
Canola oil spray
Cooking Directions
Preheat oven to 350 degrees Fahrenheit.
Grind pork shoulder and upland bird meat together into a large mixing bowl. Set in fridge until ready to cook.
To make mashed potatoes, peel all potatoes and cut into approximate 1-inch cubes. Doesn't have to be perfect. Rinse peeled potatoes, then cover with water in a large pot over medium heat.
Potatoes will gradually come to a boil and become mashable after about five minutes of boiling. Always err on side of "more done" versus "less done." Take out a chunk and smash; it should smash easily with no resistance.
When potatoes are done, drain potatoes in colander then add potatoes back to the same pot. Set burner to low. Add spices and stir in with unsalted butter. Gradually add heavy whipping cream and work out any lumps for thoroughly whipped mashed potatoes. Consistency should be that of a paste.
In a large, deep, cast-iron skillet, ideally the one in which you will bake the entire pie, add a thin layer of olive oil and heat on medium.
Add finely minced onion to skillet and dust with kosher salt and freshly cracked pepper. Stir until slightly seared and soft.
Once onions are slightly seared and soft, add the ground pork shoulder and upland bird meat to the skillet. Lightly salt and pepper and add 1/2 teaspoon each of freshly minced rosemary and thyme. Do not flip until underside is browned. Brown other side before using spatula to separate into ground meat. Add freshly minced garlic.
Once meat is browned and separated into ground bits with onions, add beef stock. Bring to a low simmer then gradually add all-purpose flour one tablespoon at a time. Three tablespoons should be enough to bring the texture to that of thick oatmeal.
Add 1/2 teaspoon Kitchen Bouquet Browning & Seasoning sauce to mix and stir in thoroughly. Then add frozen vegetables, stirring in thoroughly.
To assemble, use a spatula to pack together the meat and vegetable mix so it's level in the skillet. Use a rubber scraper or spatula to gently place the mashed potatoes atop the meat mixture and spread evenly. Spray with canola oil.
Bake at 350 F for 15 minutes, then turn on broiler to brown the top.
When top is browned to your liking, pull and let cool for a minimum half hour before cutting. Garnish with freshly minced Italian parsley.
Enjoy! Reach out to me on Instagram (@WildGameJack) with any questions or comments and be sure to check out my other wild game recipes and cooking instructions here.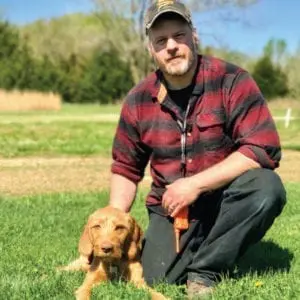 Jack Hennessy
Jack Hennessy grew up in the South Suburbs of Chicago and didn't start hunting until he attended graduate school in Spokane, Washington, at the age of 26. Hennessy began work in professional kitchens in high school but didn't start writing wild game recipes until he joined the Spokesman-Review in 2014. Since then, his recipes have appeared with Petersen's Hunting, Backcountry Journal, Gun Dog Magazine, among many others. He now lives with his wife, daughter, and Wirehaired Vizsla, Dudley, in Wichita, Kansas.