Exploring the world of skeet shooting from past to present
We have all heard the legends of William Harnden Foster sitting around upland campfires and no doubt at some point you may have heard him called the "Father of Skeet."
Through the years, that has been interpreted as the founder of skeet. But it turns out that even though he had a hand in popularizing skeet shooting, the famous ruffed grouse hunter, artist, and writer from Andover, Mass., did not invent the sport. That distinction is held by Charles Davis, an avid ruffed grouse hunter.
What is skeet shooting?
Skeet shooting is a recreational style of shooting that has been popularized into highly competitive realms. There are two stations which launch clay pigeons across the shooter's path. One is a high house, the other is the low house. There are eight positions for a shooter to start from and over the course of a round, a player shoots at 25 clay pigeons (a box of shells).
Depending on position, the shooter may receive one target or a "double" (two targets). This style of shooting has only raised the popularity of sporting shotguns like over-and-unders and side-by-sides. Skeet shooting was introduced to the Olympics in 1968, and up until 1996 participation was allowed by by both men and women. However, in 1996 it was controversially limited to men only. That was overturned in 2000 when a female-specific event was created.
The sequence of a skeet shooting round
Skeet shooting positions are located in a half circle. Stations 1 through 7 follow that circular pattern from one end to the other. Station 8, the final station, lies in the center halfway between Stations 1 and 7.
At Station 1, the shooter receives one target from the high house and one from the low house. Targets are launched simultaneously from the high house and low house for a "double." Shooters traditionally target the high house first. Station 2 is the same sequence as station one.
At the next three Stations (3, 4, and 5), the shooter receives one single from the high house and one from the low house. Stations 6 and 7 are a repeat from the sequence of Stations 1 and 2 (4 targets per station, the last two being a double). In these stations, however, the low house is by tradition shot first, followed by the high house during a double.
At the last station (Station 8), the shooter receives a single target from the high house then a single from the low house. Now this may have sounded like a ridiculous word problem, but the math adds up to a round of 25 clay pigeons and 25 shots.
How was skeet shooting invented?
It is believed that skeet shooting was created to simulate the flushing of ruffed grouse so that a wingshooter could practice in the off season. That makes sense, since Charles Davis the inventor enjoyed ruffed grouse hunting. Sure, there is some truth that practicing with your shotgun in the off season is a good habit to be in. But truth be told, it was more about fun.
Davis, along with his friend, William Foster, created a game they called "Shooting around the clock". The original game had one house to launch clay pigeons from. But legend goes that when a chicken farm was built next door they had to stop shooting. However in 1923, Foster came up with the idea to add a second house and cut the circle in half. This is the current setup practiced worldwide.
In 1926, Foster realizing the potential of "shooting around the clock" and introduced it to the National Sportsman and Hunting and Fishing magazines. There they ran a contest for a proper name for this new kind of competition shooting. As you would have guessed, the name "skeet" won, and is believed to be derived from the Norwegian word "skyte" which means "shoot."
The title "Father of Skeet" still seems fitting when we get to the end of this story for the famous William Harden Foster, but the invention lies in the works of Charles Davis. The National Skeet Shooting Association formed in 1928 and in 1970 Foster was named in the Hall of Fame and the rest is history.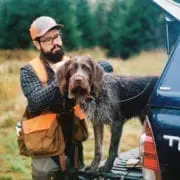 A.J. DeRosa
A.J. DeRosa founded Project Upland in 2014 as an excuse to go hunting more often (and it worked). A New England native, he grew up hunting and has spent over 35 years in pursuit of big and small game species across three continents. He has a passion for side-by-side shotguns, inspiring him to travel the world to meet the people and places from which they come. Looking to turn his passion into inspiration for others, AJ was first published in 2004 and went on to write his first book The Urban Deer Complex in 2014. He soon discovered a love for filmmaking, particularly the challenge of capturing ruffed grouse with a camera, which led to the award-winning Project Upland film series. AJ's love for all things wild has caused him to advocate on the federal and state levels to promote and expand conservation policy, habitat funding, and upland game bird awareness. He currently serves as the Strafford County New Hampshire Fish & Game Commissioner in order to give back to his community and to further the mission of the agency. When those hunting excuses are in play, you can find him wandering behind his Wirehaired Pointing Griffon in the mountains of New England and anywhere else the birds take them.