A look at the Stevens 555E and previous shotgun models
My first look at the Stevens 555 over/under shotgun was at a media event in northern Minnesota. There were a lot of guns available to tinker with, including several semi-auto shotguns. Being a double-barrel fanatic, I immediately gravitated towards the new over/under from Stevens. It was the basic grade 12-gauge 555. I shot some clays with it, and it handled nicely. I wasn't blown away by the look of the gun, as it was a pretty standard looking O/U.
Then I was told that there was an enhanced grade 555 in 20-gauge floating about, and I impatiently awaited my turn to handle it. I took it for a spin on the sporting clays course, and was more than impressed.
After the event, I had to research the line of Stevens 555s to see exactly what I was looking at — and how much I would have to spend to get one in my safe. My wife was in need of a double-barrel, and I felt like the 20-gauge Stevens 555E might be right up her alley.
The Stevens 555 came out in 2014, replacing the heavy Stevens 512. The initial run had the basic grade and the enhanced grade, with 12, 20, and 28 gauges available, as well as the .410. A compact model has been added, with a 13.5 in. length of pull for smaller-framed shooters. New for 2019, each grade has added the 16-gauge to its lineup. The frames are gauge-specific, which is important — no cutting corners by putting close gauges on larger frames. The Stevens 555s are made by KOFS, Ltd., in Isparta, Turkey, and imported by Savage Arms. All three models are relatively inexpensive but don't feel like cheap shotguns.
The basic grade features chrome-lined carbon steel barrels, a Turkish walnut stock, a lightweight aluminum receiver with tang safety, a single selective mechanical trigger, manual extractors, and five interchangeable choke tubes. The shotgun chokes offered were cylinder, improved cylinder, modified, improved modified and full.
MSRP on the basic grade is just $705, which is rather inexpensive for a reliable and good functioning over/under. The 16-gauge is touted to weigh only 6.2 pounds, but comes in at just a hair over 6.4 pounds with the 28 in. mono-bloc barrels. That's a very light O/U, thanks mostly to the aluminum receiver and the aluminum on the fore-end. Steel-framed O/Us typically run about 7.5 pounds. Again, the gun isn't going to win any beauty contests, but it functions well and the price is right.
The compact version is a basic grade that comes in 20-gauge, 28-gauge, and .410. The overall length is less than 40 inches due to the 24 in. barrels and the 13.5 in. length of pull. The compact version would be ideal for any youngster looking to get into the double-barrel game early.
To upgrade to the enhanced grade, you're looking at an MSRP of $879, but the look and feel is worth the extra cost. The enhanced grade features auto ejectors, an imperial walnut stock and fore-end, and a silver, scroll-engraved filigree ornament receiver. The 16-gauge weighs a hair over 6.5 pounds, and the 555E is just a touch longer than the basic grade, overall. The enhanced grade truly is a pretty gun, and functions very well out of the box. A complaint I've had over the years when buying new double-barrels is the break-in period. They feel stiff, and it takes a lot of rounds through them to loosen up the action. The 555E fits together nicely, and requires zero break-in. If you're looking at buying a Stevens 555, I highly recommend the enhanced grade. Compared to other O/Us with similar features and a similar look, the Stevens 555E stands above the rest in my opinion.
After researching the guns fully, and having an idea of what one would cost me, I pulled the trigger on a Stevens 555E in 20-gauge for my wife. Before she even had a chance to handle it, I took it afield to see how it felt and performed. The weight of this gun and the speed it allows when swinging is truly remarkable. Granted, I'm used to heavier 12-gauges and old SxS 16-gauges, but I found myself nearly over-swinging on the first pair of birds that flushed. Once I adjusted, snap-shooting on flushing ruffed grouse and woodcock became effortless.
I presented the gun to my wife, who immediately loved the look of the wood and the scroll-engraved receiver. I made the right choice picking her first double-barrel. While looks don't equal functionality, holding a gun that you think is pretty sure adds confidence. After three seasons with the Stevens 555E, my wife and son have both fallen in love with it. My son, who is growing faster than I can blink, is not much smaller than my wife. The gun fits both of them very well, and the weight allows for them to get the gun up to their cheeks with ease. Both have dealt with issues getting guns on target with haste, but the Stevens 555E has helped both of them. My son shot his first grouse and woodcock with that 20-gauge. It now has sentimental value, and will forever be a gun that is imprinted in my memory.
Being a diehard 16-gauge fan can be tough at times. There aren't a lot of good 16s out there, unless you're willing to dig deep into the pocketbook and search for older, more expensive classics. Finding the right 16-gauge takes patience. When I heard that Stevens was expanding their 555 lineup and adding a 16-gauge, I had to have one. The gun arrived in April, and I only have 50 shots through it, but, like the 20-gauge, the weight and swing speed is remarkable. The fit is nice, and the gun shoulders with ease, comfortably.
I can't wait to walk some fields and forests with it this fall, to give it some scratches . . . ahem . . . character, and to see how well it performs when it counts.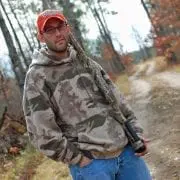 Matthew Breuer
Matt Breuer has been working in the outdoor industry for over 15 years, guiding, writing, promoting, volunteering, and working with several conservation groups. He's on the Board of Directors of the MN Sharp-tailed Grouse Society, and is a recruitment and retention coordinator with RGS. He owns and operates Northcountry Guide Service & Promotions in northern MN. Link up with Matt by visiting www.northcountryguides.com .