Photo by Jack Hennessy
Embrace the season with this crowd-pleasing wild game recipe that pairs pheasant with pumpkin and other fall flavors.
I'm not a pumpkin spice guy. The furthest I've gone is pumpkin lager, but I quit that a couple years ago (just the pumpkin aspect of it, not the lager). Still, there are many pumpkin things that I do enjoy, such as carving them into Jack-o'-Lanterns, making pie, and roasting their seeds, and now this pumpkin sage pasta recipe made with pheasant strips. This is a great way to take advantage of those early-season pheasants you may be lucky to get.
I nabbed a 14-ounce can of Libby's pure pumpkin for this, but any brand will do—just make sure that the only ingredient is pumpkin puree with no added sugars or other spices. If you are a pumpkin spice addict, yes, you can add a little bit of sugar and cinnamon to this sauce (maybe a half teaspoon each), but know that it's pretty tasty and fall-themed as it stands.
A word on searing pheasant strips, or searing anything in a skillet for that matter: don't crowd the pan. This means you should make sure that the skillet is no more than half full and that the pheasant is given plenty of space to sear. If the pieces are placed too close together, the steam released while cooking will soften the exterior of the nearby pieces of meat, resulting in a less-than-ideal texture. The goal here is to sear, not steam, your pheasant strips. If necessary, work in batches by filling and cooking in the skillet twice (rather than doing it all at once) or use multiple skillets to get everything cooked without crowding the pieces together in a single pan.
Pumpkin Sage Pheasant Pasta
Jack Hennessy
American and Italian influences come together for a Fall style pasta dish with pheasant meat.
Cuisine
American, Italian
Ingredients
For the Pasta
8-10

oz

skinless pheasant breasts,

sliced

Dusting

kosher salt

Dusting

black pepper

Dusting

granulated garlic

Dusting

paprika

16

oz

spaghetti,

cooked slightly al dente

olive oil
For the Sauce
¼

cop

shallots,

finely diced

1

tbsp

salted butter

1

tbsp

freshly minced garlic

1

cup

white wine

1½

fresh sage,

finely minced

¾

cup

pumpkin puree

(pure pumpkin, not the pie filling)

1

tsp

kosher salt

½

tsp

white pepper

½

tsp

nutmeg

1

pint

heavy whipping cream
Instructions
Heat a medium saucepan on medium-low and add 1 tablespoon of the salted butter.

Add the finely minced shallots and dust with kosher salt. Once the shallots start to soften, add in the finely minced garlic.

Stir well. Once the garlic starts to release aroma, which should only take a couple of minutes, add 1 cup of white wine and 1½ tablespoons of finely minced fresh sage.

Once the wine reduces by half, add the pumpkin puree, cream, white pepper, and nutmeg. Allow this to simmer while the sauce reduces. This will likely take somewhere between 45 minutes to an hour.

After a half hour of reducing the sauce, heat a large skillet on medium-high heat and bring a pot of water to boil for the pasta.

Boil the pasta for 8-9 minutes, until cooked slightly al dente, then drain.

Cut the pheasant breasts into thin 1-inch strips and dust with kosher salt, black pepper, granulated garlic, and paprika.

Add a thin layer of olive oil to the skillet and, once the skillet reaches 450-500 degrees Fahrenheit, add the pheasant strips. Remember to not crowd the pan in order to adequately brown and crisp up the pheasant.

Toss the pheasant in the skillet and sear on all sides. Remove when finished cooking.

After approximately an hour of reducing the sauce, once it is nice and thick, salt the sauce to taste. Combine spaghetti with the cooked pheasant, top with the sauce, and serve immediately.
Nutrition
Keyword
Pasta, Pheasant, Pumpkin
Enjoy! Reach out to me on Instagram (@WildGameJack) with any questions or comments and check out the rest of my wild game recipes here.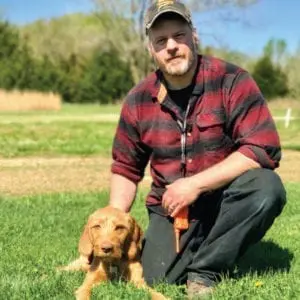 Jack Hennessy
Jack Hennessy grew up in the South Suburbs of Chicago and didn't start hunting until he attended graduate school in Spokane, Washington, at the age of 26. Hennessy began work in professional kitchens in high school but didn't start writing wild game recipes until he joined the Spokesman-Review in 2014. Since then, his recipes have appeared with Petersen's Hunting, Backcountry Journal, Gun Dog Magazine, among many others. He now lives with his wife, daughter, and Wirehaired Vizsla, Dudley, in Wichita, Kansas.