Home » Conservation » Hunter Recruitment is Not the Problem People Think it Is
Hunter Recruitment is Not the Problem People Think it Is
Selling hunting licenses is the only way underfunded state wildlife agencies can increase their budgets and therefore habitat management
No one has to dig into the depths of social media to find that the topic of hunter recruitment descends into the darkest corners of keyboard dissertations. Some points against hunter recruitment have partial validity, others come from genuine concern, and some misguided thoughts need actual attention. But the people who rant about this issue are playing checkers when a chess game is afoot. Hunter recruitment is more complex than people believe. Frankly, some folks miss the point altogether.
Listen to more articles on Apple | Google | Spotify | Audible 
Negative opinions regarding hunter recruitment are a symptom of a larger issue: state wildlife agencies are underfunded. Nearly everything about how states fund wildlife management is complicated, including how states collect funds. One of these ways is through hunting license sales. This is why states care about increasing the number of licenses sold. In its simplest, most watered-down form, this is why states are investing time, energy, and money into hunter recruitment:
State Departments of Natural Resources or Departments of Fish and Game (DNR) need money to operate
They usually do not get access to general funds and rely on self-funding to match federal money
Selling more hunting licenses is the only real way state wildlife agencies can raise funding for themselves
State wildlife agencies are chronically underfunded because of this limited fundraising model. There have been many attempts to resolve the issue of underfunded state agencies and help make them less reliant on hunting license sales. Several pieces of legislation have been proposed as funding model solutions in recent years. However, none of them have gotten passed. Ironically, those angriest about hunter recruitment were silent on supporting those pieces of legislation, the most recent example being Recovering America's Wildlife Act. That means one of two things: they do not understand the real issue, or they just like to be trolls. Either way, had RAWA passed, states would be less reliant on hunting license sales and would be recruiting new hunters at far slower rates. As a result of RAWA's failure, state wildlife agencies are desperate to increase their license sales to stay afloat.
State Fish and Game Agencies Are Generally Underfunded
If you spend some time poking around home state's issues, you'll quickly learn that state DNRs are the most underfunded government institutions. When the budgets get cut, they go first; they kiss that general fund money goodbye. That statement may be a bit generous because most of these agencies rarely get access to general funds in the first place. General funds are essentially our state tax dollars being put to work. They are dispersed between transportation, education, law enforcement, and other departments to make our world function on a daily basis. The words "habitat work" and "general funds" are probably meeting in a sentence for the first time right here. For more clarity, a well-funded DNR means habitat creation, data collection, and wildlife research for that state, which results in sustainable game populations and the conservation of non-game species.
As mentioned, state DNRs are mostly self-funded via hunting license sales. However, they're also supported by the Pittman-Robertson Act (or PR funds).
Pittman-Robertson is Complicated
The Pittman-Robertson Act is not fun to read. I'm talking about the actual law, the Federal Aid in Wildlife Restoration Act from 1937. Without question, it's the single greatest piece of legislation for our wildlife since the Lacey Act of 1900. If I said I fully understand the formula used to calculate a state's access to PR funds, I would be a liar. It takes teams of lawyers to wade through it each year. I contacted Ben Paige, the Marketing Manager for Sovereign Sportsman Solutions (S3), to clarify the PR funding formula.
"Hunting license sales are an extremely important factor in receiving PR funds," said Paige. "There's a lot of stipulations as to what you can do with that money, as well as what can count for and certify as eligible for match funding. The specific formula used to determine the limit is outlined in 50 CFR Part 80 and includes a set of complex calculations that take into account the factors mentioned above. The limit is adjusted annually to reflect changes in the number of hunting licenses sold in each state and changes in the population of each state."
The PR formula takes the following factors into account:
Number of Hunting Licenses Sold
Land Area of the State
The State Population
A State cannot get more than 5% or less than 1% of PR Funds
States get access to funds in other ways besides the formula, too. For example, the federal government can match the value of lands donated to the state to acquire more land for said state. While this is a great mechanism to acquire more land for state wildlife management areas, it does not resolve the funding to manage habitat on that land.
If a DNR does not have access to general funds and maxes out its access to PR funds, how can it increase its budget? There's only one answer: sell more hunting licenses. States increase license sales through R3 (the recruitment, retention, and reactivation of licenses), otherwise known as hunter recruitment.
Hunter Recruitment has a Direct Impact on Habitat Creation and Management
"To understand the importance of R3 and its impact to habitat work, it's important to understand some economic principles," said Ben Paige. "Habitat projects require state agencies to have the money and resources to execute them. To agree that R3 is a part of that, you must acknowledge that the law of supply and demand is in play in the 'economics of habitat.' Therefore, for a business (agency) or product (habitat) to succeed in the market, there must be sufficient demand from consumers."
The elephant in the room around this issue is the balance between creating more funding (by creating more hunters) and creating habitat. This consumer-based habitat mechanism highlights how capitalistic supply and demand can create a potential net negative in supply. The angst we are experiencing as a community around hunter recruitment is one of the symptoms of this problem.
Bad Marketing Decisions Around Hunting Funding
Biologists are good at scientific research, wildlife management, habitat creation, and many other things that significantly contribute to the sustainability of wildlife populations. Because of R3, biologists also had to begin marketing why hunting is good for conservation. But biologists are not marketers. They are not social engineers. They didn't foresee how their honest work would be turned into weaponized monsters.
Shane Mahoney is probably the most famous name in this conversation. A Canadian, he coined the term "North American Model of Conservation." He formulated how unique North America's relationship with wildlife management is. More importantly, he emphasized how successful it is. His articulation of this concept is by no means a marketing failure.
However, his teachings got legs of their own. Eventually, we landed in a world where hunters weaponized "we do more for conservation than anyone else." That snowballed into "hunting is conservation." I am not saying either of those things are untrue, but those claims escalated in the most unhelpful ways.
Buying a hunting license does not make someone a conservationist. It just means they have done the bare minimum to comply with the law. We need to live in a world of conservation activists not passive conservationist. Being a conservationist is taking things a step further, such as advocating for legislation that could increase the state's funding. Those emails, phone calls, and letters matter.
Not only did the role hunting plays in funding conservation get conflated, but R3 marketing got out of hand as well. Marketers should have made the very literal statement, "We need to sell more licenses or cannot function as an agency and manage habitat." However, that turned into "We need to save the future of hunting." I consider myself guilty of helping build that narrative.
Our Current Wildlife Management Funding Model Overlooks Ecosystem-level Management
To further complicate things, the North American Model of Conservation is based on a relationship between state agencies and the consumptive use of our wild resources. In plain English, that means agencies are mandated to manage for game species for hunting. That sounds great until we consider the negative impacts of single-species management on biodiversity and the balance of our ecosystems. The point is that non-game species management, including plants, reptiles, mammals, birds, and insects, are even more underfunded than game species management. There is no stopgap in funding before they hit the endangered species list, which then causes a cascade of other management issues.
Managing purely from a game species perspective is why some parts of the country have intentionally overpopulated white-tailed deer. Seeing a ton of deer when hunting looks good on paper, but overpopulated deer herds degrade massive amounts of habitat that animals depend on. To exacerbate the issue, overgrazing is affecting native plants, giving invasives an advantage in expanding. It is tough to say, "Let's reduce a whitetail herd to a healthy level," and have deer hunters agree that's a good idea. In fact, I do not think that has ever happened.
If we have learned anything in the modern era, it's that the Indigenous people of North America had it right. They managed for all species, humans included.
This issue is the greatest threat to hunting. If we as hunters do not advocate for biodiversity, for actual ecosystem-level ecological management, then what value do we have to a modern eco-conscious society?
Why Are Some People Afraid of Amending the PR Act?
"We're fortunate as constituents and hunters that state agencies are charged with responsibilities and forces outside of economic principles," said Ben Paige. "Otherwise, our increasing lack of relevancy (as hunters) within the national space and how resources are deployed would have driven much more deprecation of investment in our ability to hunt. We're very lucky for that and need to fight for our relevancy in the coming years."
Many believe that changing the way PR money is raised would have dire consequences on the relevance of hunters. Currently, we can thank the taxation of firearms and ammunition as the lion's share of the funding source for PR. New, proposed amendments to PR like RAWA would add additional funding sources, like legal nexus from environmental disaster mitigation. It would not remove the current PR mechanisms of matching hunting licenses and taxation on firearms and ammunition. While I understand these concerns, the core issue of matching funds through hunting licenses would not become mute.
One of the most important goals of RAWA was to create more stable funding that's less dependent on consumer-driven devices. It also aimed to generate funding for non-game species and increase funding to tribes for wildlife management, which are important pieces to the larger puzzle.
When we make statements like "hunting is conservation," is that actually true? Is ignoring biodiversity, policy-driven attempts to eradicate natural predators, and that lead is toxic to the landscape our idea of conservation? If so, I would rather identify as an environmental activist than a conservationist. The perception of hunting and the future of hunting requires us to embrace true ecology even when it goes against our self-interests. Only then will society say, "Glad those hunters were keeping watch on our environment."
Rejecting Hunter Recruitment is Not The Solution
If anyone thinks some bad things have come from hunter recruitment, I would agree. The focus on quantity, not quality, is at the forefront of the R3 issues for many of us. Newer hunters did not grow up with a basic understanding of hunting ethics or how to share the woods with others. Say someone beat a new turkey hunter to a roost, and that new hunter decides to stay in that spot anyways. Now, the experienced hunter is annoyed that someone's in his spot. But did anyone ever tell that new hunter that the proper thing to do here is go find turkeys somewhere else? This is a basic example of where the growing pains start.
There are some bright sides to recruiting new hunters, though. Younger generations grew up in one of the largest environmental movements in modern history. They inherently concern themselves with their ecological impacts in everyday life. You will not find shotgun shells left behind from a generation that grew up recycling as soon as they could walk. Climate change is among the top three concerns for millennials and Gen Z.
Insane tag drawing odds, overcrowding, and limiting hunting seasons due to more hunting pressure are valid concerns. However, so are the increasingly stupid things people post on the internet. Rejecting hunter recruitment is not how hunters should address the symptoms of underfunded state wildlife agencies. We can remedy the problem as a community by supporting federal legislative solutions that increase conservation funding. We also need to make stronger effort to be involved in state level decisions through our elected and appointed officials .
In the meantime, we can help educate newer hunters about our traditions. Sure, some of it will fall on deaf ears, but rejecting hunter recruitment will negatively impact habitat creation and the management of our game species and lands until more stable DNR funding sources are found.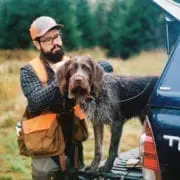 A.J. DeRosa
A.J. DeRosa founded Project Upland in 2014 as an excuse to go hunting more often (and it worked). A New England native, he grew up hunting and has spent over 35 years in pursuit of big and small game species across three continents. He has a passion for side-by-side shotguns, inspiring him to travel the world to meet the people and places from which they come. Looking to turn his passion into inspiration for others, AJ was first published in 2004 and went on to write his first book The Urban Deer Complex in 2014. He soon discovered a love for filmmaking, particularly the challenge of capturing ruffed grouse with a camera, which led to the award-winning Project Upland film series. AJ's love for all things wild has caused him to advocate on the federal and state levels to promote and expand conservation policy, habitat funding, and upland game bird awareness. He currently serves as the Strafford County New Hampshire Fish & Game Commissioner in order to give back to his community and to further the mission of the agency. When those hunting excuses are in play, you can find him wandering behind his Wirehaired Pointing Griffon in the mountains of New England and anywhere else the birds take them.