Follow this ruffed grouse hunting advice on slow days in your covers
However predictable we think ruffed grouse are when they feed, it only goes so far. Some days I wake up wanting eggs and bacon while on others it's cold pizza that calls my name from the fridge. Sure, there is a list of food sources for Grouse, but understanding what particular item is on the menu that day can be challenging. But there is one small catch to this ruffed grouse hunting tip—you need a dead bird.
The saying, "A bird in the hand is worth two in the bush," has never been so literally true. The "bird in the hand" presents valuable intel as to what is going on that day in the grouse woods. By cutting open the gullet of your first bird, you can see exactly where the rest of his grouse friends are that day.
While filming a Project Upland film in Michigan this past season, we were having trouble getting into the grouse. Then, just like that, we walked up on a single grouse that was almost too heavy to fly because she was in the midst of a feeding frenzy. A quick inspection of her loaded gullet produced a pile of Hawthorn berries. We had discovered our grouse hunting hack of the day.
An hour later, as we worked a cover full of Hawthorns, the action was as heavy as I had ever seen.
Of course, all days do not go as smoothly as I'm recounting here. It's not exactly a simple thing to find that first grouse, that grouse that's the key to unlocking the door. So in more severe cases, it might be better to target a list of known food sources rather than pound cover after cover. For that, you need a keen understanding of ruffed grouse habitat. Once you see the action pick up, be sure to make a note of what food sources are surrounding the cover. That will be the first clue to helping get the first grouse in hand.
To anyone new to the grouse hunting game, also note that a lack of water can play a significant factor in empty covers. It's not always the subject of food. In drier seasons, water sources abutting grouse covers like beaver ponds, streams, and brooks can reap similar results. Unlike the pizza I craved this morning, I always need water to live.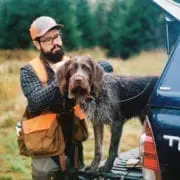 A.J. DeRosa
A.J. DeRosa founded Project Upland in 2014 as an excuse to go hunting more often (and it worked). A New England native, he grew up hunting and has spent over 30 years in pursuit of big and small game species across three continents. He started collecting guns on his 18th birthday and eventually found his passion for side-by-side shotguns, inspiring him to travel the world to meet the people and places from which they come. Looking to turn his passion into inspiration for others, AJ was first published in 2004 and went on to write his first book The Urban Deer Complex in 2014. He soon discovered a love for filmmaking, particularly the challenge of capturing ruffed grouse with a camera, which led to the award-winning Project Upland film series. AJ's love for all things wild has caused him to advocate on the federal and state levels to promote and expand conservation policy, habitat funding, and upland game bird awareness. He currently serves as the Strafford County New Hampshire Fish & Game Commissioner in order to give back to his community and to further the mission of the agency. When those hunting excuses are in play, you can find him wandering behind his Wirehaired Pointing Griffon in the mountains of New England and anywhere else the birds take them.