Home » Hunting Culture » Hunting Photography- Reinventing the Hero Shot
Hunting Photography- Reinventing the Hero Shot
Photo by A.J. DeRosa
Hunting photography is full of hero shots. The upland community is no exception.
So what is the hero shot? In marketing photography, it is a single picture that glorifies a product or image a company wants to showcase.
Hunting photography is a little looser in its definition. Amateur photographers provide the most photographic content. We all want to celebrate our days afield and remember good times with friends and family. Now this is a guide to birds before they are cooked up. Taking food photos is a whole different beast.
That translates to an image of us and our upland bounty. But times have changed and so has the way we display our adventures through hunting photography. Of course, many of us think our culture has been high-jacked by a "political correctness" movement. It would perhaps be more accurate to say that our culture is finally feeling the effects of modern technology and, though I hate to use the word, hipster branding.
Read: How to Self-Film Your Bird Hunting Videos
This new era in hunting photography is not necessarily a change in "political correctness," but a change in ideology. New minds are approaching an old subject in creative ways. The availability of affordable high quality cameras fuels that creativity. What was once a tailgate line of upland bird success is now an inspiring and visually stunning display.
Social media (like Instagram) is home to upland hunting photography creativity wars. One photo inspires the next and pushes the bar higher and higher. Close angles glorify the bird rather than the hunter. This visual appeal has had positive effects on upland hunting culture, a tradition with strong foundations in conservation.
New demographics like women, hipsters, environmentalists, and sustainably conscious people are flocking to upland hunting. Creative platforms instead of traditional hunting outlets have introduced many of these people. This new hunter often comes without the "way things are done" mindset and more with the "how can I individualize this experience" one. And we should celebrate, because this is exactly what the upland community needs.
We are living through rival upland arts, fueled by individuals not afraid to reinvent the past. Nothing excites us more than seeing a tradition carried on through creation. Don't get us wrong: the old ways of photography and the "hero shot" will always have a home. But it is this change in hunting photography that will drive upland traditions to a new generation. This "branding" conscious approach is what appeals to new hunters and creates a bridge across the river of misunderstanding.
Large upland hunting companies should embrace this new mechanism to help usher upland hunting into a new golden age. Growing our numbers ultimately helps the call to conservation movements. So next time you have a bird in hand, don't be afraid to capture it your own way to share with the world—and remember the #ProjectUpland tag.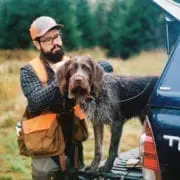 A.J. DeRosa
A.J. DeRosa founded Project Upland in 2014 as an excuse to go hunting more often (and it worked). A New England native, he grew up hunting and has spent over 30 years in pursuit of big and small game species across three continents. He started collecting guns on his 18th birthday and eventually found his passion for side-by-side shotguns, inspiring him to travel the world to meet the people and places from which they come. Looking to turn his passion into inspiration for others, AJ was first published in 2004 and went on to write his first book The Urban Deer Complex in 2014. He soon discovered a love for filmmaking, particularly the challenge of capturing ruffed grouse with a camera, which led to the award-winning Project Upland film series. AJ's love for all things wild has caused him to advocate on the federal and state levels to promote and expand conservation policy, habitat funding, and upland game bird awareness. He currently serves as the Strafford County New Hampshire Fish & Game Commissioner in order to give back to his community and to further the mission of the agency. When those hunting excuses are in play, you can find him wandering behind his Wirehaired Pointing Griffon in the mountains of New England and anywhere else the birds take them.