Home » Hunting Culture » The Good Reasons We Do Not Have Bird Dogs
The Good Reasons We Do Not Have Bird Dogs
Photo by Steve Oehlenschlager
You don't need a bird dog to be part of the uplands; it's just a different method of the same pursuit
Yes, I said it. There are good reasons people do not have bird dogs. I have been there and despite owning a bird dog now, I have yet to arrive at a god complex that does not let me hear the logic and reasons why others do not. If we just stop and listen we certainly will say, "Okay, that makes sense. Maybe not for me, but I get it." Start with the fact that we all know a couple people here and there who are better off leaving their dogs at home (brutal honesty) and we can start to see the light.
Bird recovery is based on personal ethics. Those who put in major efforts to recover downed game with or without a dog are those who are the ethical ones.
Before anyone starts with the whole "more birds are lost without a dog" rant I want to set the record straight. Bird recovery is based on personal ethics. Those who put in major efforts to recover downed game with or without a dog are those who are the ethical ones. There are many dogs that are far from good retrievers and sometimes a simple dead point and on to the next living bird can result in many lost birds. In fact, one can argue that people hunting without a dog are more apt to proactively put more time and effort into bird recovery because it always takes some leg work.
Now some of us have a bird dogs with some strong retrieving skills, we get it. I am not saying people without dogs recover more game. But I am pointing out that just because someone has a dog does not automatically equate to them recovering more game. We should not think that dogless hunters are the bane of the world when hunters with dogs are losing game as well. That is a fact. I do not know how the saying goes exactly, but something like the measure of a person's true character is what they do when no one is watching . . .
The largest fact of all is that there are more dogless bird hunters than bird dog hunters.
The largest fact of all is that there are more dogless bird hunters than bird dog hunters. No matter how much any of us kick and scream, that will not change (certainly not through bullying). These folk will always use the land and the resources. They should be welcomed in our organizations and communities that go the extra mile to give back to habitat work. If we hunt with a bird dog or without, we are de facto members of the same organic community.
Read: Tips on Hunting Sage Grouse without a Dog
They just don't have the space
For plenty of my life I have lived in small spaces. That is true for many people, college students, city dwellers, and by virtue of just plain financials. It is in fact a respectable decision to not bring a bird dog into a home that is not equipped for it. That is in no way a prerequisite for giving up on bird hunting. Bird hunting is a wonderful escape and sometimes even more so in living arrangements that do not support dogs. So making the ethical choice to not put a bird dog in a living space it should not be in and will not accelerate in, is a very good reason to not have a bird dog.
They can't afford it
Bird dogs cost money. I should not have to write much more past this but for the sake of this being highly relevant to the focus of this article I will elaborate. Food, gear, toys and vaccines carry with them a whole realm of added expenses. Add in the curve balls like the unforeseen veterinary bill that can either cripple someone financially or cost a dog its life.
On top of that, add in the possibility of the cost associated with training a dog. For a reason mentioned in the first paragraph (and the next point) some people may need a professional trainer to help them navigate their way to a decent bird dog.
They are bad at training dogs
I can make films and take photos. Some people who follow Project Upland can do the same. Some cannot do either of those things. We all do them at different levels. Like all things, some of us are good at something while others are not. So goes the way of training bird dogs.
Sometimes people's personalities and dogs' personalities just do not vibe. Maybe we just did not inherit that gene; maybe we are slow learners. None of those things make someone a bad person, but they may make someone better off not having a bird dog.
They or loved ones are allergic to dogs
This is real life. My wife is allergic to dogs. It is very complicated and turns out that Wirehaired Pointing Griffons are not hypoallergenic. For some people this can be a crippling blow that is just unsolvable. If someone is allergic enough there is no allergy shot or home remedy that makes living with a bird dog a reasonable act.
Bird hunting is not their number one priority
I used to be whitetail-obsessed. The whole works — armies of trail cameras, treestand sets I would lose count of. That was my vibe at the time. But I still loved bird hunting, I still went north and hunted grouse in the camps of my youth. I did it without a dog for the value of escaping the city and the same excitement of hearing the thunderous rise of wings (yes, I shot them on the wing . . . most of the time).
In those days I never would have invited the responsibility of a bird dog, never mind the idea of dog scent on my obsessive scent control routine. More so, I could not imagine explaining to my dog now as I walk out the door that I am going hunting without him. It just is not possible. I cannot disappoint him like that.
They just don't want a dog
Why would we as a community alienate those who have the same love for upland birds because of methodology?
Its simple. "I just don't want a bird dog."
Maybe it's cleaning up hair, routines, responsibility, too many kids, "I got bit by a dog once," whatever it is. You do NOT need a bird dog to be an upland bird hunter. It is not a prerequisite. We share the same covers, the same parking spots, the same game. Why would we as a community alienate those who have the same love for upland birds because of methodology?
By no means am I saying to not spread the holy word of bird dog obsession. Just remember it's okay if someone chooses not to. Still invite them along, still share a place at the table. There is a huge benefit to us all being part of the same upland community.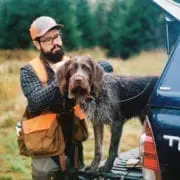 A.J. DeRosa
A.J. DeRosa founded Project Upland in 2014 as an excuse to go hunting more often (and it worked). A New England native, he grew up hunting and has spent over 30 years in pursuit of big and small game species across three continents. He started collecting guns on his 18th birthday and eventually found his passion for side-by-side shotguns, inspiring him to travel the world to meet the people and places from which they come. Looking to turn his passion into inspiration for others, AJ was first published in 2004 and went on to write his first book The Urban Deer Complex in 2014. He soon discovered a love for filmmaking, particularly the challenge of capturing ruffed grouse with a camera, which led to the award-winning Project Upland film series. AJ's love for all things wild has caused him to advocate on the federal and state levels to promote and expand conservation policy, habitat funding, and upland game bird awareness. He currently serves as the Strafford County New Hampshire Fish & Game Commissioner in order to give back to his community and to further the mission of the agency. When those hunting excuses are in play, you can find him wandering behind his Wirehaired Pointing Griffon in the mountains of New England and anywhere else the birds take them.