Home » Woodcock Hunting » The Unholy Art of Hunting Woodcock Without a Dog
The Unholy Art of Hunting Woodcock Without a Dog
Photo by A.J. DeRosa
Hunting woodcock without a dog is a culture in of itself.
Long before it was submerged into the vast realm of gun dogs, a subculture amongst a subculture. Like many Northwoods bird hunters, I took up hunting woodcock without a dog. It is by no means an easy undertaking and now I will call up a dog at all costs, even going as far as recently acquiring my own. However, it is an important part of our community and a topic that does not get nearly enough attention.
Hunting woodcock without a dog requires patience and the sacrifice of a lot of boot leather. But like many things, there are bird hunting hacks and tactics that make this a more efficient experience. This article is not the end-all-say-all on Woodcock hunting without a dog, but it should provide enough basic knowledge to start putting birds into your game bag. Note that a basic understanding of American Woodcock habitat is necessary to cut out the first and biggest part of the leg work. (Check out Identifying American Woodcock Habitat). If we cannot find them, we cannot even begin to hunt them.
The Bird that holds steady
In the dog world, we say that a good woodcock dog is a dime a dozen. Their fundamental behavior of staying tight even with a dog steps away makes them easy for a dog to learn. This positive in hunting woodcock with a dog is in most cases a negative for hunting woodcock without a dog. Outside of flight birds, resident Woodcock can be spread out. It requires some real patience in gridding an area.
Once good habitat is identified, it's worth the time and effort to slowly work the cover in a tight grid pattern. Although there is no fine science on distance, I often cover as tight as 10 feet and as wide as 10 yards, kicking along the way to make plenty of noise and reason for a bird to whistle its way into the sky. When hunting with a group, we often create a wall and walk in unison to cover more area quicker. This also allows more safe shooting opportunities.
Following up on a Flushed Woodcock
Once the lead starts to fly, it is important to mark birds as they escape the fury of fire. These birds have a tendency of offering many follow up opportunities, arguably making them the most user-friendly for beginner bird hunters in the Woodcock states. It is important to be patient, though, as it is uncommon for them to land and run a behavior that many argue has become more frequent in recent years.
Tighten up the grid as you close in on a marked bird. They may hold tighter for round two. Beat the bush, kicking and making plenty of noise to make that bird nervous. We have effectively become the flushing dog in the world of Woodcock hunting without a dog.
Where there is one, there is many
This is a golden rule in Woodcock hunting. Sure, there are exceptions. But more often than not, one bird will reveal a strong resident hideout or, during the right season, an area of flight bird hold ups. After following up on a bird, it should be common practice to circle back to the original flush area and work that area a little more aggressively. This can reap high rewards and before you know it, that three bird limit comes up fast even if you are hunting woodcock without a dog.
Recovering Woodcock without a Dog
Woodcock are a small bird and their camouflage makes them invisible when they're only a few feet away. This combination of characteristics can make bird recovery an art in and of itself. Due to the thick nature of the habitat, these birds often get hung up in briars and alders before hitting the ground. Make mental note of that when the "I swear it went down right here" thought comes to mind.
Above all, this is the thing that requires the most patience in woodcock hunting without a dog. It is also the moment ethics plays the largest factor in hunting woodcock without a dog. I have spent over an hour searching for a downed bird and do not regret putting in that extra leg work to ensure an honest and ethical standard. Yes, we will lose downed birds (even with a gun dog). It is the nature of the beast. But that does not undersell the importance of the community of hunting woodcock without a dog and the role they play in conservation. Read the article, How to Recover More Birds without a Dog, for more information on increasing bird recovery.
A recent study in Minnesota pointed out that 56.3% of bird hunters hunt without a dog. This is a testament to the importance of teaching the subject as well as its acceptance in the bird hunting community. Like many, I started hunting woodcock without a dog for many years before I entertained getting a gun dog. This is an important step for many of us in the evolution of a bird hunter.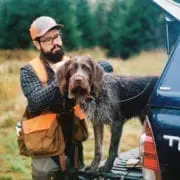 A.J. DeRosa
A.J. DeRosa founded Project Upland in 2014 as an excuse to go hunting more often (and it worked). A New England native, he grew up hunting and has spent over 30 years in pursuit of big and small game species across three continents. He started collecting guns on his 18th birthday and eventually found his passion for side-by-side shotguns, inspiring him to travel the world to meet the people and places from which they come. Looking to turn his passion into inspiration for others, AJ was first published in 2004 and went on to write his first book The Urban Deer Complex in 2014. He soon discovered a love for filmmaking, particularly the challenge of capturing ruffed grouse with a camera, which led to the award-winning Project Upland film series. AJ's love for all things wild has caused him to advocate on the federal and state levels to promote and expand conservation policy, habitat funding, and upland game bird awareness. He currently serves as the Strafford County New Hampshire Fish & Game Commissioner in order to give back to his community and to further the mission of the agency. When those hunting excuses are in play, you can find him wandering behind his Wirehaired Pointing Griffon in the mountains of New England and anywhere else the birds take them.