Home » Hunting Gear » Review of the Orvis Waxed Cotton Strap Vest
Review of the Orvis Waxed Cotton Strap Vest
A look at the Orvis Waxed Cotton Strap Vest for bird hunters.
The quest for the perfect strap vest is like the Homer's Odyssey of the upland community. Or maybe it's more along the lines of the Goldilocks story–not too hot, not too cold . . . you get the picture. To date I have tried three upland strap vests: a now discontinued Cabela's strap vest, the Orvis Waxed Cotton Strap Vest, and the L.L. Bean Pa'tridge Strap Vest. This is certainly my favorite so far, the Orvis Waxed Cotton Strap Vest.
For two seasons that vest has endured the vicious greenbriars and raspberry thickets of New England and the endless grouse covers of the upper Midwest. It held up to all those tasks with ease. The durability factor has been the easiest to overcome of the strap vests I have tried. Outside an issue with the sternum strap coming off once (I was able to get it back on without issue again) it looked well-seasoned overtime. This vest was designed to take a beating.
In the spirit of the Goldilocks story that strap vests present, I would like to point out the pockets on this vest. If there is one thing they nailed down to the letter for me, it was that. I like to have a healthy balance of lots of shotgun shell space owing to all my missing, a separate one for spent shells, and still space for things like an English lead, keys, cell phone and so on. With four pockets on the front, each side having one of the "Easy Entry®" closures, and a smaller snap button pocket, it delivered. When I switched over to the L.L. Bean Pa'tridge strap vest I found myself wanting in pocket space. Which was my largest complaint on that vest and quite honestly, a deal breaker for me.
Past the front pocket space the back of the vest still has another zip pocket outside of the game pouch which has ample room. There I keep my dog first aid kit and extra stuff in case I spend an unplanned night in the woods (you can never be too safe). The two water bottle holders in the back fit my bottles well and were very easy to access while wearing. That is an issue I have found with other vests.
My only complaint with this vest involved fit–and I will start with the disclaimer that at 5' 5" and 150 pounds I often joke about not enough kid's sizing or kid's gauges. The vest I own is the M/L which let's say I am glad they do not do the "one size fits all" mistake. Unfortunately, the shoulders would often slip off me while in the field. It never interrupted my hunting in any impactful way. But once I felt the fit of the L.L. Bean, this part left me a bit wanting. For sake of fair argument, maybe I am just a bit too small for the M/L. It's certainly something I can live with and I have thought about doing some custom altering to eliminate the problem.
At $149 MSRP it is worth every penny. It comes in blaze orange or all brown. I opted for blaze orange 'cause of safety and grouse covers. This vest worked as they advertise it in all weather climates; you can easily swap out what you are wearing underneath and stay warmer or cooler depending on the time of year. I have hunted in it with just a short sleeve T-shirt and with heavy jackets in severe weather. All scenarios were true to the idea that this vest will not make you overheat as I have seen with fellow full vest wears. We will convert you all eventually . . . just kidding.
The idea of wearing a vest made in New England makes it hard to not want to stop my search on this vest and just stick with it. But past my New Englander roots, this is about the odyssey of field testing as many strap vests as possible so we can give the community a fair lay of the land. I will certainly move into trying their Pro Series Hunting Vest which I feel could solve my comfort complaint. To be determined.
As always, comment below and gives us your candid feedback on the Orvis Strap Vest to help better source knowledge for finding quality gear in the upland space.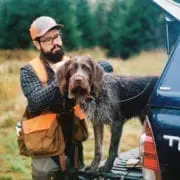 A.J. DeRosa
A.J. DeRosa founded Project Upland in 2014 as an excuse to go hunting more often (and it worked). A New England native, he grew up hunting and has spent over 35 years in pursuit of big and small game species across three continents. He has a passion for side-by-side shotguns, inspiring him to travel the world to meet the people and places from which they come. Looking to turn his passion into inspiration for others, AJ was first published in 2004 and went on to write his first book The Urban Deer Complex in 2014. He soon discovered a love for filmmaking, particularly the challenge of capturing ruffed grouse with a camera, which led to the award-winning Project Upland film series. AJ's love for all things wild has caused him to advocate on the federal and state levels to promote and expand conservation policy, habitat funding, and upland game bird awareness. He currently serves as the Strafford County New Hampshire Fish & Game Commissioner in order to give back to his community and to further the mission of the agency. When those hunting excuses are in play, you can find him wandering behind his Wirehaired Pointing Griffon in the mountains of New England and anywhere else the birds take them.